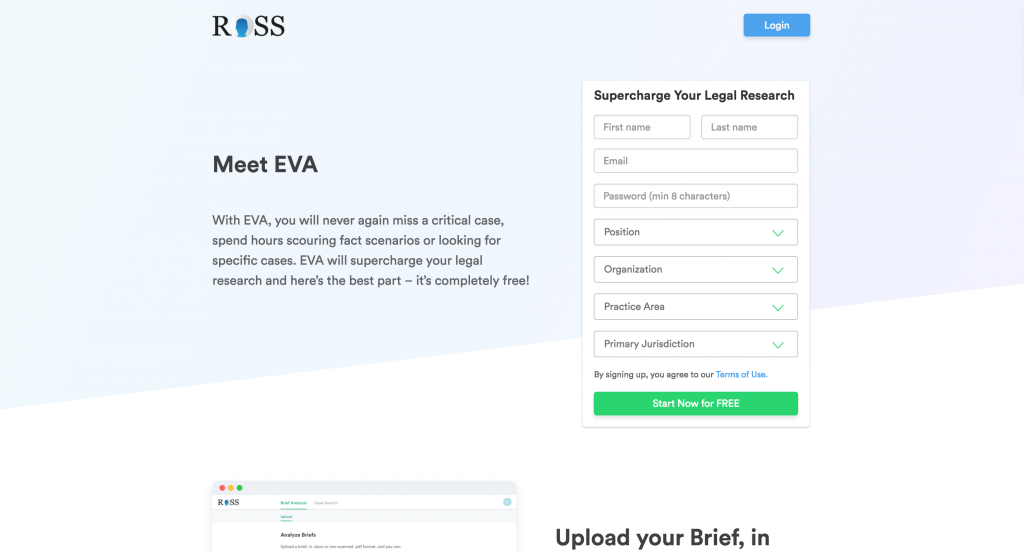 The folks at ROSS Intelligence are sometimes secretive about their artificial intelligence-based legal research platform, limiting access to and even demonstrations of the platform to paying customers. The rest of us have been left to wonder what all the buzz is about, and we've been wondering all the more since October, when ROSS announced an $8.7 million Series A funding round, adding to its earlier $4.3 million seed round, and several notable hires, including Scott Sperling, formerly head of sales at WeWork, as vice president of sales, and Daniel Rodriguez, outgoing dean of Northwestern Pritzker School of Law, as an advisor to assist with the company's law school expansion and access to justice initiatives.
That secretive state of affairs took a 180-degree turn today as ROSS unveiled a free service — available to any legal professional — that takes advantage of some of the same AI that powers ROSS's commercial product. While this new product is by no means as full-featured or powerful as the commercial platform, it gives every lawyer the opportunity to get a taste of how AI can enhance and simplify legal research.
The new product is called EVA. In a nutshell, it is a brief analyzer. But it is more than that. Most notably, it is also a tool for checking the subsequent history of cited cases and determining if they are still good law, in the vein of  the LexisNexis Shepard's and Thomson Reuters KeyCite. It also can be used to find other cases that are similar to a given case or to find cases that have similar language or that contain the same quotes.
ROSS says EVA will supercharge a lawyer's research. As of this writing, I have seen a demonstration of EVA, but have not yet used it. However, based on the demonstration alone, and on the simple fact that EVA is free to use, I cannot imagine ever again filing a brief or reviewing an opponent's brief without running it through EVA.
EVA is not the first brief analyzer on the market. That honor goes to Casetext's CARA, which the American Association of Law Libraries selected as its 2017 new product of the year. Judicata also has a powerful brief analyzer, which it calls Clerk and which I reviewed in October. Each of these differs in what it can do. In addition, CARA requires a paid subscription and Clerk so far works only for California cases.
Analyze A Brief
Over the weekend, Andrew Arruda, cofounder and CEO of ROSS, showed me how EVA works.
To analyze a brief using EVA, drag and drop it onto the EVA website. The first time you use EVA, you will be required to register. However, as I already said, registration is free. Use it to check a brief you've written or one you've received from an opponent. Once you upload a brief, you can perform three general functions:
Check if the cases cited in the brief are still good law.
View the cited cases on ROSS via hyperlinks that EVA adds to the brief.
Find cases having similar language to the brief.
Within seconds of uploading the brief, EVA generates an analysis of all the cases, creating a list of the cases and giving each case a label saying whether it is still valid or has been overruled, criticized, questioned or superseded by a subsequent cases. In this way, you can quickly see which cases within the brief have negative subsequent treatments.
Click on any case in that list to be taken to the full-text case on ROSS. From the full version of the case, you can click tabs to see all positive and negative treatments of the case. You can continue to click through the cases listed as positive or negative treatments to go to their full text.
At any time when you are in a case, you can print it or save it to a folder. In addition, with one click, you generate a copy-and-paste version of the case's Bluebook citation.
Find Similar Language
In addition to viewing the list of subsequent cases on EVA, you can also view the uploaded brief. EVA adds hyperlinks to all the case citations in the brief, so you can easily click through from the brief to the full text.
As you read through the brief on EVA, you may come across a passage for which you would like to find other supporting cases or see what other cases say about that issue. To do this, highlight the language in the brief and click the option "Find Similar Language." EVA generates a list of cases with similar language, showing the case name and the relevant snippet of text. Click on any result to go to the full case, and you are taken directly to the point in the case where the matching language is found.
Now that you've found this new case with similar language, you may want to know whether the full case is relevant to your issue and therefore worth reading. EVA lets you create a summary overview of the case that is targeted to your specific research query.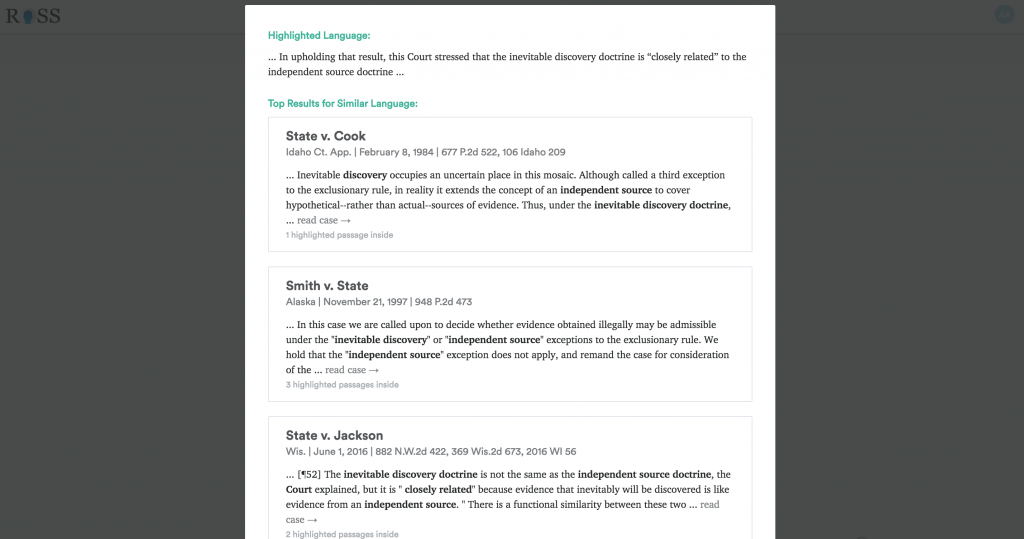 To create this overview, select the Generate Overview option, type your issue in plain English, and then click the button to process it. EVA generates a summary based on key text drawn from the opinion that shows you an overview of the opinion's discussion and any holding regarding your issue. You can copy and paste this overview as a summary of the case if you wish. Users can rate these overviews with thumbs up or thumbs down to help further train the accuracy of the results.
The Similar Language function can also be used to find exact quotes in other cases. Say, for example, your brief contains a quotation from a cited case and you would like to find other cases that use that same quotation. Highlight the quotation, select Find Similar Language, and EVA will find other cases that have the exact quote and others that have substantially similar language.
Read and Check Cases
Although EVA is primarily a brief analyzer, you can use it without uploading a brief to read cases and check their subsequent history. EVA includes a search bar where you can enter the name of a case and bring up its full text. Once you do, you can see all the case's positive and negative treatment and, if you wish, save the case to a folder or print it.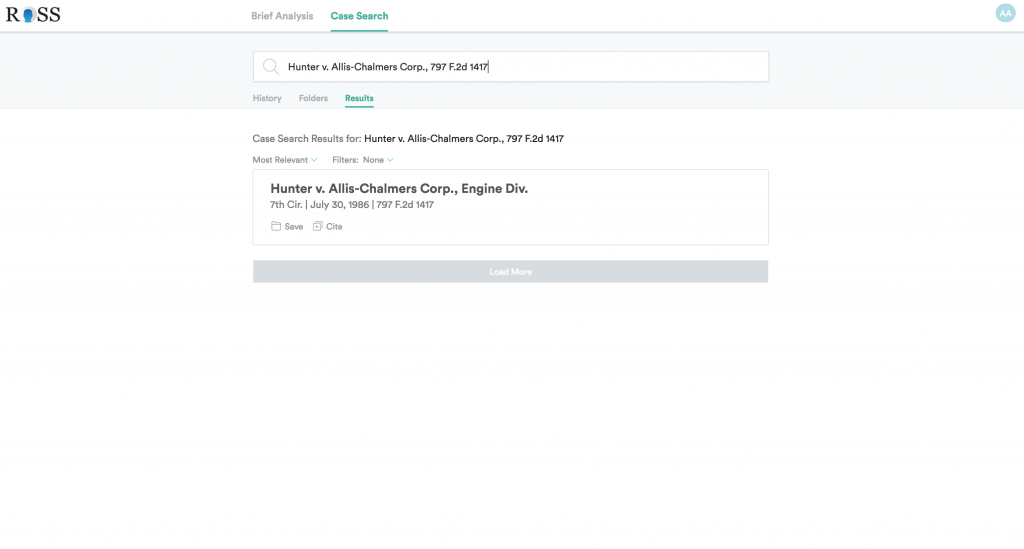 EVA's coverage of cases includes all U.S. federal and state courts, Arruda said. While the commercial ROSS platform so far works only for limited practice areas, EVA works across all practice areas.
"With EVA, we want to provide a small taste of ROSS in a practical application, which is why we're releasing it completely free," Arruda said. "If we're releasing all this for free, you can imagine what we have in our paid platform."
"We're deploying a completely new way of doing research with AI at its core," he said. "It would be silly to do research or file a brief without using this product. And, because it is based on machine learning, it gets smarter every day."
I'll repeat that I have not used EVA, but only seen Arruda's demonstration of it. But I'm impressed with what I've seen. I can't imagine why a lawyer wouldn't use EVA to analyze a brief, since it costs nothing to use and could potentially uncover weak citations or additional authorities.