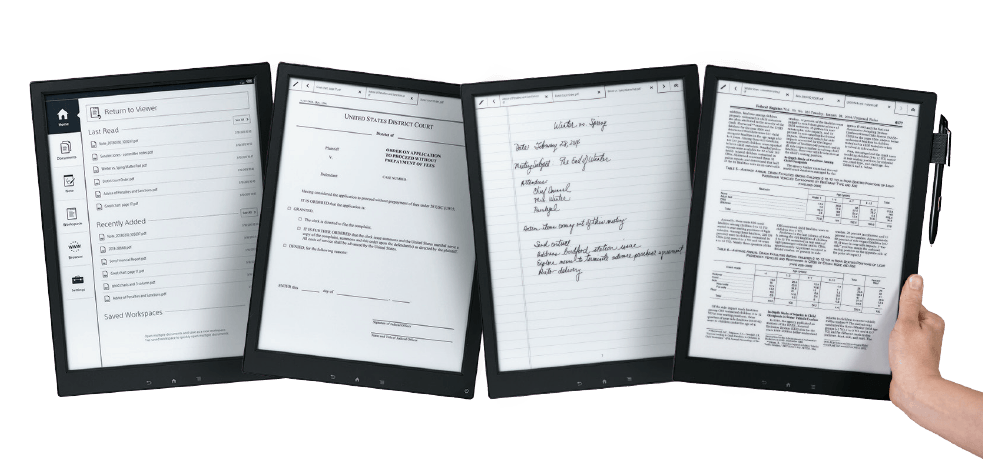 It has been some time since I last wrote about the Sony Digital Paper tablet, but Sony just rolled out some updates to it that enhance its usefulness to legal professionals.
By way of reminder, the Digital Paper is a device for taking digital notes and for reading and annotating documents. For more about how it works, see my prior posts:
When the device first launched in the U.S., the document-management company Worldox was selected to be its exclusive U.S. distributor and the device including synchronization capacity with the Worldox platform. to the U.S. market.
Now, Sony has announced support for Citrix ShareFile, a secure, cloud-based document storage and sharing platform popular among legal professionals. The Digital Paper can now connect directly to ShareFile to upload and download documents from the device. (Current Digital Paper owners will need to upgrade the firmware to enable this functionality.) I have tried this on my own Digital Paper and it works seamlessly.
Another update adds a screen-sharing function to the Digital Paper. This allows the user to view the screen of the Digital Paper on a computer display or, if the computer is connected to a projector, to project the Digital Paper screen as a presentation tool. Enabling this requires both the firmware upgrade and installation of the DP Display Output application.
Other updates to the Digital Paper announced this week:
Stylus support in PDF forms. Form functions such as Check Boxes, Radio Buttons, Drop-down Lists, List Boxes and Text Fields can now be operated using the stylus, allowing more precise control and easier data entry.
Editing handwriting annotations. Users can move, copy, cut and paste the handwriting annotations using the stylus. The handwriting annotations can be copied and pasted between different documents within the Digital Paper device.
Turning pages in zoom mode. Users can now turn pages, retaining the display position and zoom ratio, while the display is zoomed in.
Selecting a note template. It is now possible to select a different template when creating a new note.
Renaming document/note. Users can rename a document or note while it is open in the PDF viewer.
Pen/eraser options. There are now more options to choose for the pen and eraser size.
Saving notes. Users can specify a network drive folder as the destination for saving new notes.
Proxy server settings. Users can set a proxy server for each wireless router.
When I first reviewed the Digital Paper in April 2014, the price was $1,100. By my third post six months later, it had dropped to $999. It is currently available through B&H Photo for $799.