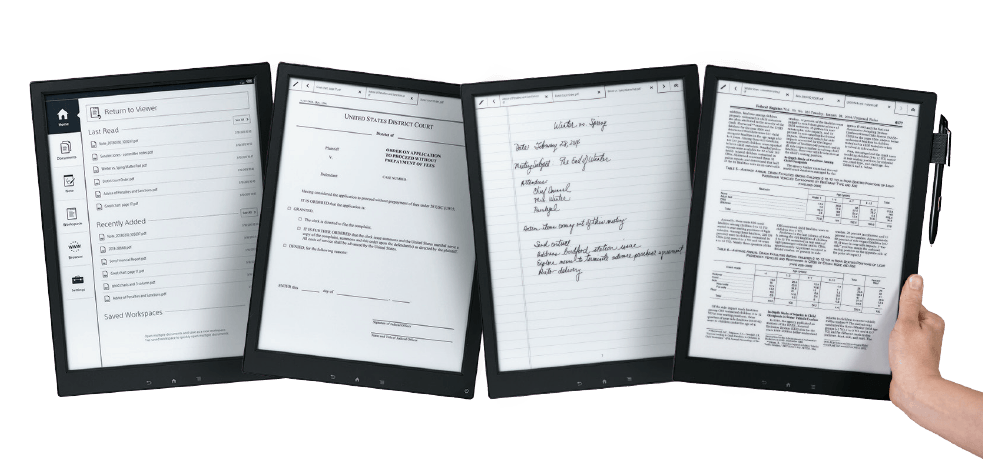 Last April, just ahead of its release in the U.S., I received a Sony Digital Paper tablet to test out, courtesy of Worldox, which was selected to be the device's exclusive distributor to the U.S. market. I posted a short video of it at the time and then wrote a more detailed review a bit later. Having now used it for awhile, I've been meaning to write an update. I was finally spurred to do so by Nicole Black's column last week at Above the Law in which she featured a lawyer, Scott Bassett, for whom the Digital Paper is "his tablet of choice."
In my original review, I wrote, "I do not remember ever being so conflicted in my opinion of a device as I am about the new Sony Digital Paper." The reason I was conflicted was that the Digital Paper, unlike other tablets, is a one-trick pony. It is a device for reading and annotating documents and for taking digital notes. Period, full stop, as our president might say. There are no apps to download. It doesn't take pictures or play music. You can't do email. There is only a rudimentary browser.
So the Digital Paper is not a tablet as we have come to think of tablets. But as I also said then, it does its one trick very well. This is a remarkably thin and light device with a battery that just won't quit after even days of use. It shows documents at full size in a display that is sharp and crisp in almost any light. Handwriting on the Digital Paper feels surprisingly like handwriting on actual paper. Take notes, annotate documents, or draw doodles — you can leave your legal pads at the office.
When I first had it, as I was preparing to head out to a meeting, I often found myself torn between bringing it or a tablet. It is superior to a tablet for reading documents and taking notes, in my opinion. But the tablet would let me do all that other stuff we do on our tablets.
Over time, however, I've come to be more likely to bring the Digital Paper. After all, I've got my iPhone, and I can do almost anything on it that I would want to do on a tablet. In fact, I find that that Digital Paper and my iPhone make the perfect couple, letting me travel light yet have access to everything I need.
Now Syncs with Box
Last week, there was news that made me even happier to use the Digital Paper: It now synchronizes with Box. As I wrote in my original review, Worldox offers synchronization through its own cloud-storage system, called Worldox FileCloud. As of Oct. 1, files on the device can now instead be synced using Box. I use Box regularly, so this is welcome news for me. Worldox will continue to support synchronization through FileCloud Oct. 1, 2015.
Something else I criticized in my original review was the price, which was set at $1,100. Since I wrote that review, Sony has begun selling the device directly to U.S. consumers (as opposed to through Worldox) through its website at a price of $999. This price is still too high for this device and will be the biggest obstacle to broader adoption by lawyers. Also, according to CNET, Sony is not offering customer support for units sold through this direct-sales site.
Sony has also added another authorized reseller to the legal community (specifically, the "legal research community"), William S. Hein & Company.
All of that said, the bottom line for me is that I have come to prefer the Digital Paper over a tablet when attending meetings, hearings and the like. Generally I load the documents I'll need via the USB connection or the FileCloud sync. In a meeting, I can have multiple documents open as well as a page for handwriting notes. Tabs make it easy to switch among documents and notes. And I like the ability to add notes and annotations directly to documents. When I'm done, I sync or move them back to my computer. (Having Box integration will make this even easier.)
The one time I prefer a tablet over the Digital Paper is when I'll be taking extremely rapid notes. I am a faster touch typist than handwriter, so I use a Bluetooth keyboard with my tablet (or just use my laptop) when I want to take notes as close to verbatim as possible.