I do not remember ever being so conflicted in my opinion of a device as I am about the new Sony Digital Paper, which just went on sale this week exclusively through Worldox and is targeted at the legal market. I posted a brief note and video about it a week and a half ago and have been using one ever since.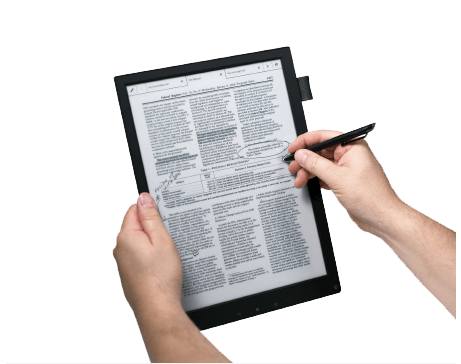 The DP is a remarkably thin and light tablet-like device for keeping all your digital documents and notes. A stylus enables handwriting, either to mark up and annotate documents or to take handwritten notes. The handwriting feels as close to real pen-and-paper handwriting as I could imagine a digital device ever achieving. Its high-contrast, E Ink display (greyscale only) makes reading documents a delight in a variety of lighting conditions, including outdoors.
Simply put, for what the DP is intended to do, it does it very well. Then why I am so conflicted about it? Two reasons. First, it is a one-trick pony. Digital notes and documents are all it does, and it only does those in one format, PDF. You cannot install other apps, whether for fun or productivity. You cannot check email. You cannot edit documents or read any non-PDF formats. You cannot track time. You cannot use it to present documents in a trial. While it does have a rudimentary browser, the browser proved all-but dysfunctional in my use, unable to load many common pages or even to access Gmail. (I should note that I was using a pre-production model.)
The second source of my conflict is the price of this device, $1,100. Given everything you cannot do with this, how many lawyers will want to pay that high a price? This is not a replacement for your iPad or Android tablet. You either leave one at the office or carry two different tablets with you to meetings. At a lower price, that might be reasonable to do. But I think many lawyers will be very reluctant to shell out $1,100 for something that will often be a secondary device.
Using the DP
Sit down in a meeting and pull out the DP, and heads turn. I can attest to this, having witnessed it several times in the last week or so. People are intrigued in part by the novelty, given that few have ever seen or heard of the DP. But everyone remarks on the size, both positively and negatively.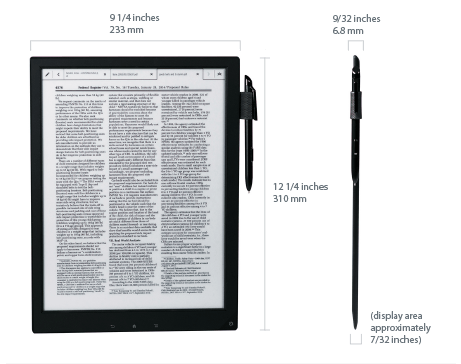 The positive is its lightness and thinness. It is very thin, just .26 inches in thickness. It is also very light at 12.6 ounces. The screen is plastic, not glass like an iPad, so that reduces its weight and enhances its durability.
The negative – at least as people initially perceive it – is that it is big, approximately 9 ¼" wide x 12 ¼" tall. Those dimensions make it much bigger than other tablets – indeed, bigger even than a standard legal pad.
Although its height and width make it less convenient to carry, they make it perfect for reading documents. Documents are displayed in full size in a display that is sharp and crisp and easy to read in any lighting condition. (Except darkness, since there is no backlight.)
A simple menu lets you quickly open documents and notes. You can also store groups of documents and notes as workspaces, letting you quickly open them as a group. With multiple documents open, tabs let you jump from one document to another. All menus can be operated by touch or using the included stylus.
For a meeting earlier this week, for example, I loaded all the documents I'd need and opened them as soon as I arrived. I also opened a note, for handwriting notes during the meeting. As we referenced various documents during the meeting, I made notes right on the documents and on the notepad, easily shifting back and forth. It all felt very much like writing on paper.
The DP comes with a stylus for handwriting. As I said above, handwriting feels very natural and the device is very responsive. If you make a mistake, simply switch to the eraser and move the stylus over in a circle over the mistake and it disappears. A button on the stylus lets you switch from pen to highlighter. You can change the width of your handwriting stroke and also the color (blue or red). Since the device is greyscale, the colors show as different shades, but they appear in color when you later view them on a computer screen.
When viewing a document, you can write notes directly on it or add sticky notes. With sticky notes, you have the choice of handwriting the notes or using the pop-up, on-screen keyboard.
Integration with Worldox
Initially, the DP will be sold in the United States exclusively through Worldox, the document management company. The DP and Worldox are integrated in a way that allows documents and notes to be synchronized between the two. Even if your firm does not use Worldox, you will be able to sync through a stand-alone cloud storage system offered by Worldox, Worldox FileCloud.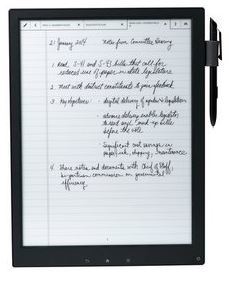 FileCloud is much like Box or Dropbox. Like those services, it adds a synchronization folder to your desktop. Drag files to the desktop folder and they are synchronized to your cloud folders. Then, in the DP, hit the synchronization icon and the files are available on the DP. Add annotations or highlights to a document on the DP and they are synchronized back the next time you sync the device.
When you use the DP to create a note, the syncing is automatic. When you close the note on the DP, it is automatically synchronized back through the cloud and your desktop, so the note is available to you on your computer.
For those who are users of Wordox, the FileCloud synchronization will further synchronize with Worldox, so your documents and notes will be sent directly thee.
Worldox FileCloud is available for an annual subscription of$120, which includes 5GB of storage.
The other way to load documents is via the included micro USB cable, allowing drag-and-drop file transfers.
I tried to access both Box and Dropbox with mixed results. I could not access Box at all. With Dropbox, I was able to download a PDF document but not upload.
Hardware Features
A few notes about the configuration of the DP:
Battery: Thanks to its E Ink display, which uses very little power, the built-in Lithium-ion battery is rated at three weeks with Wi-Fi off or two weeks with Wi-Fi on. In a week and a half of using it, I have not had to recharge it once. Charging time is said to be 2.5 hours with an AC adapter or 3.5 from a computer's USB.
Wi-Fi: Compatible with IEEE 802.11b/g/n.
Resolution: The DP has a 13.3 inch flexible electronic paper display, with a resolution 1200 by 1600 and 16-level gray scale.
Dimensions: Approximately 9 1/4 x 12 1/4 x 9/32 inches (display area approximately 7/32 inches).
Weight: Approximately 12.6 ounces
Connections: Micro SD memory card slot and micro USB connector.
Internal memory: Its 4 GB of internal storage holds approximately 2,800 PDF files at 1 MB each.
The Bottom Line
So what's the bottom line on Sony Digital Paper?
Let me sum up what I like about it:
Extremely light.
Extremely readable in a variety of lighting conditions, even outdoors.
Documents viewable at full size thanks to its large height and width.
Responsive to handwriting – very much like pen-on-paper writing.
Integrates with Worldox and FileCloud.
And then what I do not:
Limited functionality — it does what it does, but nothing else.
Large height and width. I mentioned this as a plus above, but it also makes it less convenient to carry.
No color.
Useless browser.
This is a great device for working with documents and taking handwritten notes. I really enjoyed working with it in meetings and even around my office. If I were a Worldox user, the integration would be even more of a selling point. It is hard to beat replacing a stack of documents with something so light, thin and readable.
That said, it is a one-trick pony. You will not be tracking your time or presenting documents at trial with this device. I've said it several times and I'll say it again: It does what it does very well. If that functionality fits with your practice, then this device is worth considering. But if you need a multi-function tablet, this is not that.
I like using this device. If you are a lawyer for whom money is not an issue, I encourage you to buy one. But for lawyers on a budget, who might have to choose between this or a tablet, I'd have to say to go for the tablet. With a tablet, you get all-around functionality at a much lower cost — even if you're not likely to find a tablet that matches this for handwriting.