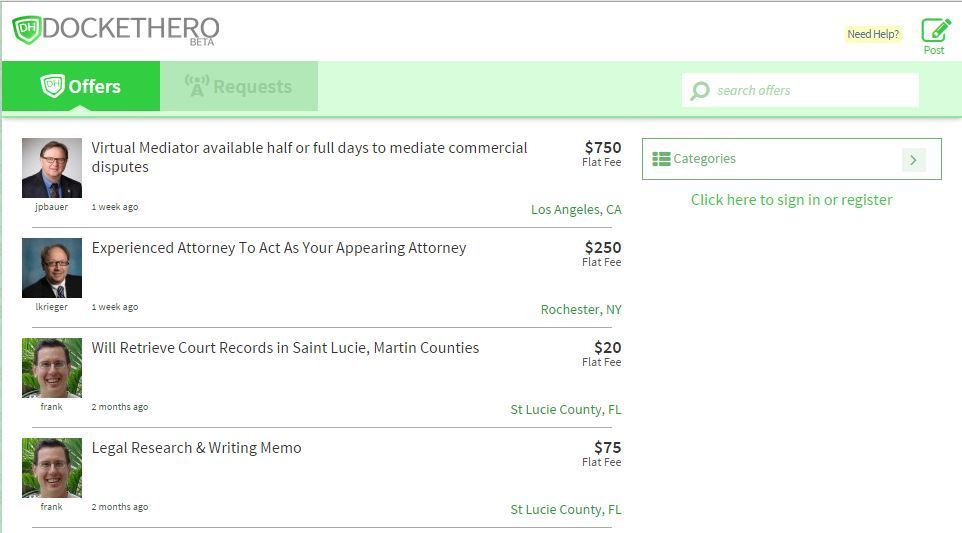 Way back in January 2014, I wrote two posts (here and here) about the planned launch of DocketHero, a website to connect lawyers who need short-term services with those willing to provide them. At the time, the site's launch was supposed to occur later that month or the next. Well, more than a year later, DocketHero has finally launched in a beta version.
The original idea of the site was pretty simple. Lawyers who needed someone to perform a specific service or who had a specific skill could post requests on the site. Those who could fill the request — the "heroes" in the site's name — could respond with an offer. In addition, anyone who offered short-term services could list their offers on the site.
However, in the beta version that launched this week, the "requests" part of the site is not yet working. That means only those who are offering services can post. There is no charge to post an offer. If a user purchases the offer, then there is a $1 transaction fee (which is subject to change).
Current listings include offers from lawyers to make court appearances or perform research and writing and from others offering to transcribe dictation, retrieve court records, write blog posts, and consult on marketing. Listings can be viewed chronologically or sorted by categories such as "court running," "appearance and court coverage," "research" and the like.
Before a user orders a service through the site, the user can ask questions of the offerer, such as, "Are you available on Sept. 3 at 9 a.m. for a hearing in Marin County?"
Background on the Site
The site is the project of Long H. Duong, a Florida probate lawyer, who told me last year that the idea for the site grew out of an experience he had when he needed to obtain documents from an Ohio probate court. Unable to find anyone close to the court who could help him, he thought of turning to one of the generic freelance sites, such as elance.com, but feared he'd be unable to find someone there with the background to  understand what he needed done. Ultimately, he ended up calling several law firms and finding a paralegal, who charged him her full billable rate.
Why did it take so long. Duong explains on the site's front page:
[D]evelopment began last year and is now complete. It's actually been done for several months, but I have a practice, a family and no time to really market it. I'm not a funded startup with a pool table and four thousand dollar massage chairs. This is NOT to say I don't care about it. I do! But I was frankly worried about not launching the "right" way.
When I first wrote about DocketHero back in January 2014, I also wrote about Legalkin.com, another site for finding short-term help. Its focus is on connecting law firms of all sizes with freelance lawyers, law students and paralegals.
The site appears to still be active. However, both Chrome and Firefox caution against visiting the site because its security certificate expired in December and has not been renewed. That means that the site's encryption protocols are not currently certified as secure.
A more established service that connects freelance attorneys to lawyers and law firms needing temporary help is Custom Counsel, which has been operating since January 2012. Last month, it was acquired by CuroLegal, an outsourced law-practice management company.