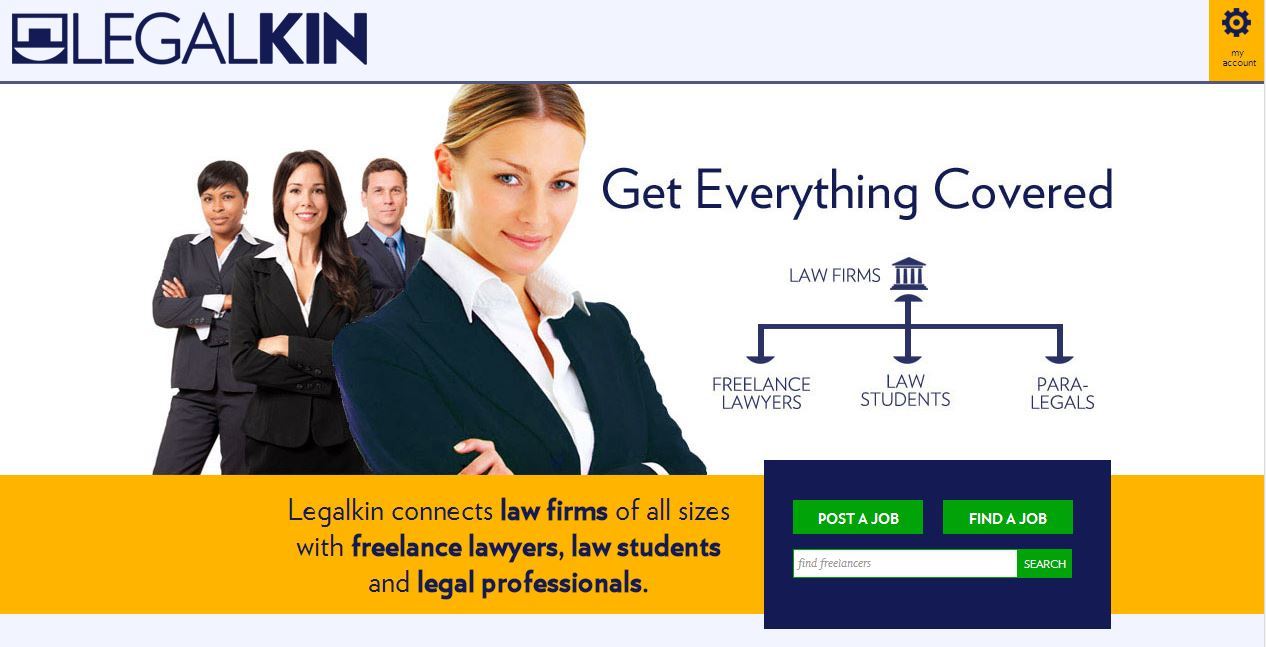 Are you a solo or small-firm lawyer who sometimes needs to hire temporary help for short-term assignments? If so, two new services promise to help you find the right person.
One, Legalkin.com, was just launched on Jan. 9. It focuses on connecting law firms of all sizes with freelance lawyers, law students and paralegals. The other, DocketHero, has yet to launch, but Carolyn Elefant has an advance look at her blog MyShingle.com. I have not seen DocketHero so I refer you to Carolyn's review for more on that. I'll tell you about Legalkin.
Legalkin is designed for law firms that need short-term help. Perhaps you need help with legal research and writing or you need someone to cover a court appearance for you. You post the job, specifying whether you want an attorney, a law student or a paralegal. You provide a description of the job, specify where it will take place, indicate the practice area, and say when it will begin. You also state the amount you are willing to pay. Currently, this must be a flat-fee, but the site plans to later allow hourly-based payments.
After posting a job, you should then receive proposals from freelancers willing to take it on. After reviewing the responses and selecting the one you want, you escrow the fee with Legalkin. It pays the freelancer only after you approve the work.
Alternatively, you can simply search the site for a freelancer who fits your needs. Once you find someone, you can offer the assignment directly. To browse all available freelancers, leave the search box empty and then hit "search." From there, you can filter by state, country and practice area. (As of this writing, the state filter is not working properly, but I am told it will be fixed by week's end.)
There is no cost to post a project and there are no subscription or membership fees. Likewise, there is no cost for freelancers to join the site and post a profile. If a freelancer gets a job and completes the assignment, then Legalkin charges the freelancer an "advertising fee" of 15 percent, which is taken out of the project fee.
Once you have used a freelancer, you can add a review to his or her profile.
Started By a Lawyer
Legalkin was launched by Jason Steinberger, a criminal-defense lawyer in New York City. He started the site, he says, to help with a common problem faced by solo and small-firm lawyers — short-term projects or assignments that do not justify hiring a full- or part-time employee.
"Legalkin solves that problem by creating a marketplace where solos and small law firms can quickly, easily and securely hire freelance, short term and per diem help," Steinberger says. "Once the freelance job is complete, the relationship ends with no further commitment."
Even when lawyers decide to hire freelance help, it is not always easy to find someone who is competent to handle the assignment. Steinberger hopes Legalkin will help address that by allowing lawyers to post the minimum requirements they need and review bids privately.
For freelancers, Legalkin provides a forum where they can list their services for free. By escrowing the fee for each project up front, it also ensures that freelancers will be paid when the project is done.
The Bottom Line
With Legalkin having just launched, it remains a work in progress. No jobs have been posted so far and only a handful of freelancers have created profiles.
As I often say about newly launched sites, Legalkin's success will turn on whether it can build up a critical mass of users. I know of at least one other such site, FreelanceLaw.com (which I reviewed in 2009). That site charges monthly subscription fees to both employers ($49 a month) and freelancers ($9.99 a month). Legalkin's approach — charging no up-front fees — makes it a more attractive option for small firm lawyers needing only occasional temporary help.
There is no question that lawyers need a simple way to find short-term and per-diem help. Many lawyers already have someone they can fall back on, but what happens when that back-up person is unavailable? I often see lawyers use listservs for this, but listservs don't offer a good opportunity to vet someone's qualifications. Plus, Legalkin guarantees that the money is there to pay for the work and that the fill-in will actually get paid when it's done.
Steinberger is blunt about the fact that the site is still rough around the edges. But he wanted to get it posted and see how people use it and then adapt further development appropriately. He is working on building up the freelancer listings through law schools and other sources.
If you have a job you need done, you might want to give Legalkin a try. And if you are a lawyer, law student or paralegal looking to pick up freelance work, add your listing. Either way, it won't cost you anything unless it works.