Derek Bluford, who was indicted by a federal grand jury in 2018 after his legal technology company shut down amid allegations of fraud, forgery and impersonating a lawyer, has resurfaced with a new self-published book in which he says he became an FBI informant assisting in a political corruption investigation into the former mayor of Sacramento, Calif., Kevin Johnson, who was also a former star with the NBA's Phoenix Suns.
Between 2016 and 2018, I wrote a series of posts about Bluford, a one-time rising star on the legal tech start-up scene whose star fell after I reported in 2016 of his settlement of a lawsuit charging him with impersonating a lawyer, forging legal documents and fraudulently swindling two clients.
In fact, Bluford's new book mentions that post, saying that he was about to sell his company to LegalZoom at a valuation of $10-15 million when the lawsuit and my report on it caused LegalZoom to back out of the deal. (LegalZoom had reached out to me in 2016 to deny that it was doing business with Bluford or had any partnership with him.)
When I first wrote about Bluford, he had been slated to be featured two weeks later at a Legaltech West Coast program on legal innovation. Just 28 years old at the time, he had achieved success and won accolades as an entrepreneur, first starting California Legal Pros, a company that marketed various legal services to both consumers and lawyers. then QuickLegal, a service that provided on-demand legal advice to consumers, and then QuickLegal Practice Management, a cloud practice management platform for lawyers.
Following my report, QuickLegal shut down, but then seemed to be reincarnated in another similar startup called LawTova. After I wrote about that company (here and here), it too shut down. I then wrote about yet another startup that had ties to Bluford and QuickLegal, which has also since shut down.
The 2018 indictment of Bluford was based on the same issues I'd written about, charging him with wire fraud and money laundering for allegedly falsely claiming to be an attorney and defrauding a couple of over $500,000. That case remains open in the U.S. District Court for the Eastern District of California, where a status conference is scheduled to be held on Oct. 29.
Bluford's Book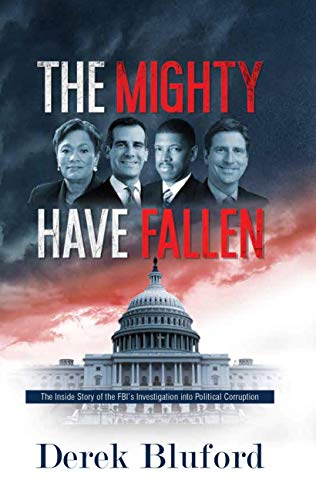 Yesterday on Amazon, Bluford published a book, The Mighty Have Fallen, in which he says that he was a "confidential human source" for the FBI who worked under the code name "The Lobbyist" on several political corruption cases.
The initial investigation in which he was involved, Bluford writes, revolved around Johnson, the former NBA star who became mayor of Sacramento and also president of the U.S. Conference of Mayors, but whose tenure was marred by allegations of sexual abuse.
Bluford says Johnson became an investor in one of his companies after meeting him by chance in 2014 during lunch at an upscale Sacramento restaurant. That company had a product designed to help local and state governments enforce parking and code violations. Bluford alleges that Johnson began calling other mayors and offering them money to push for contracts with the company, which Bluford says would have enriched Johnson as a shareholder.
(When the company in which Johnson invested, then called Text to Ticket, launched, Bluford's involvement in it appeared to have been hidden. But, as I wrote at the time, the company had "an uncanny number of connections to QuickLegal and Bluford." Subsequently, Bluford's attorney took issue with my drawing connections between Text to Ticket and either Bluford or QuickLegal. But in the book, Bluford explicitly describes Text to Ticket as his idea and a company in which he was directly involved.)
Bluford says that shortly after he was indicted, the FBI offered him a deal to cooperate as a witness against Johnson. Initially, Bluford claims in the book, they wanted his help in their investigation into sex trafficking allegations in Johnson, but that the investigation later pivoted "to pursue him for political corruption crimes" which also involved other elected officials and candidates for office.
The book, of which I have read only the first couple chapters, is Bluford's story of what he says was his role in those investigations.
"This is a tale of crooked multimillion-dollar contracts, envelopes stuffed with cash, members of staff who will stop at nothing to make sure they remain loyal to their candidate, and developers, companies, lobbyists, and politicians who brazenly enrich themselves and those around them at the public's expense."
Here is the whole set of my prior posts about Bluford:
See these posts for more information: