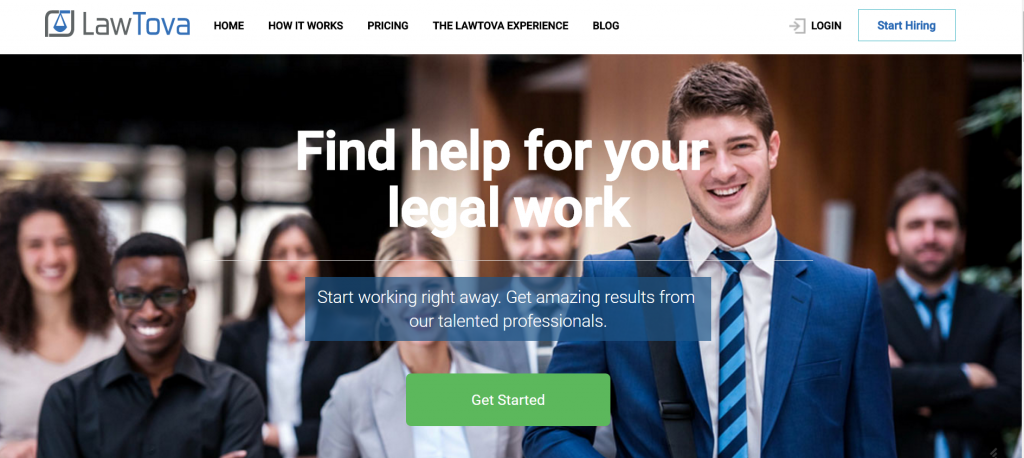 [Update 3/15/17: As of this morning, LawTova's two sites are back online, after being offline for at least a week. This development doesn't invalidate the questions I raise below about LawTova's connections to QuickLegal, another startup that shut down amid fraud allegations concerning its owner. If anything, this makes those questions all the more important.]
A legal startup appears to have closed its doors after I began asking about its ties to another legal startup that shut down amid fraud allegations.
Near the end of 2016, I became aware of the new startup, called LawTova. Its websites provided no information about the people behind it. But as I looked into it, it appeared to have several people involved in its management and operations who were previously involved with the management and operations of the now-defunct startup QuickLegal, which closed its doors after this blog reported allegations of fraud and other misconduct concerning its CEO.
In a series of posts here during 2016, I reported on various allegations concerning QuickLegal's CEO Derek Bluford. Most notably, Bluford had, at the time, recently agreed to have a $559,330 judgment entered against him to settle a lawsuit charging him with impersonating a lawyer, forging legal documents and fraudulently swindling two clients who had sought legal help from another company he ran, California Legal Pros, which provided non-lawyer legal help.
At the time I reported that, in May 2016, Bluford was scheduled to be a featured speaker two weeks later at a Legaltech West Coast lightning round on legal innovation. After my report, Legaltech removed Bluford from the panel.
Subsequently, both QuickLegal and California Legal Pros ceased operating. However, shortly after I first wrote about QuickLegal, activity began to launch LawTova, and the new company appeared to bear many ties to QuickLegal and Bluford.
The most direct tie was a corporate Statement of Information for LawTova filed with the California Secretary of State on Sept. 29, 2016. It listed as LawTova's CEO, secretary, CFO, director and resident agent Cyrus Zal, an attorney in Folsom, Calif., just outside of Sacramento.
Zal was Bluford's attorney and is his father-in-law. He represented Bluford in several lawsuits, including the fraud matter mentioned above, and he also represented QuickLegal in its corporate affairs and in several lawsuits. The LawTova website even featured a testimonial from lawyer "Cyrus Z."
On Feb. 27, I emailed Zal about his role with LawTova and asked about Bluford's involvement. He replied the same day, telling me that he was, in fact, the CEO of LawTova. He said that he took over that role at the beginning of the month (contrary to the Secretary of State filing).
As for Bluford, he said, "No, Derek Bluford is not involved with LawTova, Inc."
He further wrote: "Please be advised that I will be releasing a News Release tomorrow regarding LawTova, Inc. and I will send a copy of it to you."
No news release came. When I checked back a few days later, Zal said the release had not yet gone out, but that "you will be the first to get it."
Next time I checked, LawTova had disappeared from the web. The company actually had two websites, one for lawyers and one for consumers, both of which appear to have shut down. Its Facebook page also returns a Page Not Found message. Zal has not responded to my subsequent emails asking about the status of LawTova.
Ties to Bluford and QuickLegal
All of this begs the question, Was LawTova a front for Bluford to get back into the legal startup game? I cannot provide a definitive answer, but I can tell you that LawTova had uncanny ties to QuickLegal. In addition to the Zal connection, here are others I have found.
One is the striking similarity between the two businesses. Bluford started Quicklegal as a service that provided on-demand legal help to consumers. Later, he started QuickLegal Practice Management, a cloud practice management platform for lawyers. Similarly, LawTova had two separate websites, one, lawtova.com, offered a practice management platform for lawyers, and the other, lawtovaservices.com, offered legal help to consumers.
Both QuickLegal and LawTova received seed funding through 500 Startups.
Read Pam P.'s review of LawTova on Yelp
A December 2016 Yelp review of LawTova by someone who described herself as a 70-year-old disabled woman says that LawTova is the same business that was formerly Legal Pros. California Legal Pros was Bluford's original business and the one that gave rise to the fraud lawsuit against him mentioned at the top of this post.
Timing
Another is the timing of LawTova's emergence. The lawtova.com domain was first registered on July 21, 2015 — by whom I can't tell — but then updated on June 16, 2016, approximately two weeks after I first wrote about QuickLegal. The lawtovaservices.com domain was registered on Sept. 1, 2016, a few months after my post. For both domains, the registrant information is masked. It appears that LawTova's entry on the Angel List of startups was created (or at least significantly updated) at about the same time, on Sept. 6, 2016.
The lawtova.com website appears to have been created on July 21, 2015. The lawtovaservices.com website was created on Sept. 1, 2016, the same time as the domain was registered and the Angel List entry created.
Parallel Addresses
Then there are the parallel office locations. In its September 2016 corporate filing, LawTova listed its address as Zal's law office. On its website, it listed its address as 580 California St., 12th and 16th Floors, San Francisco. That address is the location of Regus, a company that provides temporary offices and meeting rooms. QuickLegal formerly listed its address as 555 California St., San Francisco, one block away from the Regus address and also a location for temporary offices and meeting rooms.
LawTova's website says that it also has an office in Sacramento, although it does not list an address there. Sacramento is where QuickLegal was based and where Bluford was (and I believe still is) based.
Parallels Among Principals
Last but not least are the parallels among the principals. LawTova's website provides no information identifying any of the principals or staff behind it. It is unusual for a company website not to have an "About Us" page identifying its founders and executives.
As of Jan. 1, 2017, LawTova's Angel List profile named its founder as Russell Johnigan. Johnigan's name has since been removed from the profile. Johnigan was the Sacramento-based chief operations officer for Quicklegal. His Angel List profile shows him as a graduate of Arizona Summit Law School and also shows him as following only one company on Angel List, QuickLegal.
LawTova's Angel List profile names its chief technology officer as Fabion Stephens. Fabion Stephens formerly worked for Quicklegal, I've been told, although I have not been able to confirm that. Stephens' Twitter account shows several tweets and retweets about Quicklegal and Bluford that suggest he had a connection to the company. One of the 41 people Stephens follows on Twitter is Johnigan.
LawTova's Angel List profile names Sacramento-based Steve Nguyen as an investor. I cannot confirm whether Nguyen had a formal relationship with
Quicklegal, but his Twitter feed shows that he tweeted about Quicklegal and Bluford a number of times. During a week in 2016 when Quicklegal was participating in a startup contest run by the Sacramento Kings, Nguyen was tweeting support for the company almost every day.
LawTova's Angel List profile lists Ron Kain as an investor. A former QuickLegal employee tells me that Kain was a close friend of Bluford and may also have been an investor in QuickLegal.
LawTova's Angel List profile lists Brett Bunnell under "former employees" as CEO and co-founder. Bunnell's LinkedIn page currently lists him as a co-founder of LawTova. Bunnell is a 2015 graduate of the University of Cincinnati College of Law and is licensed to practice in California. (I tried to reach Bunnell through the contact information listed on the California Bar website but received no response.)
LawTova's angel page lists Kirill Tarasenko as attorney. In a 2016 Sacramento Bee story about QuickLegal and Bluford, Tarasenko was featured as a customer of the company. "Sacramento attorney Kirill Tarasenko runs a busy personal injury practice near Howe Avenue and Fair Oaks Boulevard in Sacramento," the story said. "He said QuickLegal's calendar system helps him ensure that he never forgets a court appearance or deadline."
A story about Quicklegal in the Sacramento business publication Comstock's also featured Tarasenko as a satisfied customer of the company. "Tarasenko says he tried cheaper software options before, but none matched Quicklegal's bundle package that includes practice management, legal research and malpractice insurance," the article said.
Phone Out of Service
Since at least mid-January, the phone number that was listed on the LawTova website has not been in service. In February, I spoke to a Regus receptionist at the San Francisco office that LawTova listed as its address. She confirmed that LawTova leased space there but said that no one was in the office and that she was not authorized to provide any contact information for anyone associated with the company.
In my email to Zal, I asked him about the phone line. His Feb. 27 reply said that he was in the process of converting the system so calls would be answered by a live person.
As I noted, Zal has not responded to my subsequent emails. Attempts to visit either website, lawtova.com or lawtovaservices.com, generate a message that the site cannot be reached because the connection timed out.
I have no way of confirming with certainty that LawTova has shut down. Perhaps it is going through an extensive redesign of its websites. Or perhaps it is experiencing extended technical difficulties. Maybe this post will prompt it to re-emerge.
Whatever its status, one thing seems clear: LawTova bears many ties to QuickLegal and Bluford.