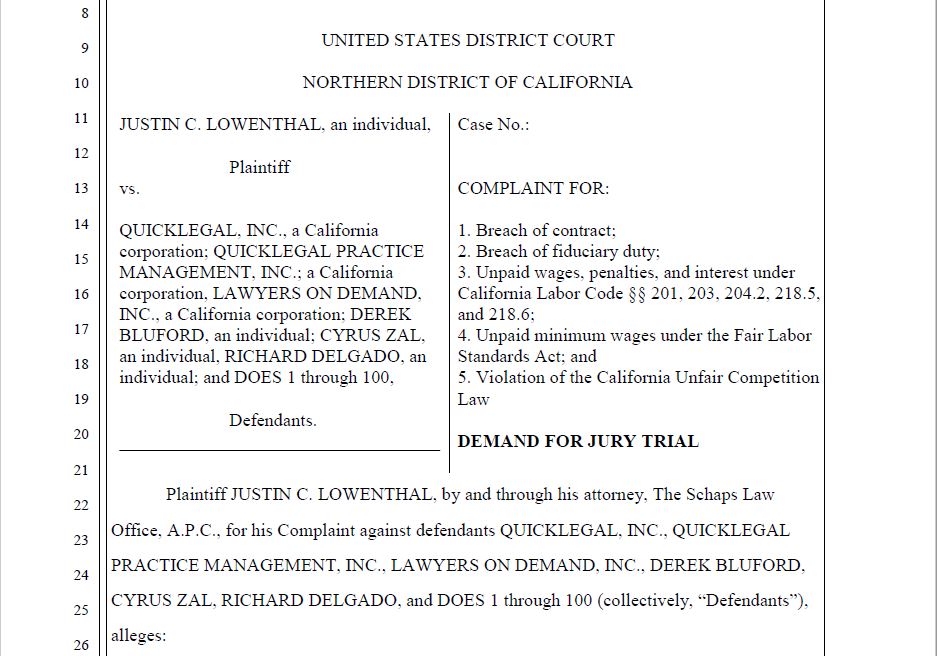 Another lawsuit has been filed against QuickLegal, this one by a California attorney who says that the company failed to pay stock and wages due him for his work as QuickLegal's general counsel in 2014.
Justin C. Lowenthal, a lawyer in Davis, Calif., filed suit this week in U.S. District Court in San Francisco asking that he be awarded 7 percent equity in QuickLegal or $280,000.
---

Related:

---
Lowenthal's complaint says that he entered into an employment agreement in July 2014 to serve as part-time GC to Lawyers On Demand, a predecessor to QuickLegal. Because the company was a startup with limited funds, Lowenthal alleges, he accepted stock in lieu of salary. The agreement originally called for Lowenthal to receive the greater of 50,000 shares of common stock or 5 percent of all outstanding shares.
Shortly after executing the agreement, Lawyers on Demand was reconstituted as QuickLegal. On July 28, 2014, Lowenthal sent an email to Derek Bluford, QuickLegal's CEO, asking him to confirm a conversation they'd had that his contract would be "fulfilled and honored" by QuickLegal and that his equity stake was to be increased from 5 percent to 7 percent. The same day, Bluford replied, "Confirmed!"
The term of the agreement extended only through Nov. 1, 2014. During that time, Lowenthal alleges, he devoted "significant time and effort" to QuickLegal.
In fact, Plaintiff went above and beyond the requirements of the Employment Agreement, at the expense of his other work and family responsibilities. Plaintiff frequently worked at the LAWYERS ON DEMAND, INC./QUICKLEGAL, INC. offices, where he was assigned a personal office. Plaintiff also received office keys, a Quicklegal uniform, a parking pass, and business cards bearing the title "General Counsel."
When his employment term ended, Lowenthal says, he contacted Bluford asking that he be issued a certificate reflecting his 7 percent ownership and that "such is reflected in the ledger." Bluford responded, the complaint says, indicating that the shares would not be transferred that that Lowenthal's had been unsatisfactory, even though Bluford had never before raised this concern.
In September 2015, Bluford, his attorney Cyrus Zal, and others formed a new entity, QuickLegal Practice Management Inc., using the same domain name, logo, software and social media accounts, the complaint says. When Lowenthal asked again about his stock, Zal emailed:
As you may know, Quicklegal Inc. has been named as a defendant in a lawsuit and all of its bank account funds are currently frozen pending the outcome of the litigation. Your claimed 7% share in Quicklegal has very little value right now; nevertheless, Quicklegal does want to resolve your demand for a fair buy-out. There is a separate company called Quicklegal Practice Management, Inc. ('QPMI') that you mention in your email. As you know, your employment agreement was with Quicklegal, Inc., and QPMI was not in existence either at the time you entered into the employment agreement or at the time you had completed your services to Quicklegal, Inc. Thus QPMI is a totally separate entity from Quicklegal that did not exist at any time during your employment with Quicklegal, so you have no claim against QPMI with respect to your employment agreement with Quicklegal.
To date, Lowenthal alleges, QuickLegal has paid him nothing for his work. His complaint alleges that he is owed unpaid wages under federal and state wage-and-hour laws and that he is entitled to a 7 percent equity interest in the QuickLegal entities or $280,000, whichever is greater.
"Two fundamental principles stand at the heart of this case," the complaint says. "First, employers must pay employees the wages they promise. Second, corporations and those who control them must treat minority shareholders fairly and honestly. Defendants — a set of related corporations and their officers, directors and majority shareholders — brazenly violated both of these principles with respect to Plaintiff Justin C. Lowenthal."