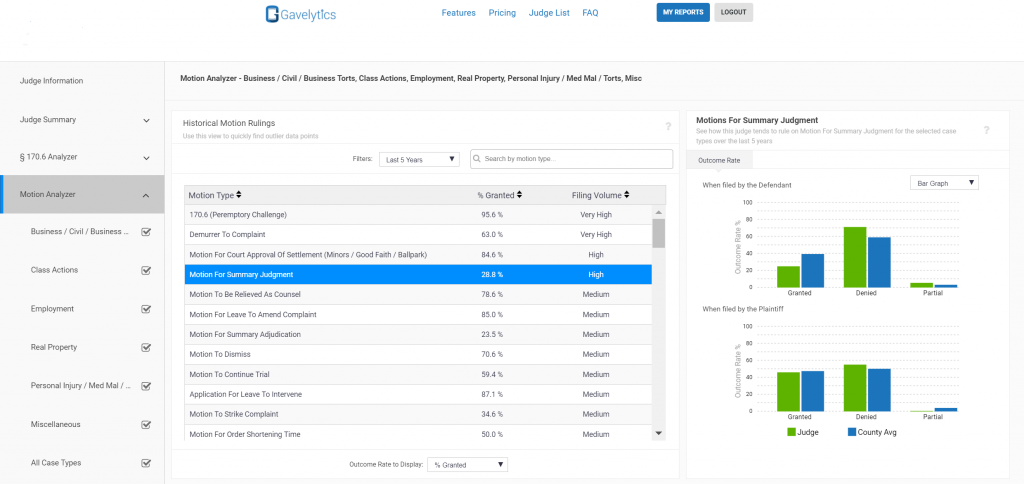 When last we wrote about judicial analytics company Gavelytics on March 13, it was announcing a $3.2 million funding round to support development of new features and expansion into additional jurisdictions. Today, the first two of these new features roll out — a rulings database and an arbitrator archive.
As I wrote when Gavelytics launched last September, it uses artificial intelligence to extract data from court dockets and then applies analytics to reveal insights about judges, such as how they might rule on particular matters and in what timeframe. It was founded by Rick Merrill, a former biglaw litigator who because frustrated over his inability to get meaningful information about the judges before whom he appeared.
Gavelytics launched with analytics on judges in Los Angeles and Riverside counties in California. In April, it added San Francisco County Superior Court. During the second quarter of the year, Merrill told me in March, he planned to rapidly add most of the rest of California. Later this year and into next, he said, he would add analytics for additional states.
With today's enhancements, Gavelytics adds two features:
Trial court rulings. This databases includes thousands of Los Angeles trial court orders dating back to 2000. Users can search the rulings by judge, subject matter and type of motion. This will allow users to see not only how judges tend to rule on certain types of motions, but also the actual rulings. This can be particularly useful, Merrill said, under California Code of Civil Procedure §170.6, which gives parties the right to disqualify a judge from a case without having to show a reason.
Arbitrator archive. The arbitrator archive provides analytics on more than 30 arbitrators who are former Los Angeles Superior Court judges. A lawyer could use this, for example, to find out if an arbitrator tended to rule for plaintiffs or defendants while on the bench, or if the arbitrator was subject to an unusually high number of §170.6 motions from one side or another.
While these new features are available only in Los Angeles, they will be rolled out to San Francisco soon and will be available statewide later this year, the company said.