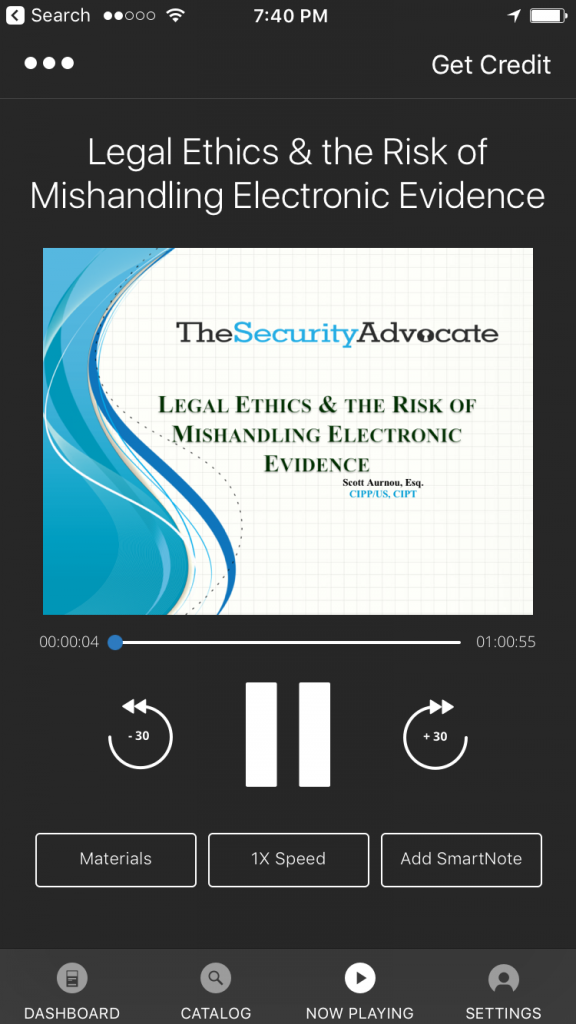 The CLE provider Lawline recently rolled out enhancements to its iOS app, adding the ability to view synchronized presentation slides as you listen to a program, to download the program's written materials, and to add s0-called SmartNotes, which are notes that adhere to the point in the presentation where you added them.
Lawline first released the app last November, after releasing a major redesign of its website earlier last year. The original version of the app provided only audio, without the ability to view slides or course materials.
Now, as you view a program, the slides appear and progress automatically in sync with the program. You can also swipe through the slides to move forward or backward through the deck, and then tap "Sync Slides" to return to the correct point in the presentation. To enlarge the image of the slides, tap the screen.
Written course materials can be downloaded from two places within the app. On the course description page is an option to "View Course Materials." While viewing a course, a "Materials" button takes you to the materials.
The new SmartNotes feature lets you add notes to a program as you view it. The note is synchronized to the point in the presentation where you add it, so you can later view the note and return to the same point in the audio.
More generally, the app enables Lawline members to download any of their audio courses to an iPhone so they can listen to courses with or without an internet connection. The app's dashboard displays the courses you've selected and can be filtered to show just those you've downloaded or those you've completed.
The app also gives users access to a mobile-optimized catalog that allows them to find courses and add them to their queue. Users can search the catalog or browse it by categories.
Although the app is optimized for iPhones, it also runs on iPads. It is free to download, but you will need a Lawline subscription to download courses. You can download the app from the iTunes store.