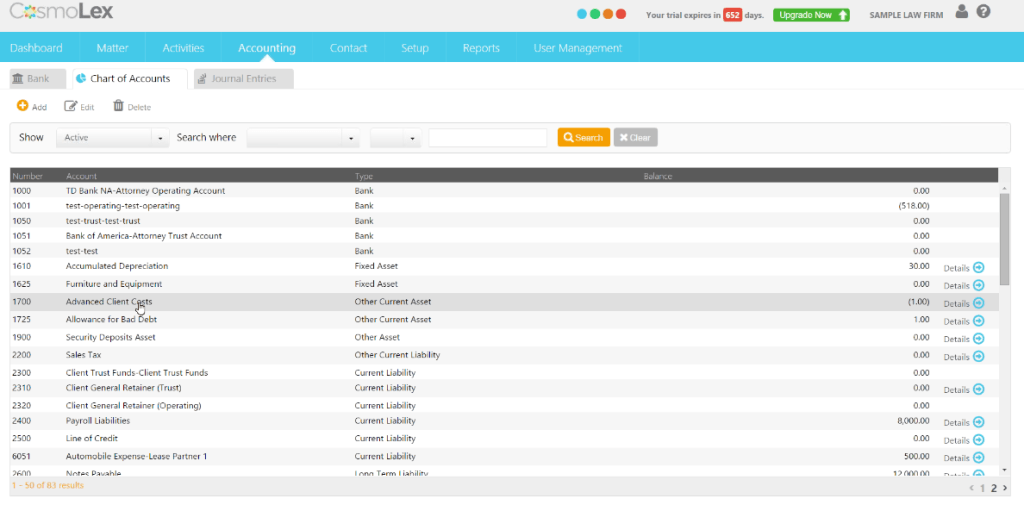 Since its debut at ABA Techshow last year, CosmoLex has been on a development roll. It started as a cloud-based time, billing and trust accounting program for solos and small firms. (I reviewed it here.) Then, in December, it added a suite of practice-management tools that included document storage and management, pre-defined workflows and case notes.
But CEO Rick Kabra still saw a major gap that none of the cloud-based practice management platforms – including his – had spanned. None offer a fully integrated law firm accounting system. At best, they provide linkages with third-party accounting programs, such as QuickBooks or Xero, that were designed for businesses, not lawyers.
For the past year, CosmoLex has been working to bridge that gap, Kabra told me in an interview last week. At the forthcoming ABA Techshow (April 16-18 in Chicago), the company will roll out a complete law firm accounting system as a fully integrated component of its practice management platform. The system will include both general business and legal-specific accounting functions.
With this upgrade, CosmoLex will offer, in a single platform:
Calendar and task management.
Business accounting.
Time and billing.Trust accounting.
Document management.
Kabra told me that the accounting system will be fully live and operational when it launches at Techshow. It will be made available to current customers at no additional cost and will be immediately included in new customers' subscriptions.
Integrated System
Other platforms' lack of an integrated accounting system creates several problems for law firms, Kabra contends. One is double data entry. Because there is no way for a firm's practice management system to talk to its accounting system, the same data often has to be entered twice, once in each system.
Another problem is leakage of recoverable costs, he says. This is due to spending that shows up in a firm's accounting system but not in its billing system, as well as to differences in cost accounting between businesses and law firms.
A third issue this new accounting system will address is allocation of revenue, Kabra says. The system will break down client payments and automatically allocate them to fees or costs. It will also allow firms to track income by practice areas.
According to Kabra, the accounting features in CosmoLex will include:
Complete business accounting.
Complete legal-specific general ledger.
Register view for key accounts.
Complete trust accounting.
Check printing.
Journal entries.
Deposit-slip preparation.
Bank reconciliations.
Accounting for fee advances or client funds in trust or business accounts.
Accounting for client-reimbursable costs or advanced client costs.
Contemporaneous posting of direct and indirect matter costs for future billing.
Automatic allocation of revenue receipts by cost and fee income.
Ability to track income by practice area.
Ability to enter and reconcile credit card statements and to post credit card charges as matter expenses.
Basic financial reports such as P&L statements and balance sheets.
During my interview with Kabra, he gave me a preview demonstration of some of the accounting systems features and functionality.
Kabra showed the example of a lawyer writing a $100 check to cover court costs in a matter. When CosmoLex is used to create the check, the payment of the court costs gets posted directly to the client's matter, while it is simultaneously coded as "reimbursable client costs" and added to the accounting system. The payment is entered only once, cutting down on both effort and errors, Kabra says.
Another example Kabra showed me is allocation of payments. When a payment comes in on an invoice, the system already knows what portion of that payment is for fees and what portion is for expenses and it makes that allocation. If less than full payment comes in, the system allocates it first to reimbursable costs.
As noted above, the system will allow firms to track fees by practice areas. This is done through custom settings in the accounting system. When a fee comes in, the income can be allocated to the firm's family law account, for example.
Later this year, CosmoLex will add integration with banks and automatic reconciliation.
"We put a lot of research into this," Kabra says. "We have been working with lawyers and accountants to get it right. We will give our users something they can use right out of the box."