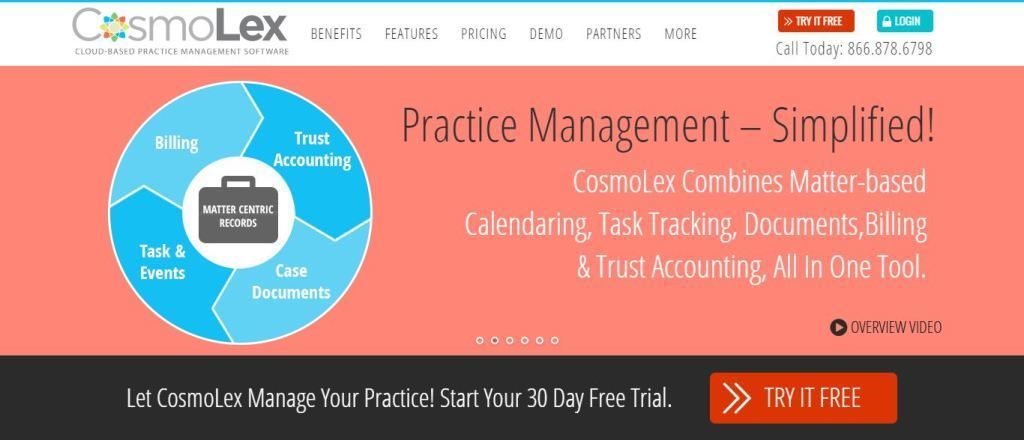 Since its launch earlier this year as a cloud-based billing and trust accounting platform, CosmoLex has steadily added new features and capabilities, gradually moving towards becoming a full-fledged law practice management platform. That progress continued today with the roll-out of three new features: document storage and management, pre-defined workflows and case notes.
I first saw CosmoLex at ABA Techshow last March, when I included it in my list of the show's top 10 product announcements. I reviewed it in more detail in July, when it was still only for billing and trust accounting. At the time, CosmoLex CEO Rick Kabra told me of his plans to build out CosmoLex with a full array of practice-management features such as contact management, matter management and calendaring. "Our goal is to become the leading cloud provider for solo and small firms," Kabra said then.
True to this promise, CosmoLex in September introduced its version 2.0 with a full suite of practice management functions, including calendaring, task management and docket control, in addition to the billing and accounting features it already had, and integrated with its existing matter-management and contact-management functions. At the time, it also added Google Calendar synchronization.
In today's release, version 2.3, CosmoLex is adding document storage and management. This is actually an integration with Dropbox, which is where the documents are stored. When you authorize the integration, CosmoLex automatically creates a duplicate folder structure for all your matters in both Dropbox and within CosmoLex.
From within CosmoLex, you can view these folders and the names of the documents they contain. also from within CosmoLex, you can upload and download documents, with the documents actually going to and coming from Dropbox. Likewise, if you add documents to a matter folder in Dropbox, they appear within the same folder in CosmoLex.
Kabra told me that he will soon add integrations with Box, Google Drive and NetDocuments. His team is also developing  a viewer to view documents from directly within CosmoLex.
Also launched today were:
Pre-defined workflows. This enables users to create default lists of tasks for various types of matters. If you handle divorces, for example, you can create a default task list of standard tasks for that type of case. Then, when you open a new divorce matter, use it to populate your calendar.
Case notes. These are free-form note fields attached to each matter within CosmoLex where you can log notes of conversations or anything else pertinent to the matter.
Among other features added since my July review are:
An enhanced address book that added the ability to manage non-client contacts within the application in addition to client contacts.
Conflict checking for clients or entities.
User-level access controls, allowing an administrator to set levels of access and security for different users. Users can be limited to specific sections or given view-only access to specific sections. Users can also be restricted to a specific set of matter owners and timekeepers.
The price remains as it was when I reviewed the site in July; $43 per login per month if paid annually or $50 if paid monthly. CosmoLex offers a free 30-day trial with no credit card required, if you want to go in and kick the tires.