In my post last week, The 10 Most Important Legal Technology Developments of 2014, I said that email encryption is now a "must-have tool for lawyers." Yet, as I've also noted here, only a minority of lawyers use encryption. Part of the reason for this, no doubt, is that encryption can be cumbersome.
This, in previous posts here, I've reviewed two different applications that make it easy for lawyers to encrypt email. One, Enlocked, which I wrote about here and here, is a plugin that works with Microsoft Outlook, Gmail and iOS and Android mobile devices. The other, Delivery Trust, which I wrote about here, has more security controls than Enlocked and does not require the recipient to install a plug-in.
Today I am covering a third option for easy email encryption, Virtru, a free program that works with Outlook 2010 and 2013, with webmail services such as Gmail and Yahoo, with Mac Mail, and on iOS and Android devices.
Like both Enlocked and Delivery Trust, Virtru is enabled in Outlook by adding a plug-in. For web-mail services, Virtru provides browser extensions that work with Chrome and Firefox.
Virtru adds two security features that Enlocked lacks: the ability to disable forwarding of an email and the ability to set an email to expire, after which the recipient will be unable to read it.
To use Virtru with Outlook, you first download and install the plugin. It adds an option to the Outlook toolbar to turn Virtru on and off. When on, all emails you send are encrypted, including their attachments.
The recipient receives an email from you explaining that you have sent a secure message and directing the recipient to a secure website to read it. You can customize this message and toggle it on and off. Recipients must log in to the site with their email credentials to verify their identity, where they can then read the message and reply. The reply is also encrypted.
If the recipient has already installed the Virtru plugin, then the email appears as a regular email message, except that it shows a padlock icon. It can be opened and read directly in Outlook, along with any attachments.
Virtru includes two other options for encrypted emails: "Disable Forward" and "Set Expiration." If you click Disable Forward when sending an email, the recipient will be unable to forward it. If you click Set Expiration, you can set a date and time for the message to expire, after which the recipient will be unable to read it. After you send an email using Virtru, you can revoke it at any time, after which the recipient will no longer be able to read it. All of these options are available directly from within Outlook.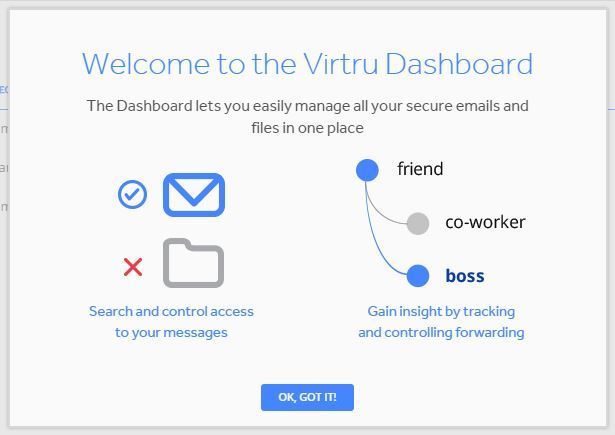 Regardless of whether you use Virtru with Outlook or with a webmail service, you also get access to an online dashboard. The dashboard shows you the full history of messages you've sent using Virtru and includes controls for revoking access, adding an expiration date and disabling forwarding.
The one glitch I ran into using Virtru involved Gmail. The first time I sent an encrypted email from Outlook on my desktop to Gmail, Gmail considered the message spam. As you can see above, Gmail explained that it considered it spam because it was "written in a different language than your messages typically use." Presumably, this "different language" was the encrypted text. However, once I indicated that the message was not spam, the problem never recurred.
As noted earlier, Virtru can also be used with the iPhone and with Android devices. It works directly with your device's email application and includes the same options as other versions for revoking emails, setting expiration dates and limited forwarding.
Virtru is free to use. It is still in beta, but users were sent an email last week saying that it is soon moving from beta to general availability. The email did not indicate whether there would be a charge to use the product after it comes out of beta. Virtru also offers an enterprise version that works with Google Apps.
Like the other encryption apps I previously reviewed, the bottom line on Virtru is that it makes encryption as easy as sending an email. No exchange of "keys" is required, as with some other encryption programs, or even any real understanding of encryption.
Virtru works best when both the sender and recipient already have the plug-in, in which case it as seamless as sending and reading any other email. Even when only the sender has it, however, it is easy for the recipient to read and receive attachments.