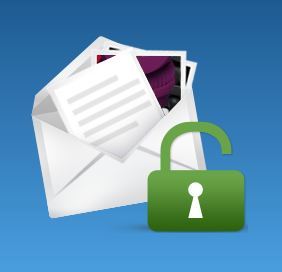 Last April, I wrote about Enlocked, an application that I described as making email encryption idiotically easy. Enlock is a plug-in you add to your email client — whether it is a desktop client such as Outlook or a webmail service such as Gmail. Once installed, encrypting an email is as easy as clicking a button that says, "Send Secure." Read my earlier review for full details.
At the time I wrote that, Enlocked was completely free. That is about to change. Starting in early January, Enlocked will be free only for up to 10 encrypted emails a month. Beyond that number will require a subscription. The per-user subscription plans will be:
$10 a month to send up to 100 encrypted emails a month.
$20 a month to send up to 2,000 encrypted emails a month.
$30 a month to send an unlimited number of encrypted emails.
I spoke this week with Andy Feit, the CEO of Enlocked, who explained why the company decided to charge a subscription. When Enlocked launched earlier this year, the hope was that an easy, free encryption tool would have widespread consumer appeal, enabling the company to bring in revenue through advertising.
That did not turn out to be the case. Instead, the company realized that the bulk of its users fell into four more vertical groups: legal professionals, health care professionals, finance and accounting professionals and smaller businesses. Further, feedback from users within those verticals indicated that they were concerned about the company's financial viability. They would rather see the company charge for its product and be viable for the long term than have it remain free but risk long-term survival.
"We decided on a price point that is low enough that it will not scare off the professional or small-business user," Feit said.
As I explained in my earlier post, an email that is sent encrypted must be decrypted by the recipient. Enlocked makes decryption as easy as the push of a button also, although the recipient will also need the Enlocked plug-in (or use the Enlocked Anywhere web tool). Decrypting emails will remain free — there will be no charge for reading decrypted emails.
New Features
Since I first wrote about Enlocked, new features have been added. One is the ability to require a secondary password beyond your initial Enlocked user password. This way, should you step away from your computer or smartphone with your email program open, someone could not simply sit down and send or open an encrypted email without entering the second password. The secondary password also protects the security of your encrypted email if your email account is hacked.
Another new feature is Ensafe. Using this, you can encrypt email messages that were sent unencrypted but that you want to save securely. Currently, it works only with Gmail and Google Apps, but the company is working to extend it to all popular email programs.
To do this, you designate a folder (or a "label" as Gmail calls them) for encryption or create a new secure folder. Then, every email within that folder and every email you move to that folder is encrypted. This way, even if someone were to sit down at your computer or hack into your email account, they would not be able to read the emails in that folder. This is an easy way to save and protect client emails.
As I noted in my earlier review, Enlocked works with Outlook, popular webmail programs vias plug-ins for all major browsers, and on mobile devices, except for BlackBerry. Back in April, I noted that the BlackBerry app was "coming soon." Well, it hasn't come yet, but will be ready within the next week or two, Feit told me.
Enlocked's subscription plans will roll out sometime after Jan. 4, Feit said.