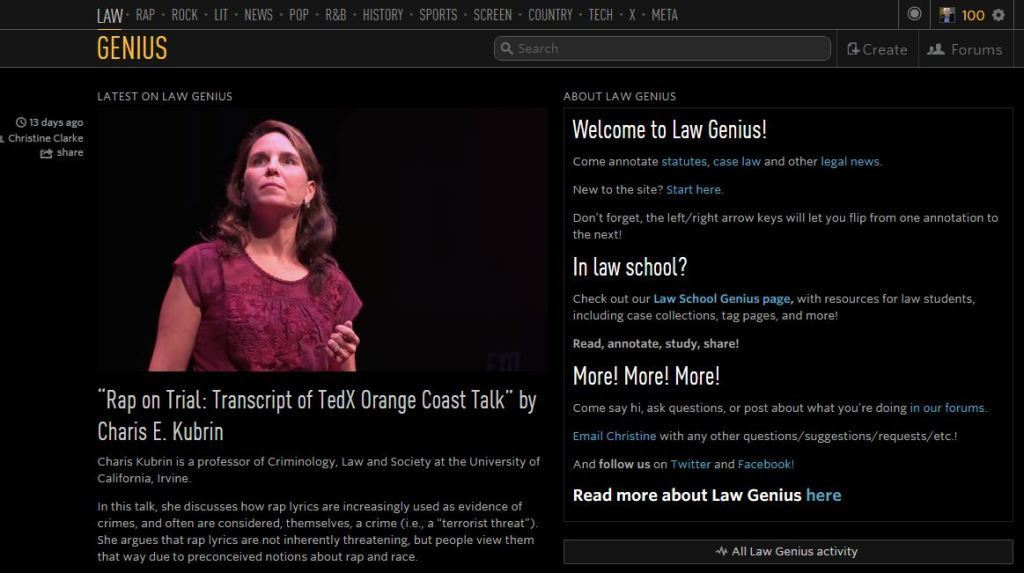 There is something very fitting in the fact that a site that started out deciphering rap lyrics is now turning its attention to making sense of the law.
The site, Law Genius, is the newest member of the larger Genius network of crowdsourced community sites, all of which grew out of the original site, Rap Genius, which was started in 2009 for the purpose of listing and annotating rap lyrics.
Soon, users started using the site to annotate all sorts of other stuff, from the collected works of Shakespeare to the roster of the 1986 New York Mets to the warnings on the back of a Tylenol bottle. Last July, the site officially relaunched as Genius, becoming a hub for a range of communities devoted to topics such as rock, literature, history, sports, screen and tech. All are united by the site's overarching goal, "to annotate the world."
Genius breaks down text with line-by-line annotations, added and edited by anyone in the world. It's your interactive guide to human culture.
Now law is the latest addition to this ambitious effort at global annotation. It is an effort to crowdsource statutes, case law and other legal news. At the helm of the project, as executive editor of Law Genius, is Christine Clarke, a 2010 graduate of Yale Law School who practiced plaintiff-side employment law in Manhattan before joining Law Genius full time.
"There's so much information lawyers have (particularly in our own little fields of expertise) and we have so much to say about what's happening, though we usually keep those thoughts to ourselves, either writing emails to listservs or blogging in our small interconnected blogospheres," Clarke said in an email. "I thought, wouldn't it be great if those conversations happened publicly, around the text of actual opinions and statutes themselves? And before you know it, I came here to kickstart Law Genius."
Any User Can Add Text
At Law Genius, any registered user can add text and annotate any text. Other users can vote up or down on annotations, or add their own suggestions to the annotations. As you view text, any portion that is highlighted has an annotation. Click on the highlighted text to view the annotation. To add your own annotation, just highlight a selection of text.
Any text on Law Genius can be embedded into any other web page, complete with annotations. Users can also share a document through social media or follow it to be notified of new annotations.
As examples of the types of annotations on Law Genius, Clarke point me to these:
There is also a section of Law Genius specifically for law students, where they can find classic cases such as Marbury v. Madison along with "Genius casebooks" on topics such as civil procedure.
Annotations on Law Genius are moderated by editors. Editors can accept, reject and edit annotations and help with training new users.
I've written about a number of sites for crowdsourcing the law, most recently CanLII Connects, Casetext and Mootus. Any of these sites face the same challenge — building a sufficiently critical mass of users to fuel contributions and discussions.
"Any text can be as layered, as allusive and cryptic, as worthy of careful exegesis as rap lyrics," says the about Genius page. If you want layered, allusive and cryptic, look no further than legal text. Perhaps Law Genius can help make sense of the law.