Earlier this month, Thomson Reuters debuted the WestlawNext Android App, providing mobile access to WestlawNext from both Android tablets and smartphones. I was given a limited-time log-in to WestlawNext to try out the app. I tested it on an Android tablet and here is what I found.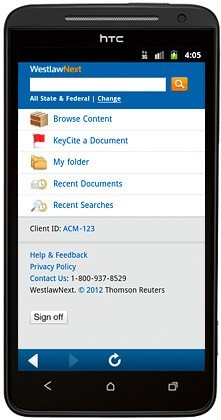 Overall, I like it. I have two complaints, which I'll get to later. But the app delivers what it promises — on-the-go access to the core features of WestlawNext. (I reviewed WestlawNext in greater detail in January 2010.) Using the app, you can:
Search all core content using WestSearch.
Run simple descriptive searches or more complex searches using Boolean terms and connectors.
Use KeyCite to check the status of a case or law.
Access your saved documents folders.
Read and email documents.
Add notes to documents.
View your recent searches and documents.
The app synchronizes with your WestlawNext account, so that any research you perform on your mobile device is accessible from your primary account. You can start a research project on one device and continue it on another.
From the app's homepage, you can start a search, browse WestlawNext content, KeyCite a document, access your folders and access recently viewed documents and recent searches.
When you conduct a search, the results include icons to tell you whether you've previously viewed a document, saved it in a folder, or annotated it with notes.
From a design standpoint, the app has elements that make it easy to navigate. At the top of every page is an arrow you can tap to jump to the bottom of a page. The bottom of every page has a similar arrow to take you back to the top. This is useful when you don't want to scroll through pages with long documents. From any page, you can tap the WestlawNext logo in the header bar to return to the home page.
Most pages also have "skip to" and "tools" drop-down menus. The tools drop-down gives you quick access to options for emailing a document, saving it to your research folder, or adding a note to it. The skip to drop-down lets you jump to various sections within a document; for example, within a case, you can use this to jump from the synopsis to the headnotes to the attorneys to the opinion.
Up to now, I like everything about this app. I have two complaints, both fairly minor.
The first complaint has to do with saving documents to your research folders. The app only lets you save to your primary research folder. You do not get to choose the folder. This is oddly frustrating, because it lets you create additional folders, but not save to them. Even more frustrating is that the literature for the app says that you can "access and add documents to your folders."
The second complaint is that the app provides no options for changing your display settings. You cannot adjust the font sizes or typeface. You cannot change the background color. On most documents, this was not a major problem, but on some, I found myself straining to read the small fonts. The ability to adjust font sizes would be a welcome enhancement.
Overall, I found the app to be easy to use and well designed. The app is free, but, needless to say, you need a WestlawNext account to use it. If you are a subscriber to WestlawNext and an Android user, you will want to get this app.
If you're interested, you can download it from Google Play.