LexisNexis today is formally launching its next-generation legal research platform, Lexis Advance. As WestlawNext did for Westlaw, Lexis Advance does for Lexis.com, incorporating a streamlined, simplified, Google-like search bar that searches universally across all libraries and then lets you use smart filters to zero in on precisely what you want. Not only that, but Lexis Advance simultaneously searches the open Web. And because searching never incurs costs beyond the basic subscription price, one could do all their searching — Web and Lexis — from this one interface.
Regular readers of this blog will already be familiar with the general idea of Lexis Advance. In October 2010, I wrote about the roll-out of Lexis Advance for Solos, the flat-rate legal research platform targeted at one- and two-lawyer firms. As I noted then, "Lexis Advance for Solos is an advance look at a line of products Lexis will be rolling out for various user groups. While they may not all look exactly alike or share precisely the same features, they will all be built on the same basic platform." Then, in March, I wrote a preview of what was planned as the next release, Lexis Advance for Associates. Meanwhile, Lexis also put out a beta version of Lexis Advance for Law Schools.
With the release today, Lexis is changing direction on branding. From now on, there will be just "Lexis Advance" — not a separate Lexis Advance for Solos or Lexis Advance for Associates. Now, the platform is targeted for any legal professional in a law firm, corporation or public institution who is regularly engaged in conducting legal research. That said, Lexis plans to continue to develop and roll-out versions of Advance targeted at specific segments of the legal profession.
A Lexis fact sheet about the new product highlights three features as key innovations:
Integrated Web results. As I noted above, users can search the Web together with LexisNexis content simultaneously in one step.
Workplace carousel. Your starting page is presented as a graphical carousel where you can easily access your search history, save recent and favorite filters, access work folders, set up alerts and access customer service.
Legal Issue Trail. As I described in my earlier review, this "intelligently" selects blocks of text within a case that represent discrete points of law. Click on any of the highlighted segments to run a search on that specific point of law.
For the most part, this release of Lexis Advance carries forward the features I described in my review of Advance for Solos, although with notable enhancements and refinements at almost every step. I encourage you to read both of my earlier posts about Advance for those details.
However, this release adds what Lexis describes as two "premium innovations" that are unique to this platform and that should be popular among researchers:
Innovations Research Map. This is a graphical depiction of your prior research history that lets you quickly visualize the searches you've done and validate that you've covered all the bases. You can even save this map as a PDF to show others.
Shepard's Graphical. This shows the history of citing decisions in a visual grid or map format so you can quickly ensure they can identify valid law versus what has been overruled.
As I explain below, these "premium features" are free for now but Lexis will eventually charge for them.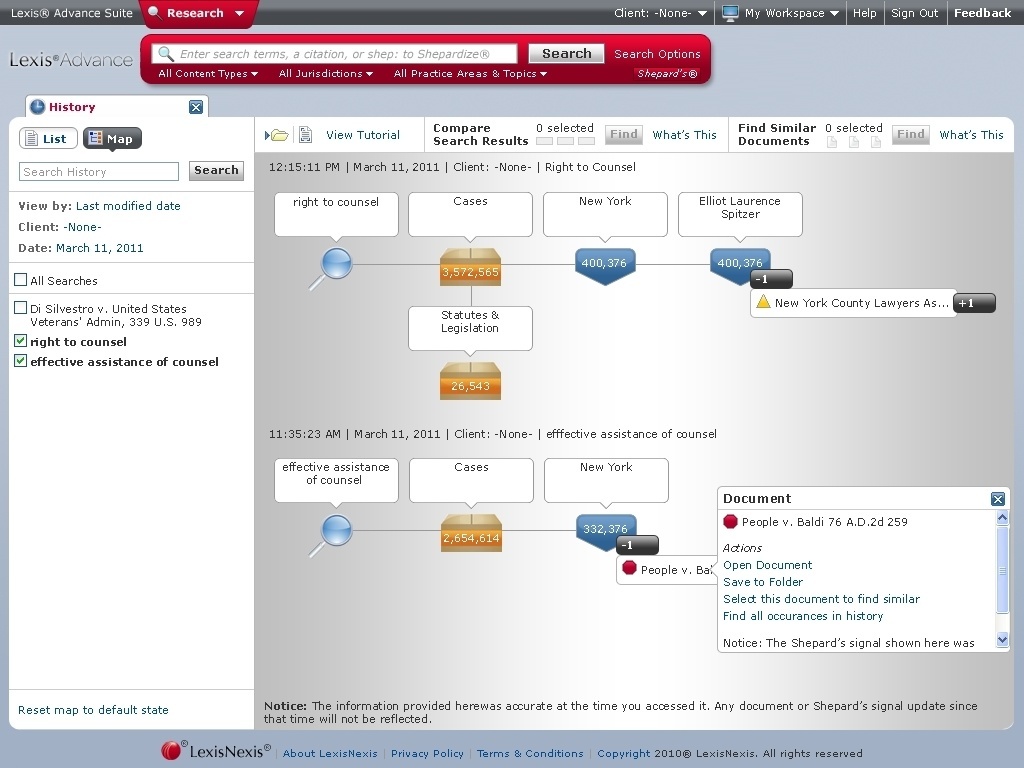 Today's version adds various refinements to search, enhancing the "tips" it provides when conducting either natural-language or Boolean searches, adding new pre- and post-search filters, allowing searching within results, and expanding the terms it will suggest as you begin to type a search to include popular names. For example, start to type "lemon" and it will suggest not only cases with that word in the name but also references to Lemon Laws.
Also new are topic summaries, a feature that lets you view a quick refresher on a legal topic or concept and see the key cases illustrating it. So if you're in the middle of research and can't for the life of you remember what "res judicata" is, click on the refresher.
Content of Lexis Advance
Lexis Advance contains most of but not all of the research material that is contained in Lexis.com. Additional content is being added, but for now Lexis says the content should meet the needs of 87 percent of its users. Access to content will correspond to the user's Lexis.com subscription. Among the types of content this generally includes are:
Primary law from all state and federal sources. For this version, Advance adds a deeper selection of administrative materials and bill tracking and text from state legislatures.
News from general news sources as well as from trade and industry sources (including American Lawyer Media publications). Lexis says it includes more than 1,000 news sources. Archival access goes back only to 2008 for now but will eventually go back further.
Matthew Bender treatises and legal analysis. Lexis says it has added some 350 additional treatise titles since the launch of the Solos version, focusing on the most-used titles.
Jury verdicts, briefs, pleadings and motions.
LexisNexis CourtLink.
Expert witness transcripts, depositions and curricula vitae.
As with Lexis.com, public records are not included but Advance provides a gateway to search public records at additional costs.
Pricing of Lexis Advance
Lexis is aiming for transparency in pricing with Lexis Advance. Users can search across all content and all libraries without incurring any extra charges. If a search produces a result that is outside the user's subscription, that information is clearly displayed. The user is shown a preview of the document along with the price that will be charged to access it. If the user needs to defer the payment decision, the user can add the document to a shopping-cart-like folder and return to it later.
"We're using only the actual document accesses as a basis for cost recovery in the firm,"  Clemens Ceipek, the LexisNexis vice president in charge of this project, told me. "If you're an associate, you're terrified to do anything, because a billing record is created. We decided not to use search for cost recovery. We can go to customers and say, 'You can search without fear, because your firm will not be charged. Only when you access a document will it create a record."
With today's launch, all current subscribers to Lexis.com will be able to access Lexis Advance at no additional cost. (Lexis.com will continue to operate for some time to come, although eventually the Advance interface will replace it entirely.) Current subscribers will be able to access at least as much on Advance as their subscriptions cover on Lexis.com. I say "at least as much" because the libraries on the two platforms do not necessarily line up head to head. No current subscriber will have access to less on Advance than they now have on Lexis.com; in some cases, they will have access to more.
Of course, Lexis also welcomes new subscribers to sign up for Advance. It did not provide specific pricing.
Eventually, Lexis will charge extra for the two features described above as premium — Research Map and Shepard's Graphical. For now, both existing and new subscribers will receive these features at no cost, through the term of their existing contracts. So, if you now have or sign up for a five-year contract, the features will be included for that term at no extra cost.
The Bottom Line
I have not actually tried Lexis Advance. I was given a demonstration last week via Web conference. I was impressed last year with Advance for Solos and I am even more impressed with the product being released today. It achieves the dual purpose of greatly simplifying legal research while also helping to ensure that your research is thorough and on point. Through folders, filters and graphical tools, it makes it easy to track your research. Its universal search combined with heads-up pricing lets you explore freely without fear of inadvertently incurring extra costs.
As a generation weaned on Google, legal researchers expect search to be simple and intuitive. Lexis Advance is a big step forward in that direction.