Last March, I reported on the imminent launch by Josef of the beta version of Josef Q, its new product that uses advanced AI to transform policies and regulations — such as those pertaining to privacy, data security, HR and procurement — into digital Q&A tools, so that employees or clients can easily get answers to policy and compliance questions. A month later, that beta launch arrived, and now today, the product is being release for general commercial availability, with some major customers already signed on. 
Josef is launching the product at an event today in New York City (which will also be livestreamed) that will feature speakers from EY, Orrick, and New York University. Sam Flynn, cofounder and chief operating officer, says that the company spent the last six months researching, developing and testing Josef Q in a private proof of concept that included law firms such as Orrick and Gunderson Dettmer; inhouse legal teams at Bupa, Ferring Pharmaceuticals, Axel Springer, Fnatic, and Liberis; the Wilson Sonsini affiliated legal tech company SixFifty; and NYU Law School and Cornell Tech.
This event will be livestreamed at 7 p.m. Eastern time. Details here.
"We've spent six months learning how this transformative technology can actually deliver value today," Flynn said. "The biggest opportunity that GenAI can help with? Clients and business don't engage with complex but important legal and compliance content. This causes all sorts of problems, like junior lawyers spending up to 20% of their day answering FAQs, or businesses failing to comply with important regulations."
The Australia-based company partnered with OpenAI to develop the tool, which it said should be particularly useful to businesses, where legal, compliance, information security, and HR teams can use it to provide employees with instant answers about corporate policies and procedures. But already, it has also been used for purposes such as providing guidance on landlord-tenant laws.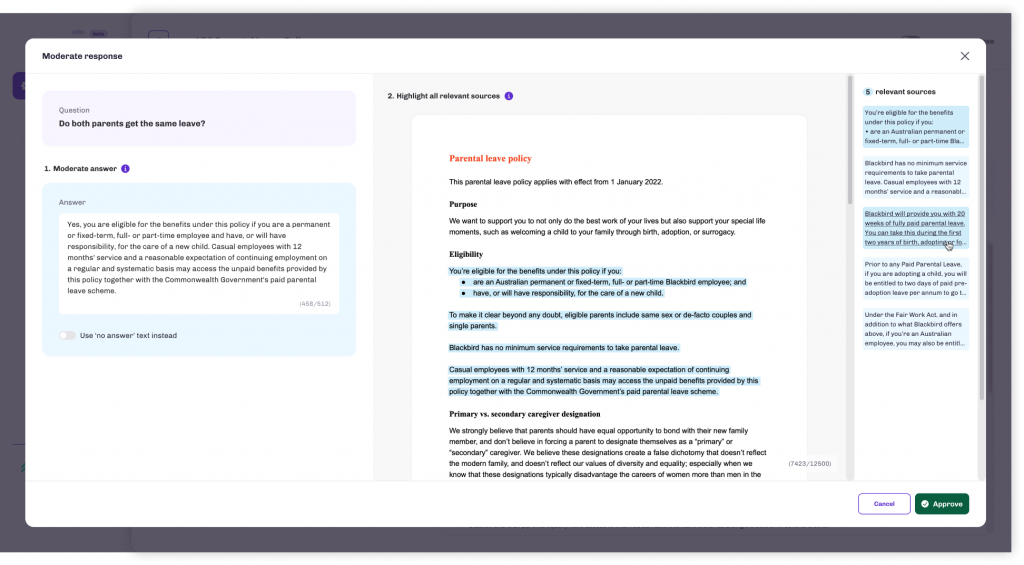 Josef says that participants in the proof of concept built and deployed tools across legal, compliance, privacy and data, HR, legal operations, tax and more. The use cases included tools that:
Provide automated guidance on landlord-tenant laws in Ithaca and New York City.
Help customer-facing teams in a financial services company identify and deal with vulnerable customers in accordance with regulatory requirements.
Answer questions on new tax laws and regulations, including the Inflation Reduction Act.
CEO and co-founder Tom Dreyfus said that Josef Q combines one of LLMs' most powerful capabilities, summarization, with proprietary features such as pre-processing, human-in-the-loop training and moderation, and end-user interface design elements, including source display and answer rating.
"These unique features, alongside integrations with the Office 365 environment and the practices we've developed – like our Reliability Assessment Framework – mean that the tool is ready to go for legal and compliance teams," he said. "Generic tools might get you 50-60% of the way there, but you need more if you want to deliver real value in these high-risk environments."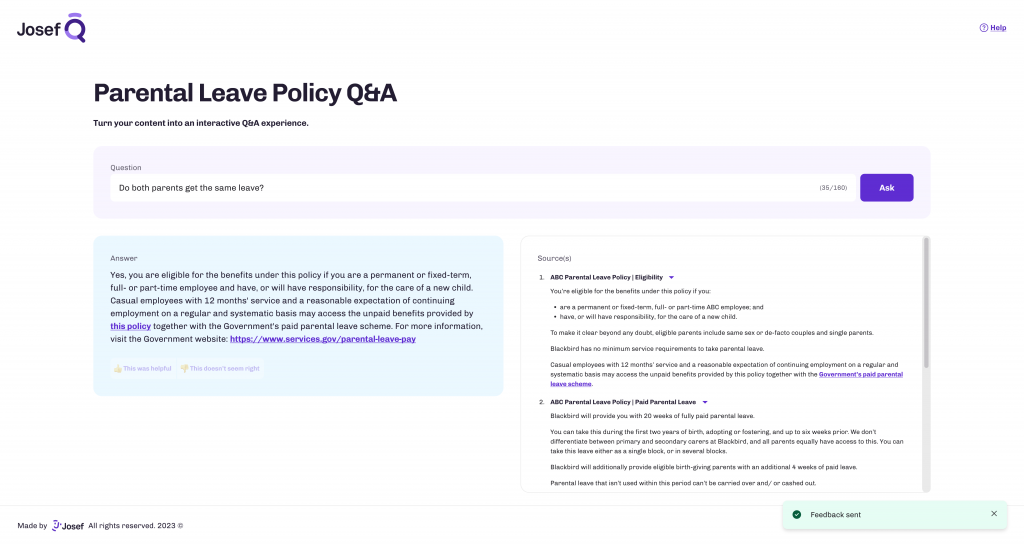 Other examples of how participants in the beta used JosefQ:
Global insurance giant Bupa developed a tool to help its marketing team understand regulatory requirements for health insurance advertising.
Orrick Labs used JosefQ to build tools for providing self-service and repeatable advice. The first prototype developed by Orrick, in testing with lawyers, provides automated tax guidance on the Inflation Reduction Act.
Swiss pharmaceutical company Ferring Pharmaceuticals built tools on Josef Q that will help its legal team navigate billing processes, and identify the right outside counsel for different matters around the world.
At NYU Law and Cornell Tech, law students have used JosefQ to develop pro bono tools that can provide guidance on tenants' rights in New York City.
"Imagine layering a Q&A-type experience onto databases of knowledge or large volumes of content that you often receive (or want to receive) from your counsel and, instead of FAQs, you can query the content for any question you want to find an answer to within it," said Vedika Mehera, director of Orrick Labs. "This is a simple, yet profoundly different client experience."
You can learn more about it at this page.