Josef, the Australia-based no-code automation platform for legal professionals, is next week launching the beta version of a new product, Josef Q, that uses advanced AI to transform policies and regulations — such as those pertaining to privacy, data security, HR and procurement — into digital Q&A tools.
For businesses, the tool will allow employees on corporate teams such as legal, compliance, information security, and HR to deliver instant answers about policies and other complex content, Josef says. It potentially has applications elsewhere, including for law firms.
"This is a high-tech knowledge management tool that dramatically reduces the time spent answering FAQs for professionals who should be – and want to be – spending their time on higher value work," said Tom Dreyfus, CEO and cofounder of Josef.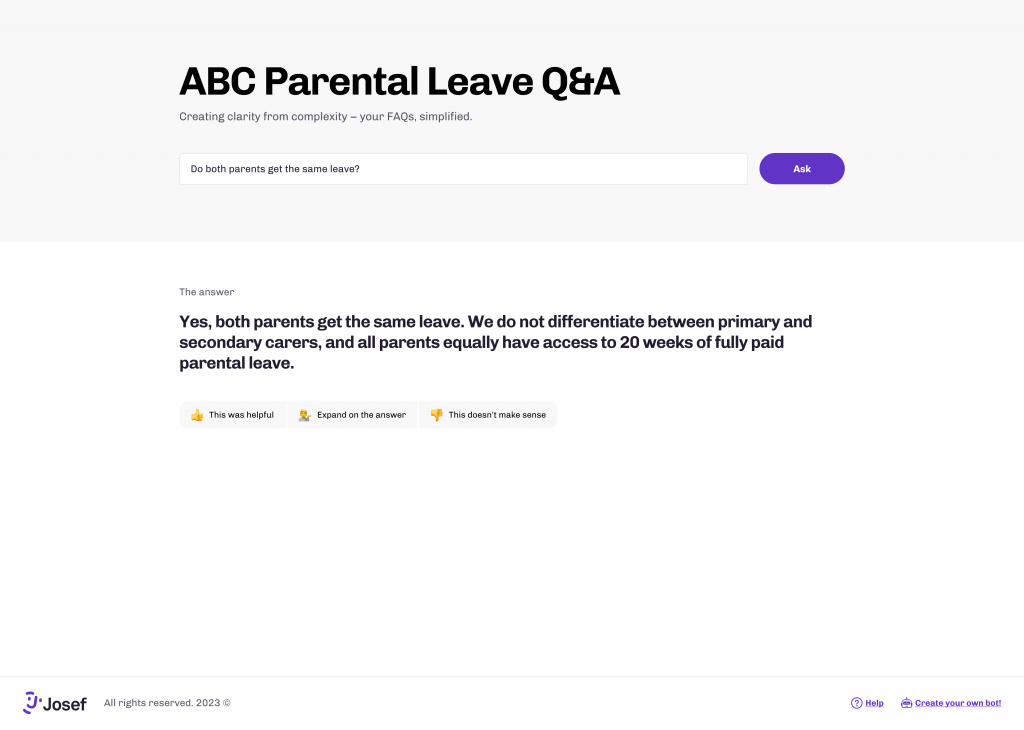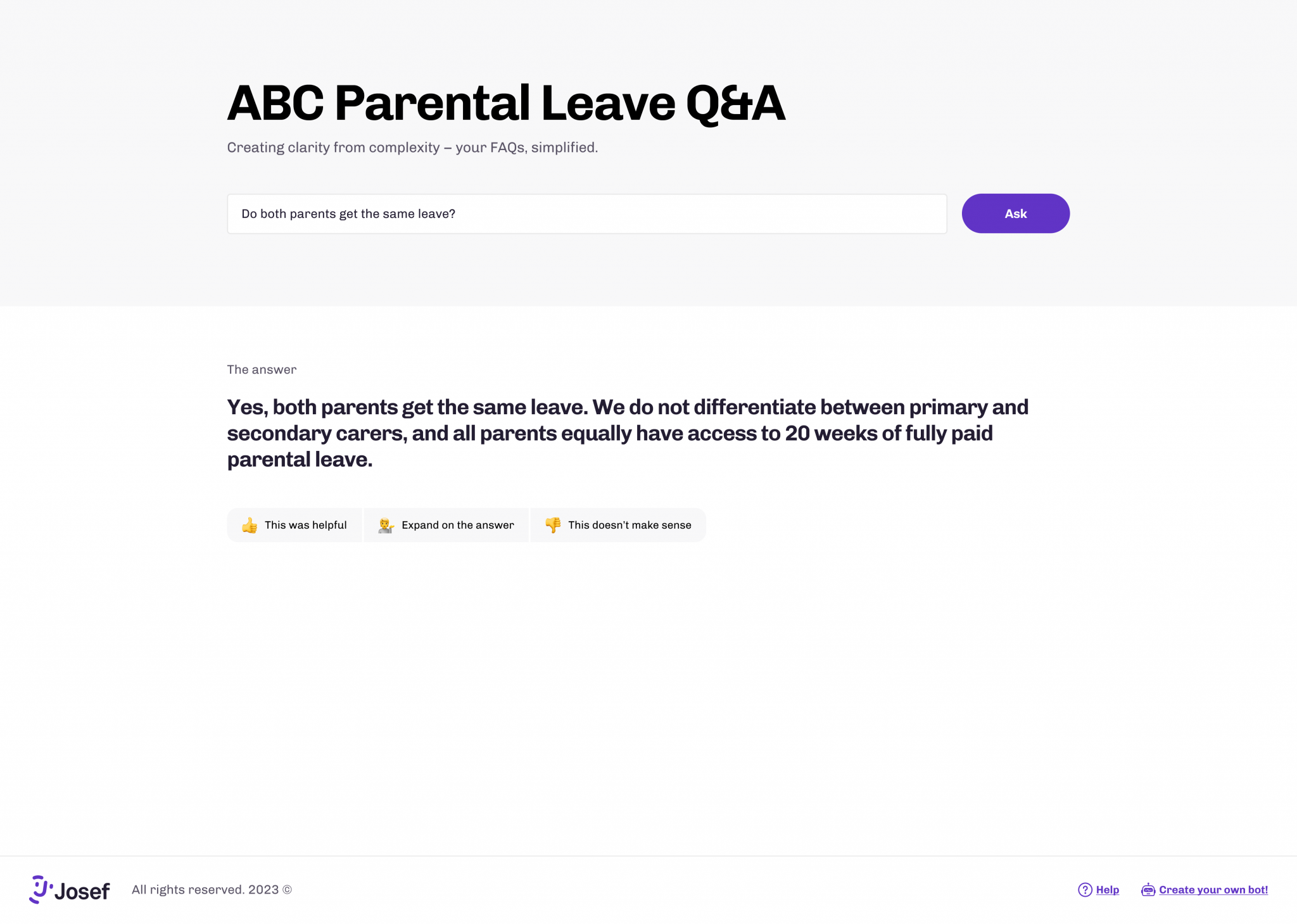 The company says that Josef Q is powered by Open AI's "most advanced large language model." This may mean the next version of GPT, GPT-4, which is rumored to be coming out this week.
Josef will release a free beta version of the tool at the Legalweek conference in New York next week, so that anyone can try it out. You can sign up to join the waitlist on Josef's website (regardless of whether you plan to attend the conference).
Dreyfus said the company considered it important to launch the tool to the public for free.
"Josef's mission is to make legal services more accessible, and so it makes perfect sense for us to do the same with our technology," he said. "… The more open, transparent and collaborative we can be as a community, the better placed we are to change the way legal work is done for the better."
Josef Q uses OpenAI's most advanced large language model, with performance enhanced by human-in-the-loop training and moderation. With this approach, the company says, subject matter experts can quickly and efficiently train their tools to provide highly accurate answers about a defined content set, such as privacy, data security, HR and procurement policies.
While compliance professionals are concerned about the ability for tools like GPT 3.5 to deliver accurate results, Josef Q's curated knowledge base changes the equation, the company says.
I have not yet seen Josef Q, but the company says it can be tailored to the specific needs of each business, in order to provide the right answer to the
right person when they need it.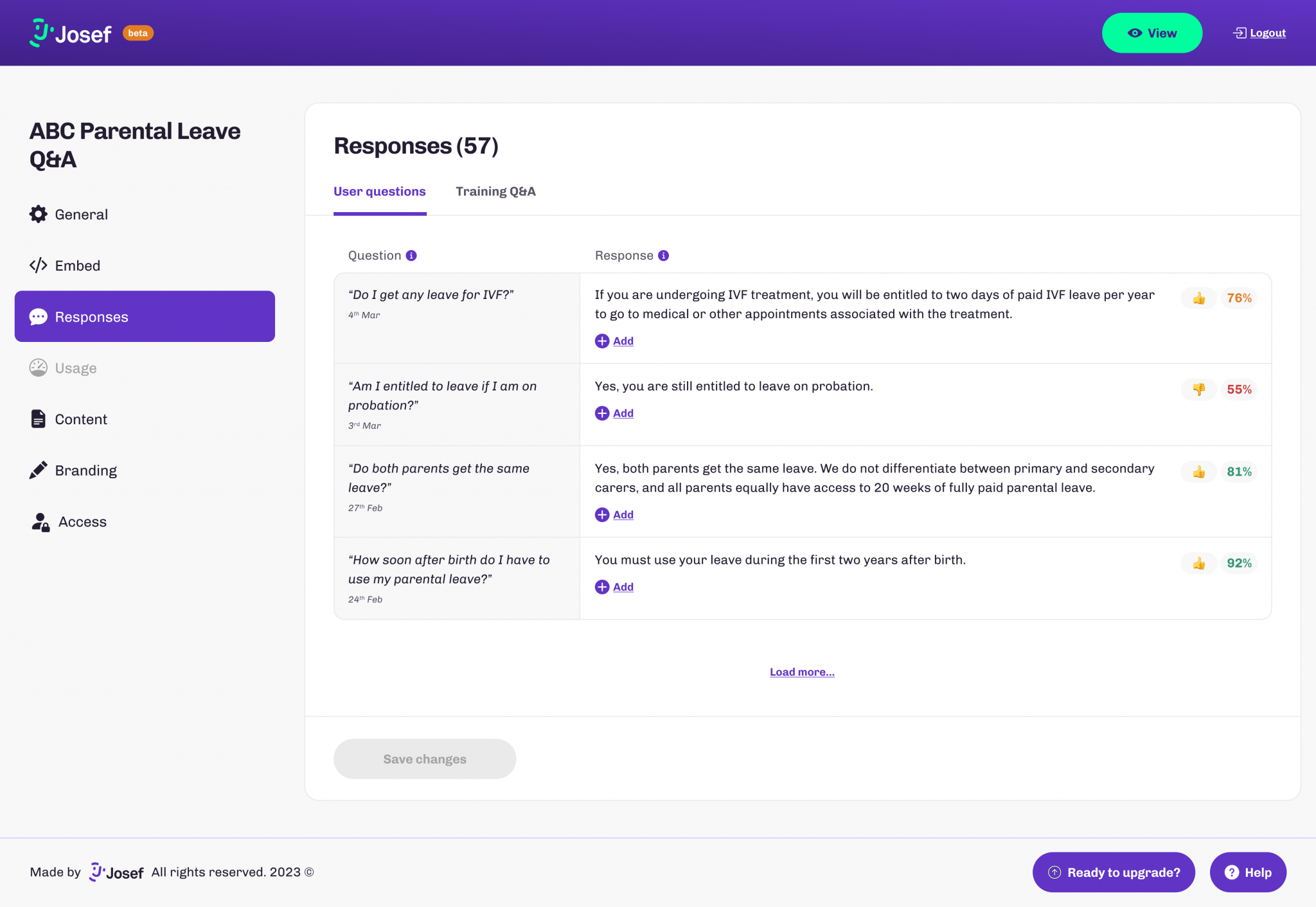 The tool also creates a paper trail that can be used to track, report on, and prove compliance. And unlike other knowledge management and FAQ tools, which require time, effort, and skill to build manually, Josef Q speeds the process using AI. Users simply upload policies, processes or regulations, train it with a handful of questions, and launch in minutes.
In its press release announcing the launch, Josef quoted Mel Scott, senior legal counsel at Megaport and host of the podcast Counsel, who said that, when he first saw Josef Q, it was an "a-ha moment."
"Applications are far-reaching and incredibly exciting, Scott said. "In-house teams will be able to synthesize large amounts of information to help them deliver accurate advice back to their business colleagues on virtually any topic. It represents a revolution and it will change the game."
Colin McCarthy, founder and CEO of Legal Operators, said that rarely has he seen a tool that is so easy to set up and generate the kinds of answers that Josef Q does.
"You can upload a policy, train or untrain questions within minutes, and go live to your company the same day with extraordinary levels of accuracy," McCarthy said. "The speed of adoption is astounding. These workflow capabilities with AI can be used for in-house, law firms, education, or small practice. This is game changing!"
Last November, Josef raised AU$5.2 million, or approximately $3.5 million in U.S. dollars, on top of a previous raise of $2.5 million in 2021 and a seed round of $1 million in 2019.