As the numbers of COVID-19 cases rose in the United States during March, the numbers of new legal matters coming to law firms dropped sharply — by more than 30% compared to the first five weeks of 2020 and by more than 40% from the year's highest weekly averages — according to data compiled anonymously from its users by the practice management company Clio.
In addition, in a related survey conducted by Clio, 56% percent of legal professionals say they have seen a significant decrease in the number of people reaching out to them for legal help, and 53% say they are significantly less busy at work.
Clio today is releasing what it says will be the first in a series of briefings over the coming months assessing the impact of COVID-19 on the legal industry and consumers. Today's findings are based on aggregated and anonymized customer data from Clio's practice management platform as well as on two separate surveys conducted in early April, one of U.S. legal professionals and the other of U.S. consumers.
Subsequent briefings in the series will include state-level data to show how the pandemic has affected lawyers in different regions, Clio cofounder and CEO Jack Newton told me in an interview Friday. Later this year, the full series of briefings will be incorporated into Clio's annual Legal Trends Report, now in its fifth year.
Data taken from tens of thousands of Clio users show a clear correlation between the rise in coronavirus and the drop in the new legal matters. (See chart above.) During the same period in which WHO officially designated COVID-19 as a global pandemic (March 11) and President Trump declared a national emergency (March 13), new matters sharply declined, which the steepest drop coming during the week of March 16.
"The number-one takeaway is that demand for legal services is down," Newton told me. "We saw this very clearly in the data that the new-matter creation rate — which we see as a strong indicator of downstream revenue — is down about 30% across most practice areas."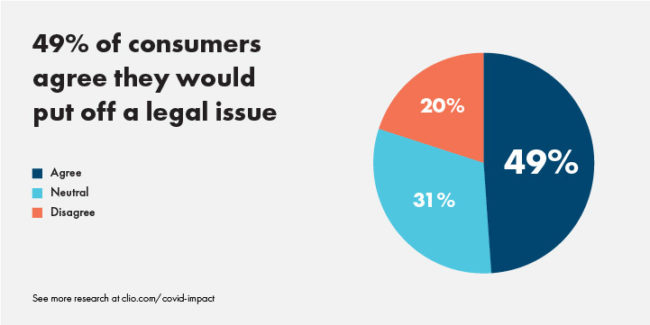 Consumers surveyed by Clio bear out this decline in new matters — and also offer some surprising reasons for it. Not surprisingly, 49% say that if they had a legal issue now, they would like delay reaching out for legal help until after the coronavirus pandemic has subsided.
But a surprising 22% of consumers say they thought most lawyers had stopped offering legal services because of the pandemic, and the same percentage also believe that lawyers are less likely to deliver quality legal services than they were before the pandemic.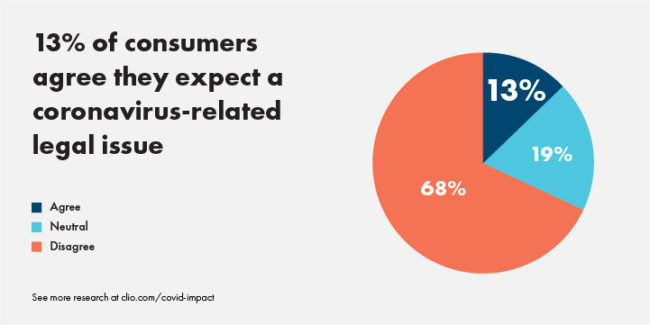 Despite the pandemic, 60% of consumers say they would still seek legal help from a lawyer rather than dealing with a problem in some other way. Thirteen percent say they anticipate having coronavirus-related legal issues.
"The silver lining in what you're seeing here is that it is by and large a deferral of legal services rather than a cancellation of legal services," Newton said.
Major Impact on Lawyers
All of this has had a significant impact on lawyers and their practices, the survey of lawyers suggests. Seventy-seven percent of legal professionals say they have experienced many changes to the day-to-day operations of their firms.
"We will see structural changes in how legal services are delivered," Newton said, including a significant move away from bricks-and-mortar law offices to more distributed models.
With that, comes worry. Sixty-seven percent of legal professionals say they are much more worried about the success of their practice and 57% are worried about making a living over the next few months.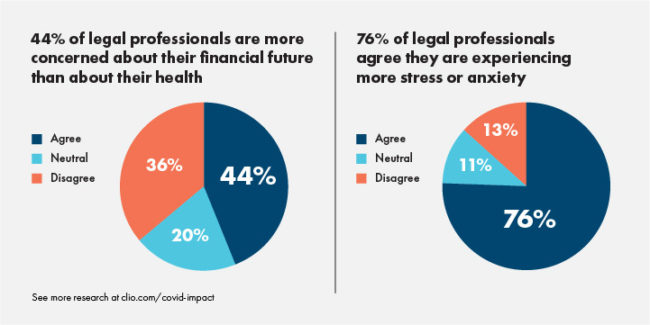 According to the survey, 75% of legal professionals report higher levels of stress and anxiety, and nearly half say they are more concerned for their financial future than for their personal health.
But not all firms are hurting. The survey found that 23% of legal professionals have not seen a significant decrease in new matters, and 14% report a significant increase in the number of people reaching out for legal help.
All of this has begun to cause layoffs. Eleven percent of firms say they have already laid off staff, the survey found. Another 15% expect layoffs in the next three to six months.
Some Findings on Technology
The coronavirus crisis has caused lawyers and consumers alike to change their views on technology, Clio's report suggests.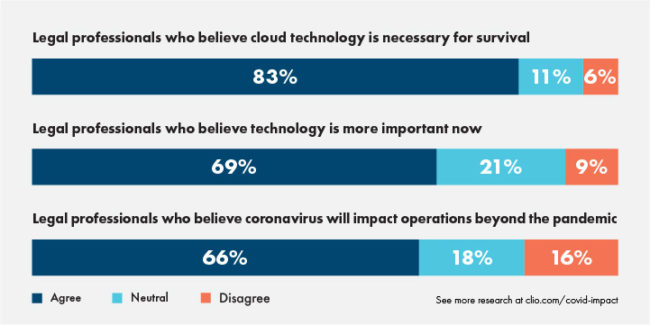 For lawyers, 69% see technology as more important to their firms now than before the outbreak and 83% say cloud technology, in particular, is necessary for their survival. Two-thirds of legal professionals believe their day-to-day operations will be impacted long term, even beyond the pandemic.
Among consumers, 58% say that if they had to hire a lawyer in the next two months, they would prefer to meet by videoconference than in person.
Sixty-nine percent say they would prefer to work with a lawyer who could share documents electronically via a web page, app or online portal.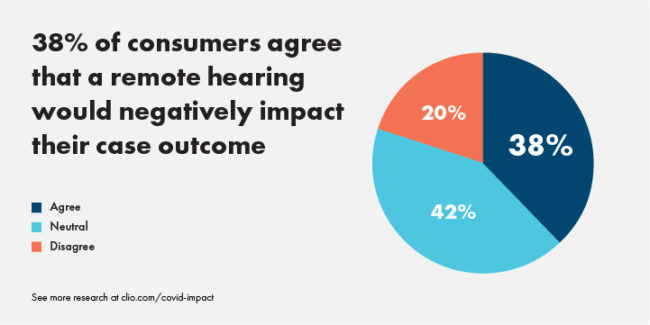 However, 38% believe that if they had a legal issue go to trial or a hearing, that having it conducted remotely would negatively impact the outcome.
More About The Sources
Clio based the briefing on three sources:
Clio's app data. Aggregated and anonymized data from tens of thousands of legal professionals who use Clio Manage, Clio's practice management product. Clio says this encompasses firms of all sizes, practice areas, and geographies in the U.S., although the bulk of Clio's customers are in small- and mid-sized firms.
Survey of U.S. legal professionals, with 485 respondents participating April 3 to 9. Participants included both Clio customers and non-customers.
Survey of U.S. general population consumers, with 1,042 respondents participating April 14.
The full research findings can be found at clio.com/covid-impact. Clio plans to update the report on an ongoing basis as new information comes to light about COVID-19 and its effect on the legal industry.