In a major update of its practice management platform, Rocket Matter is launching a number of new features today, several of which are targeted at the growing number of mid-sized firms that use the platform.
Among the new features announced today is what Rocket Matter CEO Larry Port says is the most robust integration with NetDocuments of any practice management software in the legal market.
Other new features today include RM Permissions, a security feature that allows firm administrators to set granular levels of permissioned access to different users within a firm; RM Trust, an enhancement of Rocket Matter's trust accounting that allows multiple accounts; and Kanban boards for lawyers who use lean methodologies.
NetDocuments Integration
In an interview Monday, Port told me that Rocket Matter, which originally targeted small firms, is increasingly being used by mid-sized firms of 20-200 employees.
At the same time, the document management system NetDocuments, which traditionally targeted mid- to larger-sized firms, has been increasingly gaining traction among small and medium firms.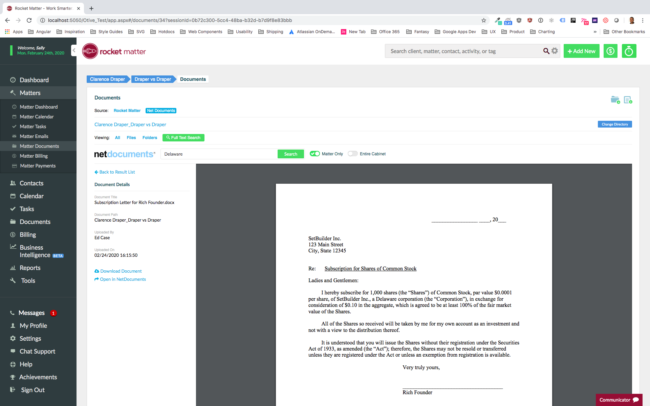 The integration takes advantage of NetDocuments' latest application programming interface to provide users with a high level of interactivity with NetDocuments without having to leave Rocket Matter.
When a new matter is created in Rocket Matter, an associated workspace is automatically created in NetDocuments, with all associated documents in Rocket Matter transferred into NetDocuments.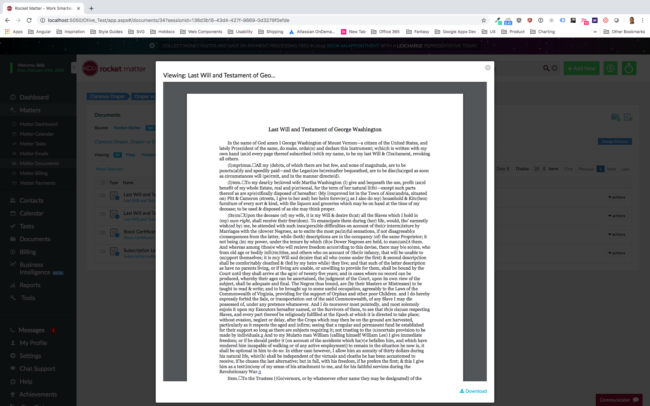 In addition, users can take advantage of NetDocuments' full-text search and view search results directly from within Rocket Matter. They can then launch the NetDocuments' document viewer, still from within Rocket Matter, and bill time from work in NetDocuments back into Rocket Matter.
RM Permissions
This new feature allows firm administrators to set role-based permissions for users within a firm. This means, for example, that lawyers might have access to functions within Rocket Matter that paralegals do not.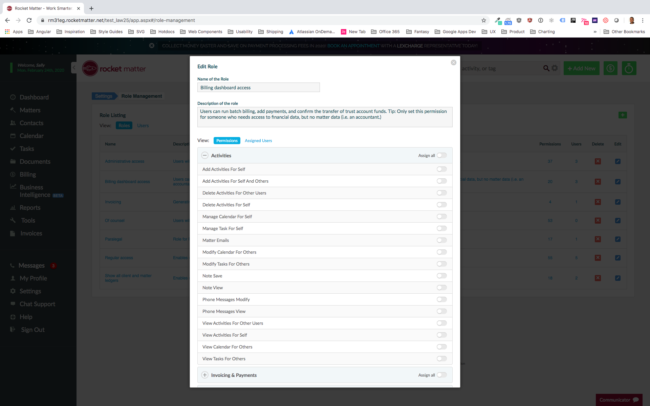 Based on the demonstration Port gave me, the permissioning is quite granular, allowing the administrator to turn on or off not just features, but even access to custom fields.
RM Trust
Today's changes represent a "massive overhaul" of Rocket Matter's accounting functionality, Port said.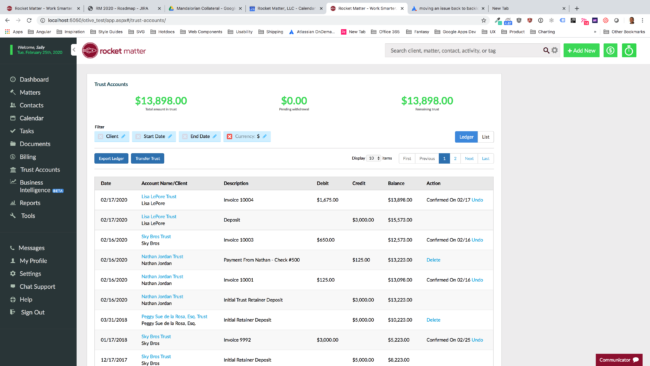 Most notably, whereas Rocket Matter's former trust accounting functioned solely on a client level, it now allows firms to track trust deposits on a matter-by-matter level.
Today's release also introduces the ability to create multiple operating and trust accounts.
Kanban Boards
Port is an advocate of law firms using lean methodologies. In fact, he is co-author of a book on it, The Lean Law Firm, and cohost of the associated podcast, The Lean Law Firm Podcast.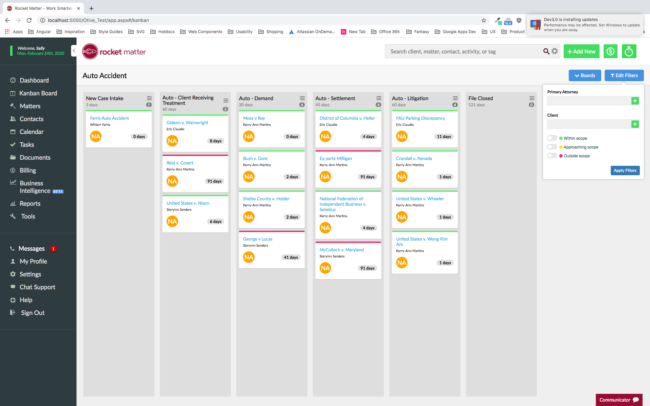 As if to put his money where his mouth is, today's release adds Kanban boards, a lean methodology that uses cards to manage workflows and identify bottlenecks.
In Rocket Matter, these Kanban boards give users a visual view of the status and flow of their cases. The boards parallel the workflows that firms have set for themselves for different types of matters — say auto accident or divorce.
Recurring Billing
Also introduced today are improvements in Rocket Matter's recurring billing functionality, which gives law firms the ability to set up payment plans for clients to pay legal fees over time.
With today's changes, law firms have more flexibility to schedule the frequency of these payments, whether it is daily, weekly, biweekly or monthly.