In 2002, three years after its founding, when Salesforce was still an upstart startup seeking to make its mark in the enterprise CRM space, founder Mark Benioff and his team conceived of a brash guerilla advertising campaign to take on the company that was then the incumbent industry leader, Siebel Systems.
With the tag line, "Don't get bullied," one ad in the campaign featured a picture of a schoolboy repeatedly writing on a chalkboard, "I will not give my lunch money to Siebel." Another showed the schoolboy writing, "I will not spend my summer vacation installing Siebel."
Now, nearly 20 years later, a legal technology startup is taking a page directly out of the Salesforce playbook and today is launching its own guerilla marketing campaign to take on the incumbent in its space.
In this latest iteration, the company taking on the incumbent is Documate, a two-year-old cloud-based document automation platform, and the incumbent it is taking on is HotDocs, a 27-year-old desktop document assembly product owned since 2017 by AbacusNext.
One ad shows a schoolgirl at a chalkboard writing the phrase, "I will not give my lunch money to HotDocs." Another shows a schoolgirl writing, "I will not spend summer vacation learning to code HotDocs." Still another shows a schoolboy holding a trophy above his end and next to him written on a chalkboard, "I just used Documate to automate with no code."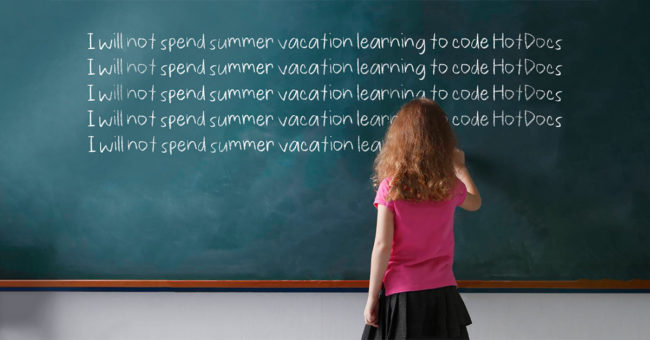 "We're launching this ad campaign as a play on tech legend Salesforce," Documate founder and CEO Dorna Moini told me. "Like us, they were once a small but growing tech platform rivaled by Siebel, the incumbent clunky desktop software."
The ads will run on Facebook, LinkedIn and elsewhere online.
Moini said that the campaign is using kids to demonstrate the ease of use because Documate has literally had grade-school children test the software to refine its workflows.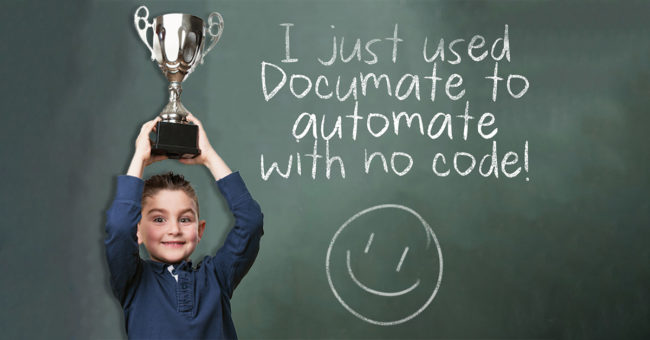 "Documate's functionality is very intuitive to anyone who uses modern internet tools," she said. "Our earliest test users were my 9- and 12-year-old younger cousins."
Most document automation software falls at one of two extremes, Moini says. At one extreme are products such as HotDocs that are powerful but need an IT team or technical expertise to use. At the other extreme are products that are easy to use but lack functionality.
Documate sees itself as the best of both worlds — easy to use but also incredibly powerful, Moini says.
"That's why we're launching this campaign to inform the legal world that there is a better way — we want to empower lawyers to do everything that an engineer or programmer can do without touching a line of code."
Moini, a former Sidley Austin associate who often provided pro bono legal help to low-income individuals, originally launched Documate in 2017 under the name HelpSelf Legal. Its first product was an automated platform to help users file for restraining orders in domestic violence cases.
While Documate sells its platform to law firms, it provides free access to legal aid organizations, courts and other nonprofits.
Meanwhile, Moini says there may be more she emulates from Salesforce's early marketing.
Even before that 2002 ad, Salesforce engaged in a guerilla marketing campaign around the theme, "The End of Software." As part of this campaign, the company staged a mock protest outside Siebel's user conference, with hired protesters carrying signs and chanting anti-software slogans as attendees entered and left.
Do not be surprised, Moini told me, if I show up at a legal tech conference this year and find Documate protesters picketing outside.
More Information: