Harvard Law School's Caselaw Access Project, which last year completed a massive project to digitize all U.S. case law, this week released a tool called Historical Trends that allows a user to visually graph the frequency of words and phrases in those cases over time.
The tool is similar in function to the Google Books Ngram Viewer, which allows users to graph the frequency with which phrases have appeared in a corpus of books over time.
The Historical Trends tool can be used to search for phrases of up to three words and to compare multiple phrases. It also allows wildcard searching. Users can limit searches to specific jurisdictions. Results can be shown as a graph over time or in a table view.
Once you enter a query and generate a graph, you can click anywhere on the graph to create a list of "example cases" that show the use of the phrase within that time span. From the example cases, you can then conduct a search for the phrase in the full collection.
Last October, CAP completed a three-year project to digitize all U.S. case law, covering some 6.4 million cases dating back to 1658. The Historical Trends tool spans the years 1800 to 2018.
The tool can be used to chart usage of a single word, such as abortion. As you can see below, frequency of this word peaked in the years 2005-2013.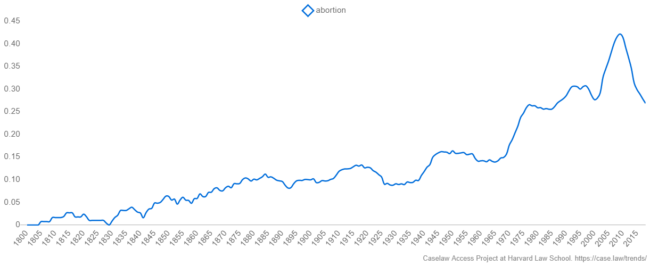 A search for the phrase "bear arms" produces an interesting result. The phrase occurred with greater frequency in the years prior to 1875, then fell off, and then fell to even greater frequency in the years 2009-2017.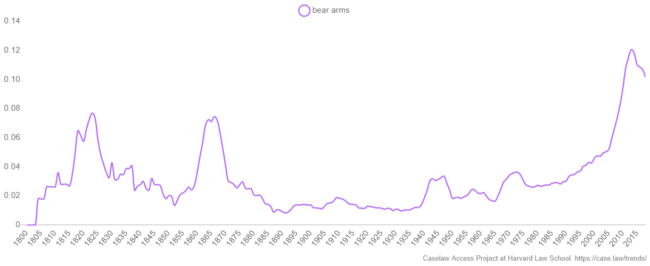 Adam Ziegler, director of the Library Innovation Lab at Harvard that oversees the Caselaw Access Project, suggested some searches that show the range of the tool. In this search, the tool is used to compare the frequency of "compensatory damages" and "punitive damages" in New York and California: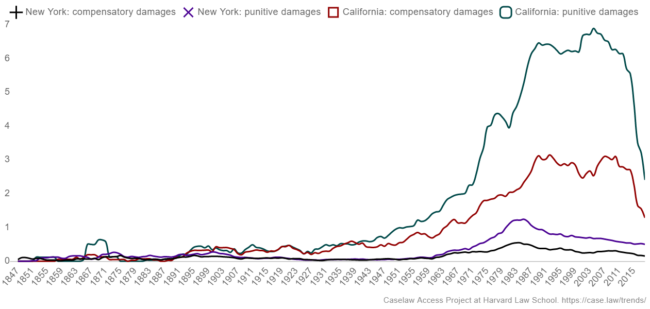 This search shows which states most frequently reference the Fifth Amendment:
Finally, this search compares the frequency of "privacy" with "publicity":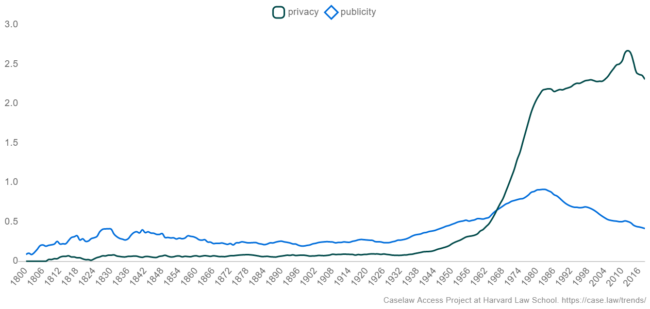 "We're excited to see what people do with this," Ziegler told me, "and I think it's a good example of research tool that we can offer that the commercial providers have never been inclined to explore."
Last September, I wrote about another tool that allows legal researchers to explore historical trends in the usage of words and phrases, the Law and Corpus Linguistics Technology Platform developed by BYU Law in Provo, Utah.
In that article, I noted that Justice Clarence Thomas had used the BYU corpus in his dissent in Carpenter v. United States, which held that the government's acquisition of cell-site records is a Fourth Amendment search, to show that the phrase "expectation of privacy" never appeared in any papers of the founders, early congressional documents, early American texts, or early American newspapers.
A search for that phrase in the Harvard tool dramatizes this fact, showing that the phrase was first used by a court only around 1965 and then took off in usage in the 1970s.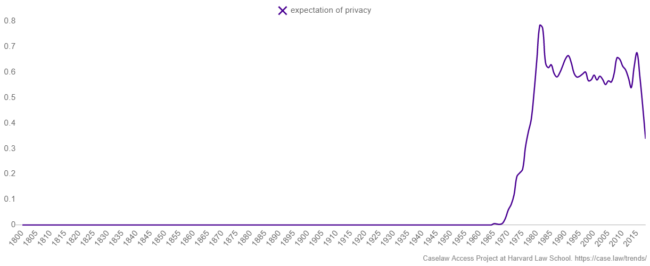 The BYU tool differs from the Harvard tool in that it searches specific collections of historical texts and then lets you drill down to see the context of the searched phrases within the original text in which they appeared. While the Harvard tool does not directly allow a user to see all instances of the specific context in which a phrase appeared, it can be used — as noted above — to generate a list of example cases that use the phrase, and then to conduct a full search of the phrase in all cases.
Charting the historical usage of a word or phrase in case law is fun and interesting. But it can also be important in supporting a legal argument or the interpretation of text. The tool is free, so give it a try for yourself.
Related: LawNext Episode 18: Adam Ziegler on How Harvard Put 360 Years of Caselaw Online.