Last year, I wrote here about legal research service Bloomberg Law's introduction of a library of more than 30 Practical Guidance suites, collections of practice tools, checklists, timelines and annotated forms covering more than 200 topics, including GDPR, health care, cybersecurity, corporate and commercial transactions.
Today, Bloomberg Law is rolling out an expansion of those suites with new Practical Guidance resources focused on litigation. As it is launching today, the new Litigation Practical Guidance focuses on responsive pleadings and motions, with overviews, checklists, sample forms and sample filings related to responding to a complaint; amending, joining and countersuing; and motions such as to dismiss or for summary judgment.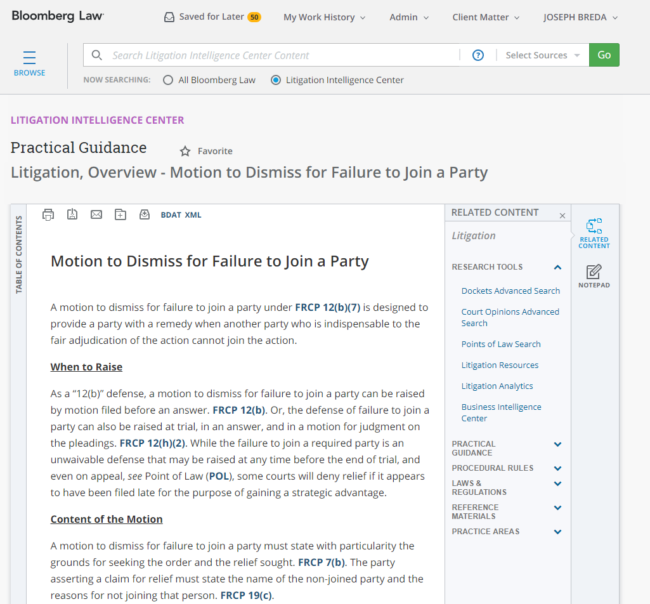 In the works — but not yet launched — are additional litigation-related Practical Guidance suites on special defenses and discovery.
As part of today's roll-out, Bloomberg Law is also unveiling a Litigation Resources page, which organizes litigation-related research tools and reference materials, including statutes of limitations, jury instructions, court rules, laws, and regulations.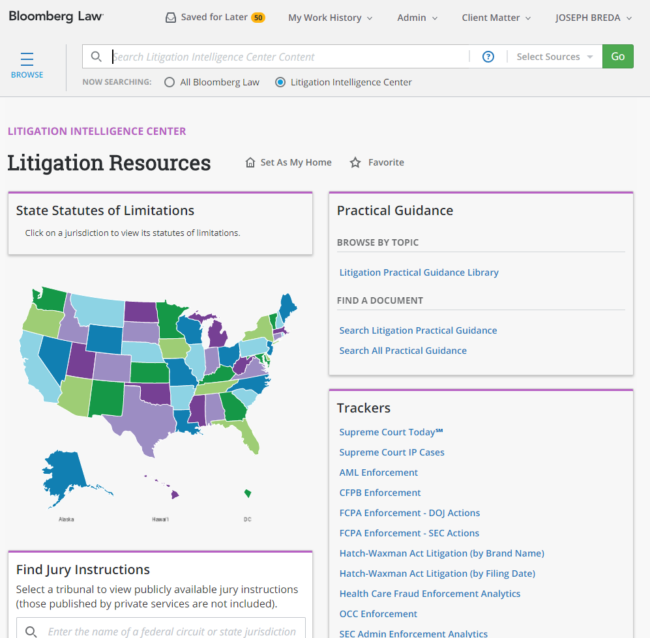 This includes a guide to state statutes of limitations that can be both browsed and searched. All of this litigation content is also integrated with other litigation-related tools on Bloomberg Law, such as Points of Law, Smart Code, and the Dockets database.
Oddly, however, there appears to be no seamless way to access Bloomberg Law's litigation analytics from these new Practical Guidance pages — something that Bloomberg intends to fix, I was told during a demonstration yesterday.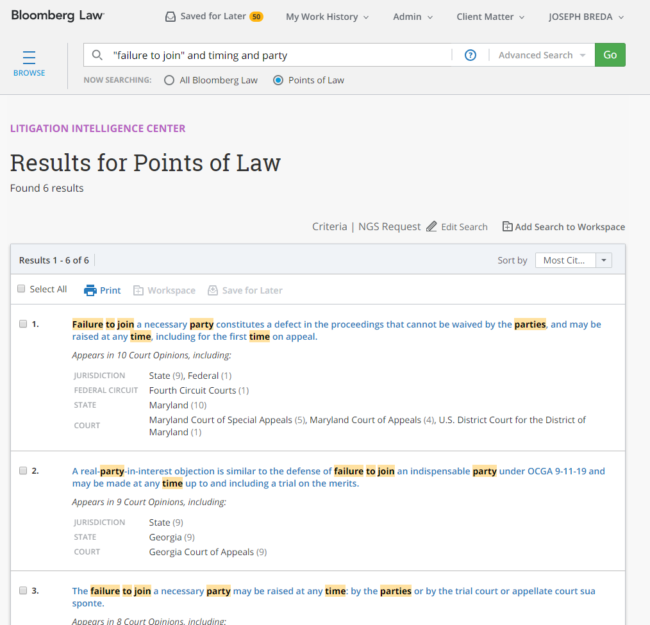 Within the Litigation Practical Guidance, a user will find:
Overviews, checklists and forms to help litigators identify the legal and procedural issues pertinent to a matter.
Related content, with links to other relevant Practical Guidance suites, research tools, legal materials, reference materials, and practice centers.
Integration with Points of Law, a Bloomberg Law feature that lets users quickly find key legal principles.
Integration with Smart Code, providing current judicial interpretations of statutes, rules and regulations.
Practice Tips, for guidance on best practices.
Access to court dockets, including to find examples of similar motions.
During a demonstration yesterday, Bloomberg Law President Joe Breda said that today's announcement represents a significant expansion of content and a new direction for Bloomberg Law. While the service is known for coverage of areas such as tax, labor, employee benefits and intellectual property, litigation has not been a primary focus, he said.
While the company has been gradually bulking up litigation-related features over the past few years, it spent the last year on developing the kind of foundational content litigators need, Breda said. Leading that effort has been Mindy Rattan, a former litigator with Baker Donelson and McKenna Long & Aldridge.
As with everything on Bloomberg Law, this new Litigation Practical Guidance and the accompanying Litigation Resources section are available to all subscribers at no additional cost.