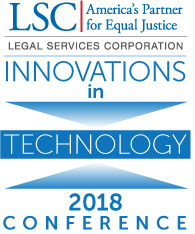 I was honored last week to deliver the keynote at the Legal Services Corporation's Innovations in Technology Conference. The title of my talk was, "The Justice Gap: Why the Justice System Has Failed to Keep Pace with Technology and What to Do About It."
The LSC folks have posted video of the talk to their Facebook page and I've embedded it below. My part starts at about 32 minutes into the video, but I encourage you not to skip the thoughtful introductory comments from John G. Levi, LSC board chair, and Jim Sandman, LSC president. Videos of many other conference sessions are also posted on the LSC Facebook page.
Because my slides are not clearly shown in the video, I've also embedded the full deck below the video.