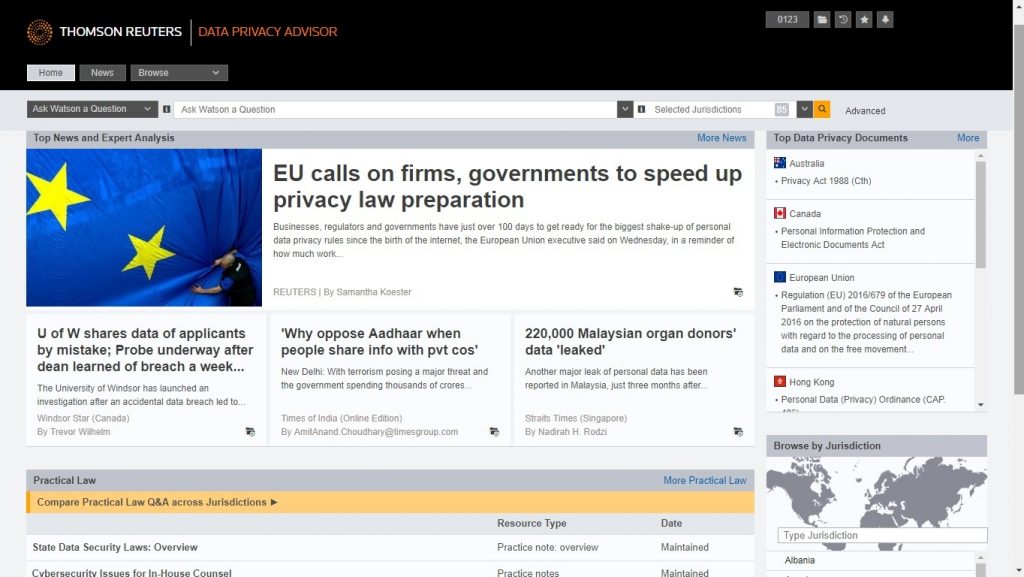 Two years ago yesterday, at a briefing for journalists and bloggers, Thomson Reuters let drop a tantalizing tidbit about a product it was developing based on IBM Watson's artificial intelligence platform. TR offered only crumbs of details, saying the product would help corporate legal and corporate compliance users untangle the sometimes-confusing web of global legal and regulatory requirements. Little else was revealed then or subsequently.
Until now. Today, TR is introducing Data Privacy Advisor, a standalone, data-privacy research product that combines legal guidance from Practical Law, curated news, and a question-answering feature driven by AI, jointly developed by TR's Center for Cognitive Computing and IBM Watson.
"Innovation has been our lifeblood for more than 100 years," said Susan Taylor Martin, president of the TR legal business, in a statement. "Data Privacy Advisor is a great example of how we've brought together our global content, domain expertise and distinctive technology to meet the needs of legal and compliance professionals."
This is a specialty research product aimed at lawyers in corporate legal departments, corporate compliance professionals, and corporate and data-privacy lawyers in law firms. Its key features are:
Global statutory and regulatory materials, including pending legislation and regulations, data privacy country guides for more than 80 countries, the full GDPR library, and Practical Law know-how content directed to global legal and program management issues.
AI-powered question answering that allows users to ask questions in their own words and receive a full-sentence answer.
Curated news, analysis and blog content specific to data privacy.
A Related Concepts feature designed to help users discover additional insights that otherwise might go unnoticed, also enabled by Watson.
Ask Watson A Question
On Jeopardy!, the artificial intelligence computer Watson famously beat champ Ken Jennings by asking the right questions. On Data Privacy Advisor, you get to ask the questions of Watson.
To use this feature, the user clicks a button labeled "Ask Watson a Question." Questions can be asked using plain English, and TR says the system will get smarter the more it is used.
TR and IBM spent nearly two years training the system, using more than 60,000 question-answer pairs created by subject-matter experts, according to Khalid Al-Kofahi, TR's vice president of research development and head of its Center for Cognitive Computing.
The system was taught to understand the nuances of legalese, from simple definitions to more specific data-privacy concepts, he said. To further refine the training, data-privacy professionals were enlisted to review and grade Watson's responses.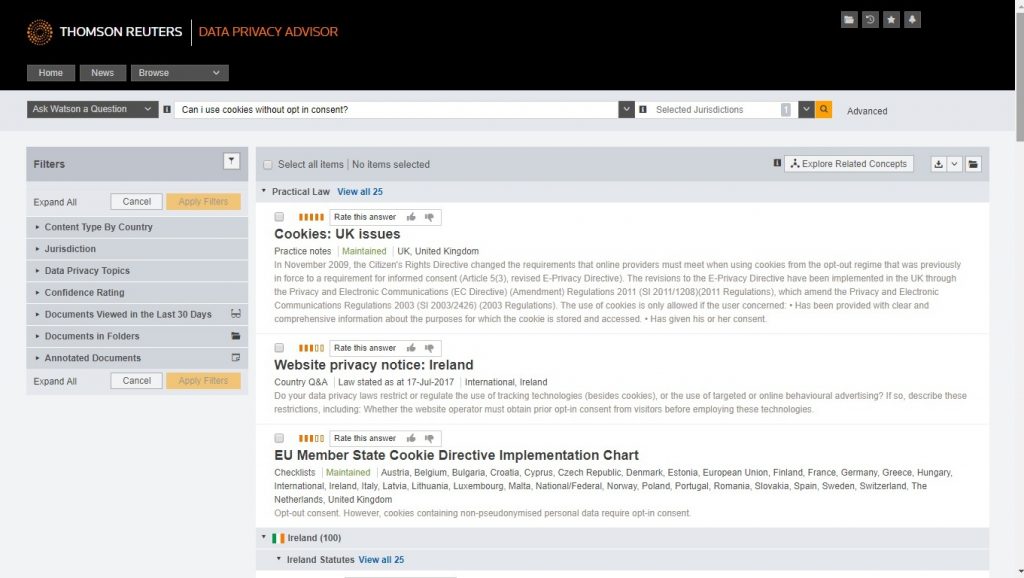 In the screen capture above, answers are shown for the query, "Can I use cookies without opt in consent?" Answers can be filtered by country, jurisdiction, confidence level, and other ways. The results always start with answers taken from Practical Law. Users can rate the answers with a thumbs up or down in order to further train the system.
The ask-a-question feature is currently trained to work only with certain jurisdictions, but TR will be adding more jurisdictions as the product is further developed. The jurisdictions currently included are: Australia, Canada, European Union, Hong Kong, India, Ireland, Malaysia, New Zealand, United Kingdom and United States.
While the aim of this feature is to provide a single-sentence answer to a legal query, there will be times when a user wants to explore a concept more broadly. In such a case, the user can click the button, "Explore Related Concepts" and generate a knowledge graph that shows a visual map of related concepts. Click any related concept to see snippets of information about that.
This feature also uses artificial intelligence and will learn from user interaction.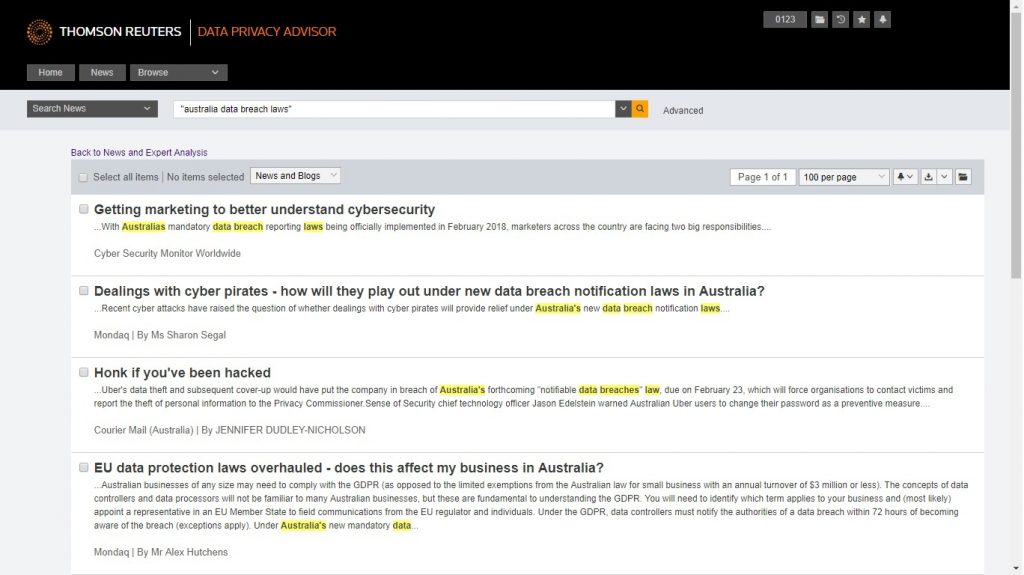 In addition to Ask Watson A Question, a second key feature of this product is news and analysis curated by TR's editors. This draws on news stories and blog content and is updated throughout the day. TR says the feature includes content from some 800 data-privacy blogs.
Users can search within news for stories related to a particular issue or jurisdiction. Users can annotate news articles, add those annotations to custom folders, and share folders with others in their organization.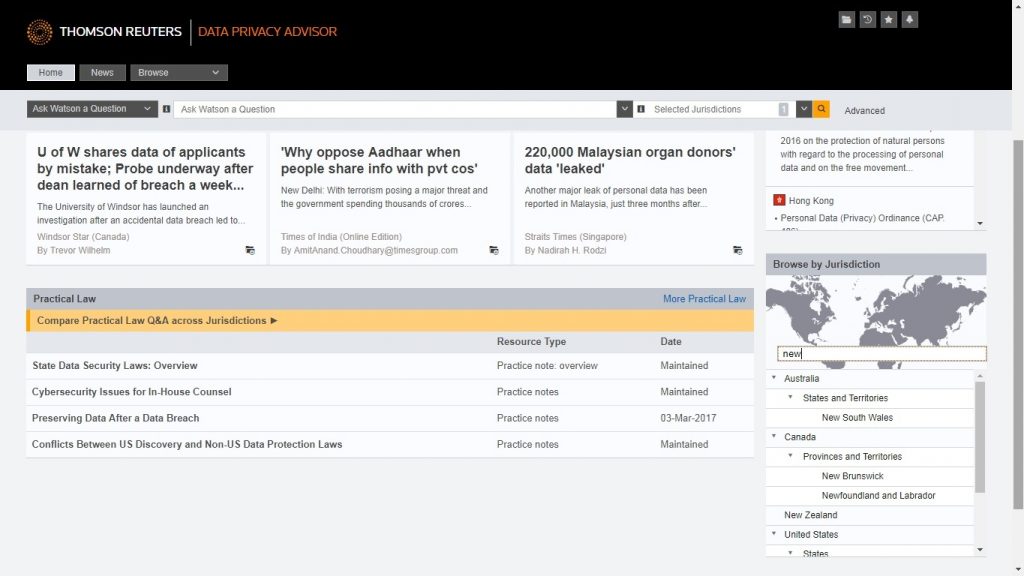 A third feature allows users to browse governing regulations by jurisdiction. The product covers some 80 jurisdictions, and for Canada, the U.S. and the UK, it also includes state and regional jurisdictions.
Another feature allows users to compare laws and regulations across jurisdictions. The user would choose the two jurisdictions to compare a and then selects from a list of questions to compare for those jurisdictions.
(There are a variety of questions to choose from, such as "What data is regulated?" "To whom do the laws apply?" "Is the consent of data subjects required before processing personal data?" and many more.)
A final feature of the product is access to Practical Law materials. Users can drill down into PL resources by topics, resource type, or jurisdiction.
The Practical Law materials include a selection of templates related to data privacy issues, such as a sample workplace searches policy or a HIPAA business associate agreement.
As of a briefing last week, TR had not yet set pricing for this product. The product is available for general release today and TR will be demonstrating it at the Legaltech conference in New York. It is available to customers in the U.S., UK and Canada.