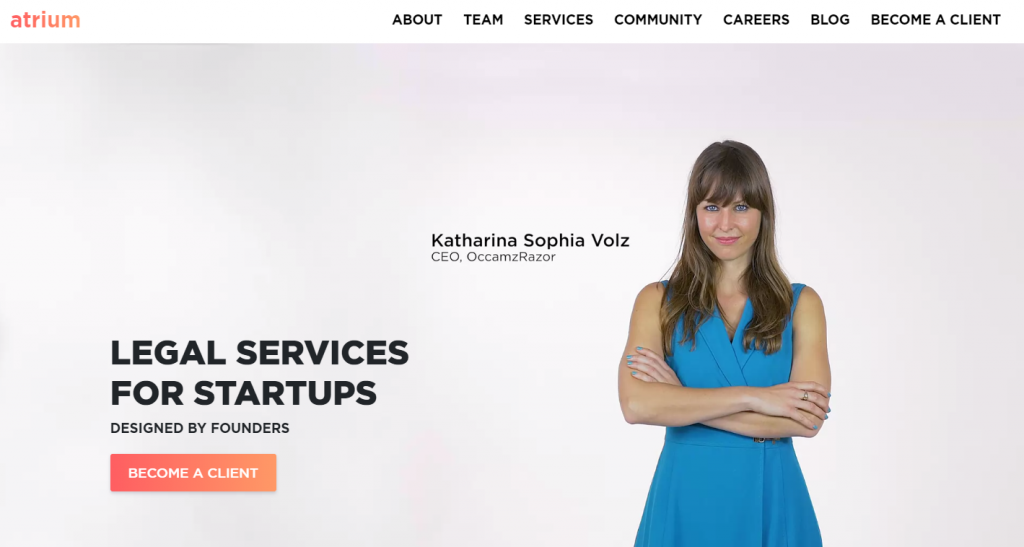 Last April, reports surfaced that Silicon Valley serial entrepreneur Justin Kan was looking to raise — and then in June did raise — $10 million for an initial round of funding for a startup that would "revolutionize legal services." The name of the startup was known, Atrium LTS, but little else, except that it would somehow involve software designed to streamline the work of law firms. Today we get the rest of the story, as Kan's startup officially starts up.
Kan is not a lawyer and has never worked in the legal field. But as a serial entrepreneur, he was a client who became frustrated by the delivery of legal services. Kan founded the live-video platforms Justin.tv and Twitch.tv, selling Twitch to Amazon in 2014 for $970 million. He was a partner at the venture capital firm Y Combinator until he left earlier this year to start Atrium LTS.
What is launching today is a law firm, Atrium LLP, that is separate and apart from Kan's technology company Atrium LTS, but that is symbiotically connected to it. Atrium's lawyers will focus exclusively on practicing law, while Atrium LTS (the LTS is for Legal Technology Services) will handle all operations for the firm, even including marketing, and develop and operate software to streamline the firm's workflows.
The law firm is positioning itself as a compelling alternative to traditional large law firms for corporate legal services, built around cost transparency and service excellence. It is initially offering two products, Atrium Counsel, a subscription service that provides startups with all-you-can-eat legal services at fixed rates of $2,000 to $10,000 a month, and Atrium Financings, a legal and advisory service for end-to-end startup fundraising that will charge flat rates of $25,000 to $45,000.
The firm's founding partners are Augie Rakow, a former partner who represented startups at Orrick, Herrington & Sutcliffe, and Bebe Chueh, a lawyer who in 2011 founded AttorneyFee.com, a company whose mission was to make the cost of legal services more transparent, and then sold it to LegalZoom in 2014.
This is a new kind of law firm, Rakow told me during an interview earlier this week, with unique approaches to billing and technology. All work will be done on monthly subscription rates or on flat rates for work outside the scope of a subscription. "We've done away with hourly billable rates," he said. "We don't track hours internally."
The firm is also elevating the role of technology, with Atrium's lawyers working as advisors to Atrium LTS to develop more efficient tools and processes for delivering legal services and for automating low-value tasks that traditional firms bill for on an hourly basis. One tool it has already developed in this way streamlines the closing process.
But while pricing and technology are important differentiators, Rakow believes that the more fundamental difference is the way the firm is structured.
"What's fundamentally more different is that we've taken the pretty radical step of letting the lawyers focus on the legal work and handing over all the operational aspects to Atrium LTS," Rakow said. "We're taking all the business and operational and technology aspects and essentially outsourcing that to a very well-funded technology operation."
Atrium LTS is paying all the start-up costs for the law firm, structured as a loan. Atrium attorneys receive stock or options in Atrium LTS and some receive salaries from Atrium LTS for serving as advisors.
The firm will initially focus its practice on representing venture-backed startups. Operating since June in the law firm equivalent of a private beta, it has already done deals that have closed or are about to close totalling $100 million to $300 million. Within a year or two, the firm will expand into other areas of corporate practice, following the same subscription model.
"Our goal is to build the largest multi-practice firm in the United States," Rakow said.
The firm is starting with seven lawyers all working out of a San Francisco office. Rakow expects to add 2-4 lawyers a month in the near future and to fairly quickly open offices in New York and Los Angeles.
During my interview with Rakow, I also spoke to two lawyers who had recently left large firms to join Atrium, Hans Kim, formerly at Wilson Sonsini, and Jonathan O'Connell, formerly at Morrison & Foerster. Both told me they had become frustrated with the bloat and inefficiency at their firms and that they saw Atrium as an opportunity to help improve the practice of law and serve clients more efficiently.
Startups that subscribe to the Atrium Counsel service will receive an all-you-can-eat menu of essential legal services for a venture-backed company, covering financing, investor relations, trademarks and intellectual property, employee issues, and more. Off the menu would be significant, non-routine matters, such as an M&A or a large tender offer transaction. The firm will handle those services as well, but at flat rates.
While subscriptions range from $2,000 to $10,000 a month, Rakow said that most early-stage companies about to close a series A funding would pay at the low end of the range, with more advanced companies paying at the higher end.
In June, Atrium LTS raised $10.5 million in a Series A funding round led by General Catalyst. A laundry list of venture firms and angels also participated in the round. Notable among the angels, for his connection to the legal technology world, is Jack Newton, cofounder and CEO of Clio.