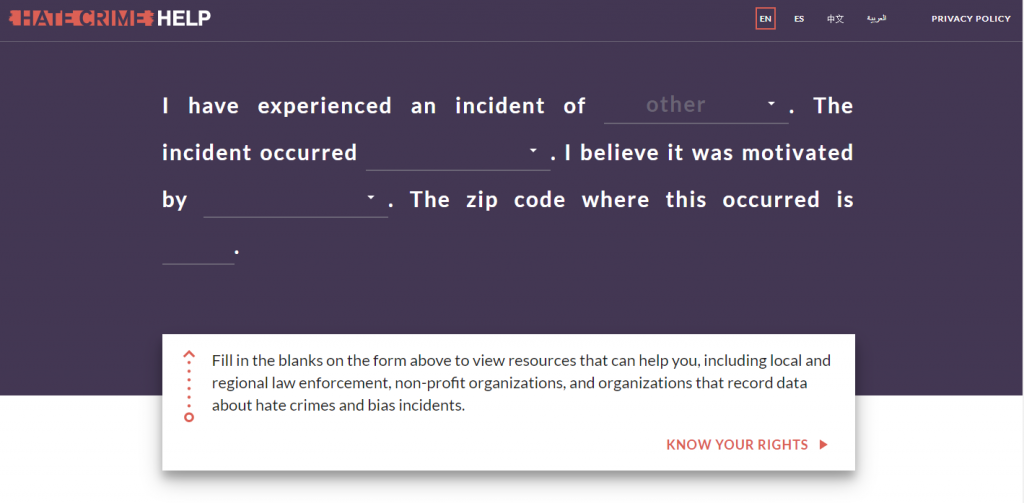 Last March, I participated in a day-long design sprint held with the goal of developing a web application to assist hate-crime victims. Now, that app has been released.
The design event was held at Suffolk University Law School in Boston and was sponsored by Suffolk and the ABA Center for Innovation, along with CuroLegal and Stanford Law School's Legal Design Lab, with funding through a $25,000 grant from Cisco. Margaret Hagan, director of the Legal Design Lab, served as facilitator. (Victor Li had an advance report on the event at the ABA Journal.)
The app that resulted from that day (and lots of subsequent work) is now available as Hate Crime Help.
The app is extremely simple to use. A user answers just four questions and then is directed to a list of appropriate resources. The four questions ask:
The type of incident, e.g., violence, verbal hate, property damage, harassment, or other.
The location of the incident, e.g., online, at a place of worship, at a private resident, at work, at school, on public transportation, on the street, or other.
What the victim believes motivated the incident, e.g., ethnicity, skin color, religion, sexual orientation, gender identity, disability, gender, immigration status, or other. Choices such as ethnicity and religion are further broken down by specific ethnic groups and religions.
The zip code where the incident occurred.
After answering those questions, the page displays a list of organizations and government entities that can help with the specific type of hate crime in the user's vicinity.
For example, I indicated that I had experienced verbal hate on public transportation because of Muslim religion in a Boston zip code. Resources that appeared on my list included the Boston police precinct for the zip code I entered, the Massachusetts chapter of CAIR (the Council on American-Islamic Relations), the Southern Poverty Law Center, and the Boston office of the FBI.
"Technology gives us a unique ability to increase access to and understanding of the law," Nicole Bradick, CuroLegal's chief strategy officer, said in announcing the new app. "In light of the increased reports of hate crimes in this country in recent months, our goal is to provide clarity on the law and available resources, and to appropriately set expectations for what help is available from those resources."
The resource is a good one for lawyers to know about, as they can refer callers to the site or even use it themselves.