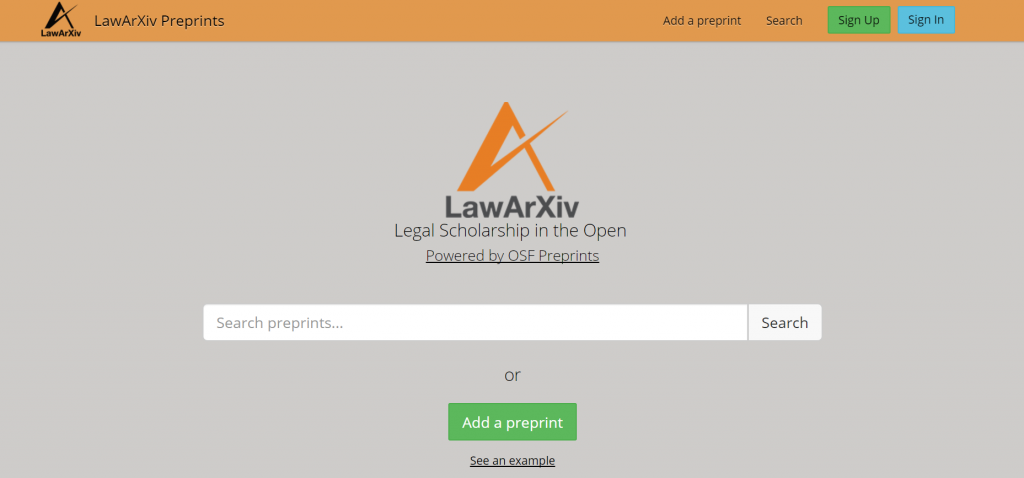 Chances are you've downloaded a preprint of a law review article or some other scholarly article from SSRN, the Social Science Research Network. It has become the leading U.S. repository for scholarly research papers across a broad range of disciplines, including law. But when SSRN was acquired last year by academic journal publisher Elsevier, a sibling company to LexisNexis, some scholars and information professionals became concerned that SSRN's free access would eventually be locked behind a paywall (even though SSRN said otherwise) or exploited to mine and sell user data.
Aiming to ensure continued open access to legal scholarship, several academic and library groups joined forces in May to launch LawArXiv, a website devoted to preserving open access to legal scholarship. Uploading articles is free to the scholarly legal community and all uploaded content is freely accessible to the public.
The site's collection of articles is still small — fewer than 250 articles so far. Needless to say, that number should grow as more scholars begin to use the site. Users can search the site for articles or browse them by titles and subject.
LawArXiv was developed by the Cornell Law Library in collaboration with three law library organizations:
"The legal academy needs a truly open repository for legal scholarship, with a long-term commitment to the many communities it serves: scholars, students, lawyers, and the public," said James Grimmelmann, professor at Cornell Law School, in a press release announcing LawArXiv's launch. "Now it has one, and we're proud to be at the forefront of this sustainable open-access movement."
LawArXiv is hosted on a platform hosted by the Center for Open Science and developed for publication of scientific scholarship. In an interview published on the Scholastica blog, Femi Cadmus, law librarian and associate dean for library services at Cornell, said that plans are in place to make the platform more intuitive for legal scholars and researchers.
She also said that LawArXiv's advisory board is working to secure long-term funding to ensure continued support for the site. "Sustainability is of tremendous importance and while we have assurances for about 10 years grant funding through the Center for Open Science, we are also developing a strategy for a funding model which goes beyond that term."
If you are interested in reading more about the genesis and mission of this site, I recommend reading Why LawArXiv? by LawArXiv administrator and Cornell librarian Margaret Jane Ambrose.