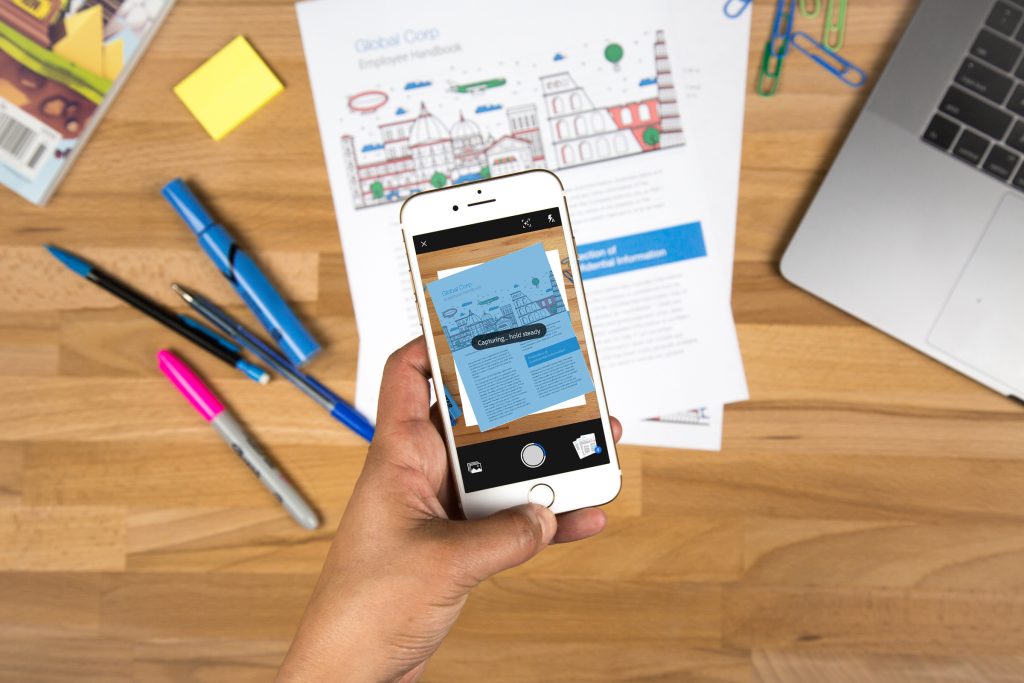 Adobe yesterday introduced a scanner app for mobile devices that includes optical character recognition, so you can edit documents after you scan them. It also introduced notable updates to Adobe, including cross-device signature capture.
The scanner app, Adobe Scan, is free and available for iOS and Android devices. Regular readers of this blog may remember that, last November, Adobe added a scanning tool to its Adobe Reader app for iOS and Android devices. This new app improves on that by adding OCR and better integrating with Adobe Document Cloud.
The app is quick and easy to use for scanning documents, receipts, business cards, notes and forms. Simply hold your phone or tablet over a document and the app automatically detects borders and captures the image. For multi-page documents, just flip to the next page and the app will continue the capture. You can then crop, rotate and edit the image, if need be, from within the app.
When you are satisfied with the scan, hit save. The app performs OCR on the text and then uploads the scan to Document Cloud. From there, it is available to work on from any device. You can also share the scan from within the app by sending an email or link.
The OCR function converts the image to text that you can select, copy, edit and annotate using Adobe Reader DC or Acrobat DC. Users of the app can create a free Document Cloud account to store scans. Paid subscribers to Acrobat DC get added functionality to edit and organize documents, collect signatures and more.
Enhancements to Adobe Sign
Last June, this blog reported on plans by Adobe and other industry groups, working through a group called the Cloud Signature Consortium, to build an open standard for cloud-based digital signatures across mobile and the web, enabling anyone to digitally sign documents from anywhere.
Then, in February, Adobe announced the first cloud-based digital signatures built on an open standard and said that both Adobe Document Cloud and Adobe Sign would enable digital signatures — the most secure form of e-signatures, using certificate-based digital IDs issued by a trust service provider (TSP) — in any browser and on any mobile device.
Yesterday, Adobe formally rolled out the promised cloud-based digital signatures — the first cloud-based digital signatures based on an open standard — and is making them available in any browser or on any mobile device.
In addition, Adobe unveiled a feature it calls cross-device signature capture. This enables you to obtain handwritten electronic signatures, even when your computer is not touch-enabled. Instead, from within Adobe Sign, you send a text message to your mobile device and sign with your finger or a stylus, then finish the job back on your desktop. With one tap, you can add the signature to your document.
Another addition yesterday to Adobe Sign is customizable email templates. These let you create branded and personalized email templates for requesting and confirming signatures through Adobe Sign.