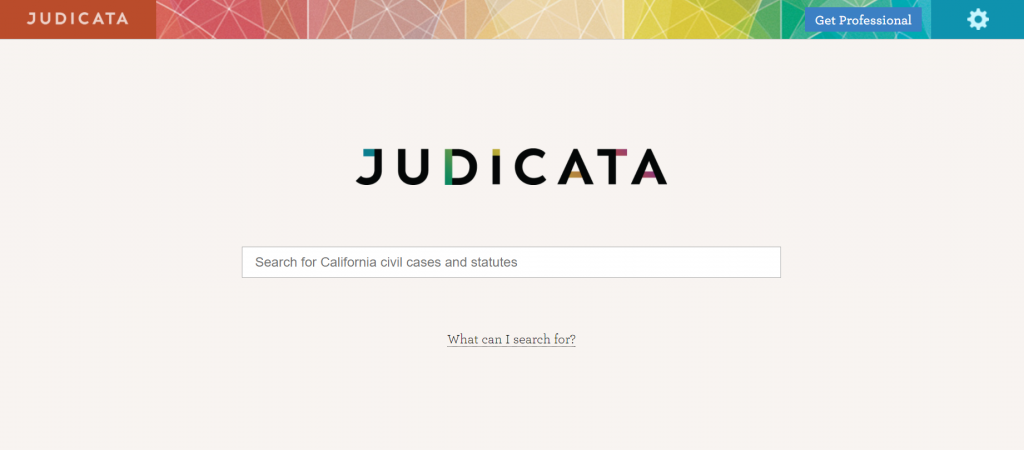 Since at least 2013, the website of Judicata has been teasing visitors with the promise of a better legal research service. "We're mapping the legal genome to help you better understand the law," said its home page. The San Francisco-based company was started even earlier, in November 2011. Along the way, it picked up some $8 million in financing from some big-name investors, including PayPal cofounder Peter Thiel and Box founders Aaron Levie and Dylan Smith. But all that time, its product remained largely a mystery.
Until now. Judicata is finally removing the wraps and beginning to offer access to its service, which its redesigned website describes as "unprecedented in its precision, relevancy, and simplicity." Yesterday, I got to log in for the first time and try Judicata, and I got a personal tour from CEO Itai Gurari, one of the company's three founders.
Gurari is a Columbia University law school graduate who also has a master's degree in computer science from the University of Wisconsin-Madison. After a stint as an associate at Jones Day a decade ago, he started his first legal research company, TraceLaw.com. When that closed in 2010, he joined Google as a software engineer working on Google Scholar. In 2011, he left Google to start Judicata.
One of his co-founders, Blake Masters, is also a lawyer by training. He left Judicata in 2014 and co-authored a book with Peter Theil, Zero to One: Notes on Startups, or How to Build the Future. Masters is now president of the Thiel Foundation and principal at Thiel Capital The other co-founder, Adam Hahn, is a software engineer who serves as Judicata's CTO.
Mapping the Legal Genome
So after more than five years of gestation, what has the Judicata team produced?
"We've focused on building a search engine that returns the best results the fastest, and at this point it mops the floor with Westlaw and Lexis," Gurari says.
It does this, he explains, by mapping the legal genome — that is, mapping the law with extreme accuracy and granularity.
The best analogy, he says, is to driverless cars and maps. With all the hype about driverless cars, one aspect that is not well know is the effort that's gone into making the maps that guide those cars. As The New York Times recently explained, driverless cars require highly detailed, three-dimensional computerized maps that can pinpoint a car's location and understand its surroundings.
Judicata has been trying to build that kind of a map for law. "This is different than what you might be thinking about given all the hype around AI," he explains. "AI and machine learning only do as well as the data that goes into them. We've focused on creating better data."
How the Platform Works
What does this all mean in practice? Let's look at how the service works. Let me emphasize that these are initial impressions, based on just a day of using the service.
But first, two provisos. So far, Judicata's research database covers only California civil cases and statutes. Gurari says they wanted to first prove out what they could do before expanding to other jurisdictions. Next to be added will be federal and New York materials.
The second proviso is that Judicata is still in a somewhat rudimentary stage compared to the functionality it plans to add going forward. Some of that additional functionality will be rolled out in the coming weeks and some will require more time.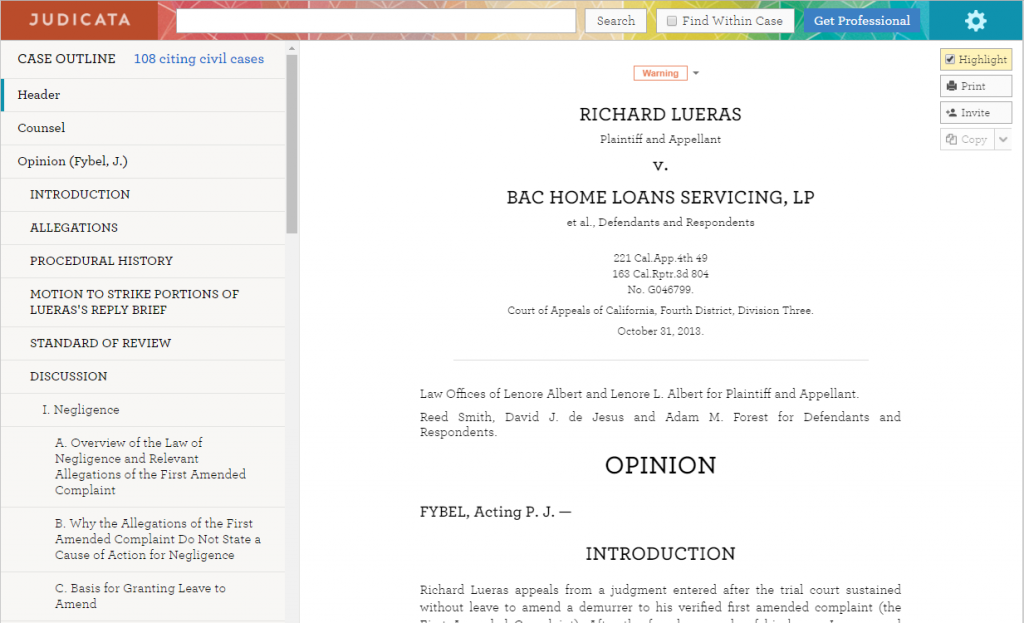 When you perform a search, the first thing you notice on the results page is a list of filters in the left-hand column. You've seen similar-looking filters in other research platforms, but Judicata's filters are different, Gurari says. "Using a mixture of automation and manual review, we've mapped out the information for every case in California civil law."
In other words, these filters represent Judicata's promised genome. Search results can be narrowed by any number of filters, including by cause of action, procedural posture, disposition, appellant's trial court role, court, judge and time.
For example, I searched "duty of care" and retrieved 17,364 results. But if I had been interested only in defamation cases, I could select that cause of action and filter the results to 281 cases. Multiple filters can be selected. If you select multiple filters from different categories — such as "Published" from the Publication Status category and "Eminent Domain" from the Cause of Action category — results will have both values. If you select multiple filters from the same category — such as two causes of action — results will have either value.
Search results are listed by relevance by default but can also be sorted by date. Each search result includes snippets of text from the case that contains language relevant to your query. Click a snippet to go directly to that text in the case.
Advanced Citator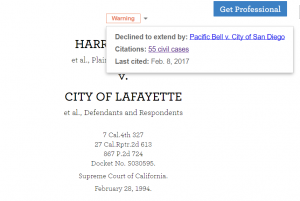 A second thing you notice on the search results page is that many of the cases carry labels such as "Warning," "Caution" or "Superseded in Part." Yes, Judicata has a citator service in the style of Shepard's from LexisNexis or KeyCite from Thomson Reuters. Not only that, but Gurari says that Judicata's citator is more accurate and complete than either of those.
Both Shepard's and KeyCite have gaps in their coverage that Judicata has filled, he says. For example, Shepard's does not include case treatments from unpublished opinions. It also routinely misses instances when legislation abrogates case law. He pointed me to an amendment to the California Family Code that expressly stated it was intended to abrogate a particular opinion. But Shepard's shows the case as having no negative or positive treatment, he says. (I did not check Shepard's to confirm this.)
The citator labels appear both in the search results and at the top of a case. When you are in the case and click on the label, it opens a box that explains the reason for the warning, links to subsequent citations, and tells you the date on which the case was most recently cited.
Reading Enhancements
Judicata has two features that simplify the reading of cases. When you are in a case, the full outline of the case appears in the left-hand panel. That makes it easy to jump to specific portions of an opinion. However, the outline is derived from the headers used in the body of the opinion, so if the opinion's section headers are lacking or unclear, or if the opinion uses only Roman numerals with no titles, the side-panel outline will be no better.
The screencap above for the Lueras case shows the outline when the court has used descriptive headers. But when the court uses only Roman numerals, the outline looks like the screencap below.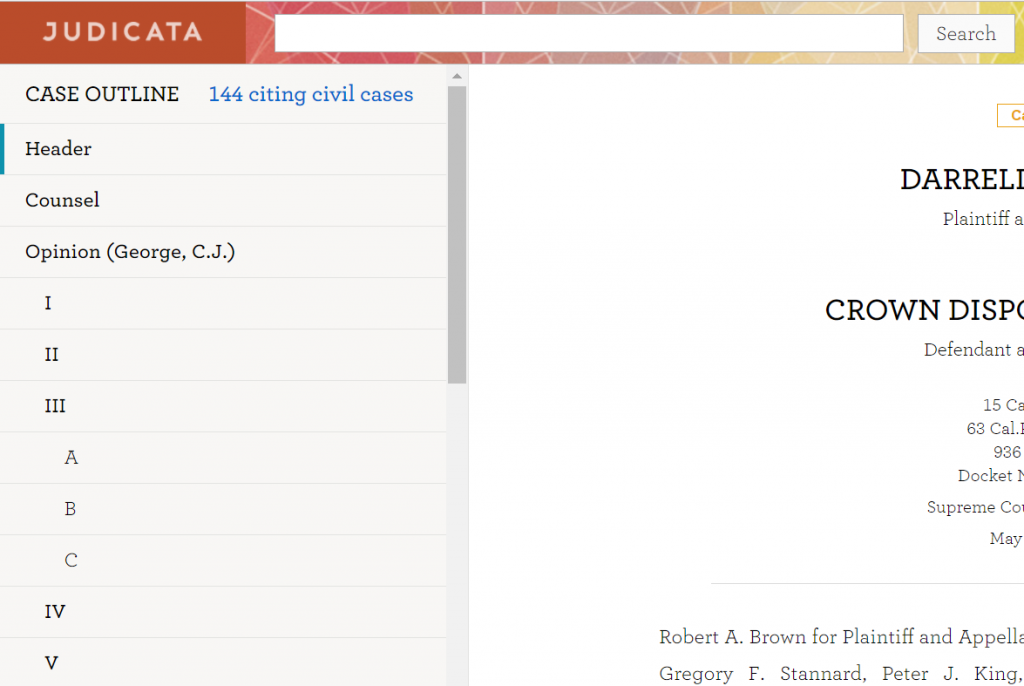 A case-reading feature I really like is color coding. This can be toggled on or off, but when it's on, every cited case within an opinion is color coded. The colors indicate whether the cited case is being followed, overruled, cited, criticized, or distinguished. The colors provide a visual cue of what is going on in the case, and Gurari says they both speed reading of a case and enhance comprehension.
This color coding is not yet generally available in Judicata but will be released in the next few weeks and then gradually expanded to more and more cases. As I will explain below, it will be available only to paid subscribers.
Search Assistance
Another nice feature assists in forming search queries. Searches can be constructed using natural language or terms-and-connectors queries. But because terms-and-connectors queries are so often misconstructed, Judicata tells you how its reading your query. For example, if I search "court AND appeals OR judge," Judicata gives me the message you see below.

Judicata also provides search and spelling suggestions. As you begin to type in the search box, suggested searches and sources appear in a drop-down. Suggestions include search terms as well as cases and statutes. If the phrase in your search is also commonly mentioned in certain types of cases, Judicata also suggests a search that limits the results to those types. Type "hostile work environment," for example, and it will suggest searching that term with the "harassment" cause of action filter applied.
Copy With Citation
Another handy feature is copy with citation. When reading a case or statute, highlight the text you'd like to copy. Then click the "Copy" button to the right of the case. When you paste the text, the citation will be included.
For now, Judicata's citation style defaults to the California Style Manual. You can change this to use the standard citation style or you can set custom citation settings.
Coming Attractions
Gurari described two features still in development but that will be released in coming months. The first will allow users to upload a brief and have Judicata analyze and to suggest other cases that support the outcome you are trying to achieve. The feature will not simply list cases, but it will also provide suggestions of why it is recommending each case. The brief-upload service will also provide information on judges pertinent to the brief.
A second feature is judge analytics. This will allow users to perform analytics on specific judges to find out which cases are important to them in making their rulings and which are not. Users will be able to apply these analytics on a granular basis, such as by looking at the cases judges rely on when they rule for a particular party or in a particular type of action.
Subscriptions
Judicata offers both free access and a paid subscription. The paid subscription is $29 a month if paid annually or $39 a month if paid monthly. The image below shows what is included in the free and paid versions.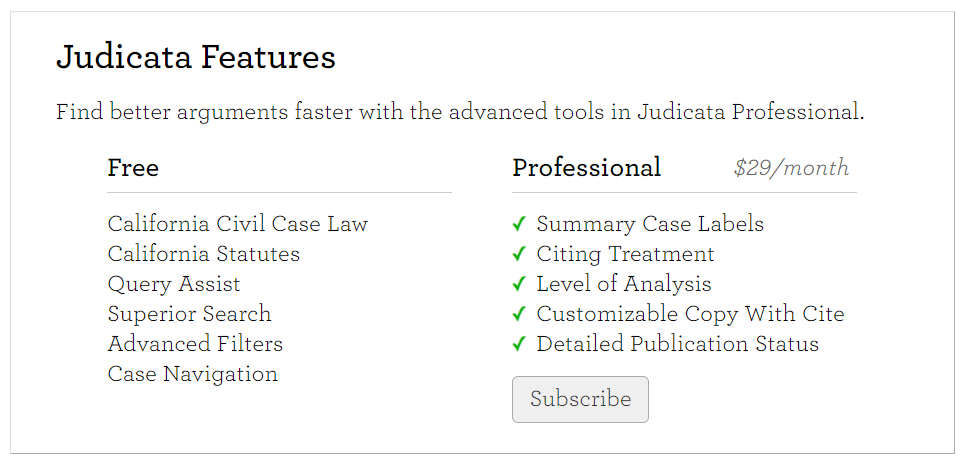 However, Judicata is not currently allowing direct sign-ups. Rather, those interested in becoming a user must request access and Judicata will follow-up with them.
My Impressions
After five years of development and the promise of a legal research service "unprecedented in its precision, relevancy, and simplicity," Judicata has set a high bar for itself. My impression is that it has gone quite a ways towards reaching that bar, but that it still has quite a ways further to go.
The mapping of the genome that is Judicata's premise is still incomplete. For example, I performed a couple of searches around topics that I deal with frequently in my role as a lobbyist for the newspaper industry — public records and open meeting laws. The Cause of Action filter seemed not to know how to classify these types of cases, or at least not to have the right filter that would allow me to zero in on the cases I wanted.
Gurari agrees that the filters so far are just the "tip of the iceberg" and that Judicata will continue to map them more granularly. "The idea is to keep going deeper and deeper into the filters and the mapping," he says.
But while the filters did not precisely align with my searches, the search results I obtained appeared to be highly relevant and on point. Do Judicata's search results "mop the floor with Westlaw and Lexis," as Gurari claims? Honestly, it's hard for me to evaluate, based on my limited use so far. My chosen topics of inquiry were somewhat esoteric and I am not at all familiar with researching California law. And remember, I've used it less than a day as of this writing.
Gurari says that he urges new users to try a search on Judicata that they've recently done on another research platform. He says the reaction can often be summed up in one word: Wow. Judicata has mapped out and tested hundreds of queries against other research services and consistently obtained more relevant results more quickly, he says.
Setting aside search, Judicata has a number of features that enhance its usability and the overall research experience. As I said above, I like the color coding of case citations. It may sound gimmicky, but it really helps you read a case more quickly and have a better sense of what's going on in any given section of the case. I think this feature will be particularly welcome among weary-eyed associates reading their 20th or 30th case of the day.
The citator seems quite good, on first impressions. I have not performed in-depth comparisons of its efficacy against other citation services, but I suspect there are any number of law librarians who are sharpening their pencils as we speak to perform such comparisons.
We've all heard the saying, "The perfect is the enemy of the good." Judicata isn't perfect yet but it's a good start. The genome-mapping approach may prove to be either a blessing or a curse. The blessing is that it promises to create a better data set and one that is distinctly different from up-and-coming research platforms that rely on artificial intelligence. The curse is that the mapping can be only partially automated and requires a significant level of human effort. That means that Judicata will need more time and more money to expand into a national legal research platform.