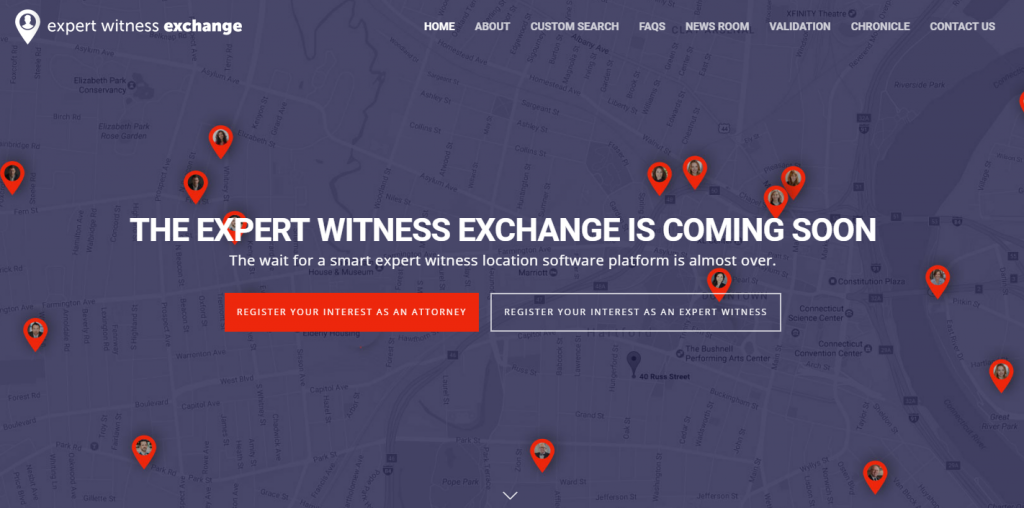 It was a whirlwind several days at Legaltech in New York last week. As expected, a number of companies announced roll-outs of new products or enhancements to existing ones. This blog already reported some of these last week. Here are others I haven't yet covered.
See also my post yesterday at Above the Law, which was a broader post-mortem on the Legalweek conference: This Week In Legal Tech: Post-Mortem On The Legaltech/Legalweek Conference.
Now on to the news:
A data-driven expert witness selection platform. One of the most interesting new products I saw was The Expert Witness Exchange. Although the product has not yet launched, I was given a preview by its developers. They are building a platform that they believe will disrupt how lawyers find, vet and choose expert witnesses by enabling attorneys to make data-driven decisions about experts. To my knowledge, no one else in the legal market has such a platform. Rather, expert-witness selection is still done primarily through referrals, either from referral services or other attorneys.
The CEO of The Expert Witness Exchange is Melinda S. Sungenis, a 30-year veteran of the expert witness industry who most recently was CEO and president of The TASA Group, a long-established expert witness provider. Helping to drive the new product is a UK data-analytics platform, Galileo Analytics. Their data set already includes information on more than 100,000 experts, with new data added daily. They hope to launch by the end of March.
Semantics-based research and discovery engine. A product I had not seen before — although it launched commercially last May — is Omnity, a semantic search and discovery platform. You can call it a search engine, but rather than rely on simple keyword searches, it analyzes documents' full text to find hidden or more nuanced connections among documents. In fact, it goes a step beyond that, focusing its analysis not on the entirety of a document's words, but on the rarest words within it.
According to CEO Brian Sager, with whom I briefly chatted at the conference, the English language contains about 700,000 words, but only 100 words make up 50 percent of all published words, and 7,000 make up 90 percent of all published words. By focusing on that remaining 10 percent, Omnity is able to identify a more precise document profile and then better identify patterns and relations among groups of documents.
Obvious areas where this is already being used in the legal field are in patent prosecution and legal research. In fact, Omnity includes free access to a variety of legal resources, including issued and pending patents, U.S. case law, SEC filings, technical and scientific articles, and more. But Sager sees uses beyond that for enterprise customers, be they large law firms or corporations, using Omnity's semantic mapping for purposes such as internal document management and document discovery. You can try the public version for free at Omnity's website.
LawToolBox partners with DocuSign. The court calendaring system LawToolBox announced a new collaboration with digital signature company DocuSign that will help legal professionals centrally and securely sign legal documents, while automatically keeping up to date with court deadlines and rule changes. Each company already has robust integrations with Microsoft Office 365 and Microsoft SharePoint, LawToolBox365 and DocuSign for Outlook. But by integrating their products, they will be able to offer users of Outlook or SharePoint greater ability to manage matters from intake through completion.
Carpe Diem takes to the cloud. The legal technology company Tikit announced that its flagship timekeeping application Carpe Diem is now available via a cloud computing model. Users can now choose to record their time from the product's traditional desktop application, on a mobile device, or via a cloud-delivery option. The cloud version is built on the Microsoft Azure infrastructure and is sold on a per-person subscription basis. Tikit is offering firms a free three-month subscription to try out the new cloud deployment. Interested firms should contact Simon Elven, simon.elven@tikit.com.
Opus 2 launches virtual deal room. Opus 2 International, a global litigation services and software development company, released Opus 2 Forum, a virtual deal room for use by teams of lawyers and advisers in performing due diligence related to corporate mergers and acquisitions. Opus 2 Forum is based on the same technology and interface as the company's litigation product, Magnum. The company says that Forum eliminates the document-loading delays and plug-in challenges associated with other deal room products, performing 10 times faster than competing products. The software is also designed to facilitate collaboration and content sharing.
Two new products for tax and corporate lawyers. WoltersKluwer Legal & Regulatory announced two new products last week:
Standard Fed Plus, an expert solution for tax attorneys available on the Cheetah legal research platform. The company describes this as a centralized, online location for tax professionals to understand changes to the U.S. federal tax law as accurately and efficiently as possible. Features permit users to instantly see changes in federal tax laws, regulations and commentary – as well as information regarding when they were enacted and insightful annotations and explanations.
Clarion, a due diligence and client advisement product designed for corporate attorneys. Wolters Kluwer says that Clarion has the ability within minutes to surface vital information on a company's revenue sources, partnerships, customers and suppliers that would typically take hours of research. It does this by using business-relationship data to identify the most material relationships – as well as relationships that may not be self-evident.
Wolters Kluwer ELM launches Passport Pro. Wolters Kluwer's ELM Solutions, the company's enterprise legal management division, launched Passport Pro, a pre-configured version of its Passport ELM platform. Passport Pro is hosted software that offers legal matter and spend management features and best-practice-based workflows that come ready to install, enabling faster implementation than with the full Passport ELM platform. The company says that corporate legal departments with less complex legal workflow requirements, limited internal IT capabilities, and legal departments of less than 100 users are best suited to use the product. Passport Pro includes a new Office Companion module that allows users to manage their matters directly from inside their Microsoft Outlook application.
NetDocuments announces multiple product enhancements.
NetDocuments, the cloud-based document and email management system, provider for law firms and corporate legal departments, announced several new features, all designed to enhance its functionality. They are:
ndSync, a secure Dropbox-like file synchronization and sharing application that enables users to map matter-content, folders and documents within NetDocuments to a PC, Mac or mobile device. ndSync provides two-way synchronization for content shared with others within the firm and the ability to work on documents offline and even check-out documents, preventing others from making changes. It includes built-in mobile device management (MDM) features and administrative controls, allowing firm administrators to control or restrict access, enforce synchronization policies, and perform application remote wiping in the case of stolen or lost devices.
Microsoft iOS Office apps native integration. Microsoft Office apps (Word, Excel and PowerPoint) on iOS devices now include built-in direct integration with NetDocuments. NetDocuments is now listed under the default application locations alongside Box, Dropbox, etc. This new functionality allows iOS users to natively open, edit and save NetDocuments content via Word, Excel or PowerPoint as easily as they can with OneDrive.
Personalized search and entity extraction. The next NetDocuments quarterly release will include built-in intelligent personalized search, which automatically boosts and ranks search results related to the individual user performing the search, similar to Google and other consumer searching experiences. It will also include advanced entity extraction for in-depth document mining and search result analysis based on full-text content extraction of categories such as people, companies, locations, dates, email addresses, titles, financial amounts, etc. This allows lawyers and professionals to focus on any document set in NetDocuments and quickly gain awareness of the specifics of "who, what, where, when, and how much" within a given set of documents, the company says.
Salladore announces new action center. Last September, I wrote about a new company, Salladore, that was aiming to streamline the way law firms and legal departments allocate work to associates and staff attorneys. At Legaltech last week, Salladore announced a new feature of its platform, the Action Center, which it describes as a "tool that draws data from across a firm's entire IT ecosystem and organizes it for a partner's day-to-day assignment and follow-up workflow."
The Action Center can be configured to draw data from internal sources such as a firm's calendars, time-and-billing systems, DMS systems, and matter management systems, the company said. The pertinent data is presented to partners through a custom-tailored dashboard so that they can more fluidly make decisions about work assignments and allocations.