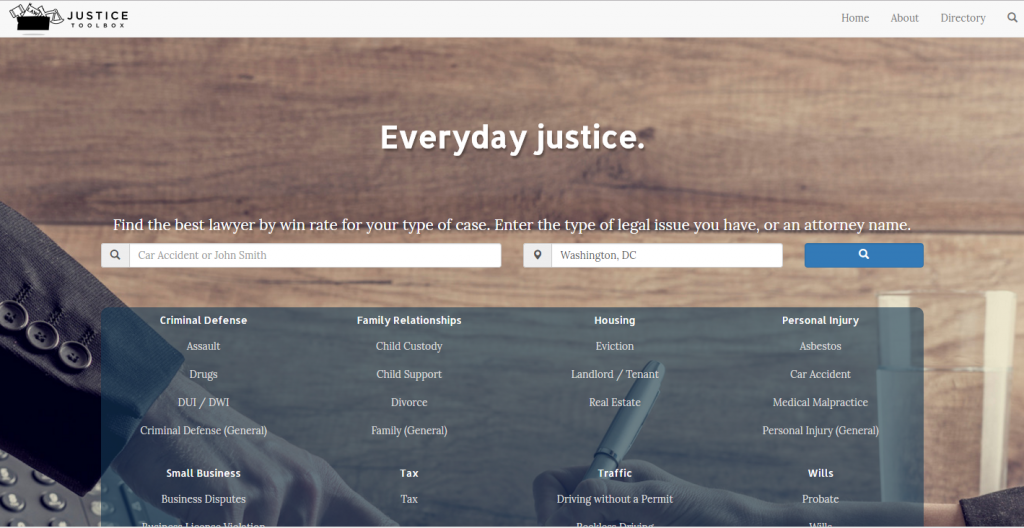 A recently launched company helps consumers find lawyers based on their win rates for particular types of cases.
Called Justice Toolbox, the startup uses data mined from official state court records to compute and display how many cases a lawyer has won and lost and the lawyer's approximate win rate.
Currently operating only in Maryland and the District of Columbia, the free service uses data from nearly 5 million state court records covering more than 70,000 lawyers and allows searching for 180 case types. It plans to expand to several more cities by June.
Users can search the site by lawyer name, case type or location or they can browse listings by the same criteria.
The site was created by attorney and computer scientist Bryant Lee, a Harvard Law School graduate who formerly practiced with the firm Covington & Burling in Washington.
He was inspired to create Justice Toolbox, he says, because attorneys at his firm would routinely send company-wide emails asking for suggestions on attorneys to use for everyday issues. That made him realize that even lawyers had no good way to find other lawyers.
He decided to address the problem by developing artificial intelligence software that would read and mine court records. The software reads court dockets in order to determine the case outcome, case type and attorneys involved.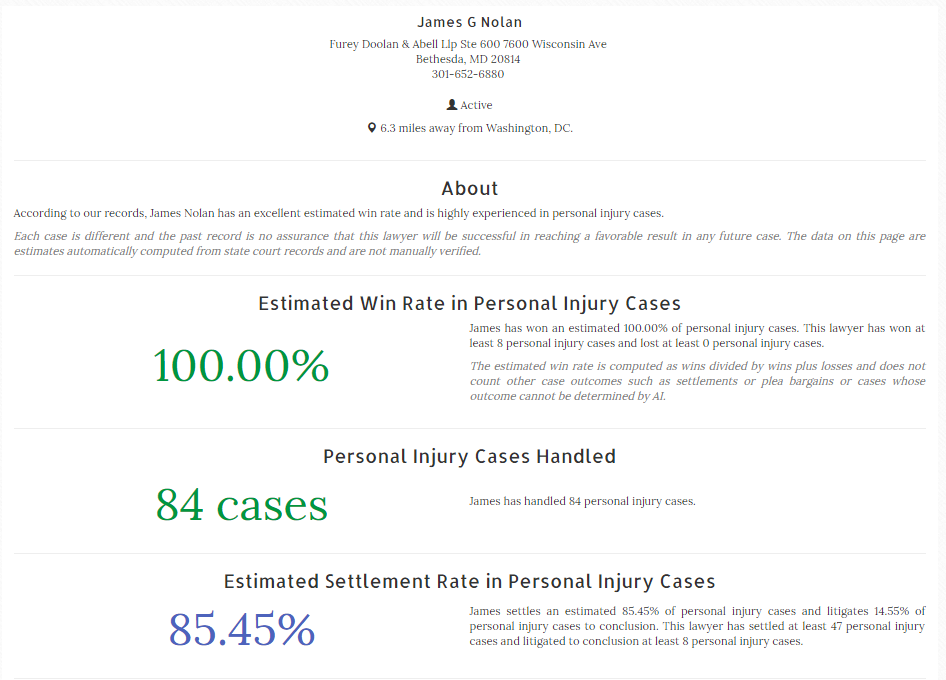 I browsed to the category of personal injury lawyers near Washington, D.C., and came to a listing indicating it contained 3,756 lawyers. The eight lawyers at the top of the list all showed an estimated win rate of 100 percent in personal injury cases. A summary for the top-listed lawyer, James G. Nolan, showed that he had handled 84 personal injury cases, out of which he had eight wins and no losses.
I clicked his name and came to a page that gave more information on his record, including that he had settled an estimated 85.45 percent of the personal injury cases he'd handled. A portion of the page for client reviews was empty.
Scrolling down further, the page shows a list of the attorney's recent cases, including the names of the cases, the dates they were filed and the estimated results (ongoing, win, settled, unknown or transferred). Further down on the page, a grid shows the attorney's top practice areas by total numbers of cases.
Almost a year ago, I wrote here about a site that similarly planned to rate lawyers based on publicly available court records. The creators of that site, called Legalist, later pivoted and refocused the site on "data-backed litigation financing."
When I first wrote about Legalist, I noted a couple problems with ranking lawyers by win-loss rates. One is that most cases never go to trial, so win-loss rates reflect only a small portion of a lawyer's overall work.
The other is that winning or losing is not a reliable measure of lawyering skill. A loss can sometimes be a victory for a client who faced even worse exposure, and it is often the best lawyers who take on the toughest cases with the lowest odds of winning.
At the same time, I can see value in providing consumers with more information on which to evaluate a potential lawyer. I would just hope that consumers do not rely exclusively on these rankings and understand that it's often not whether the lawyer won or lost, but how she played the game.