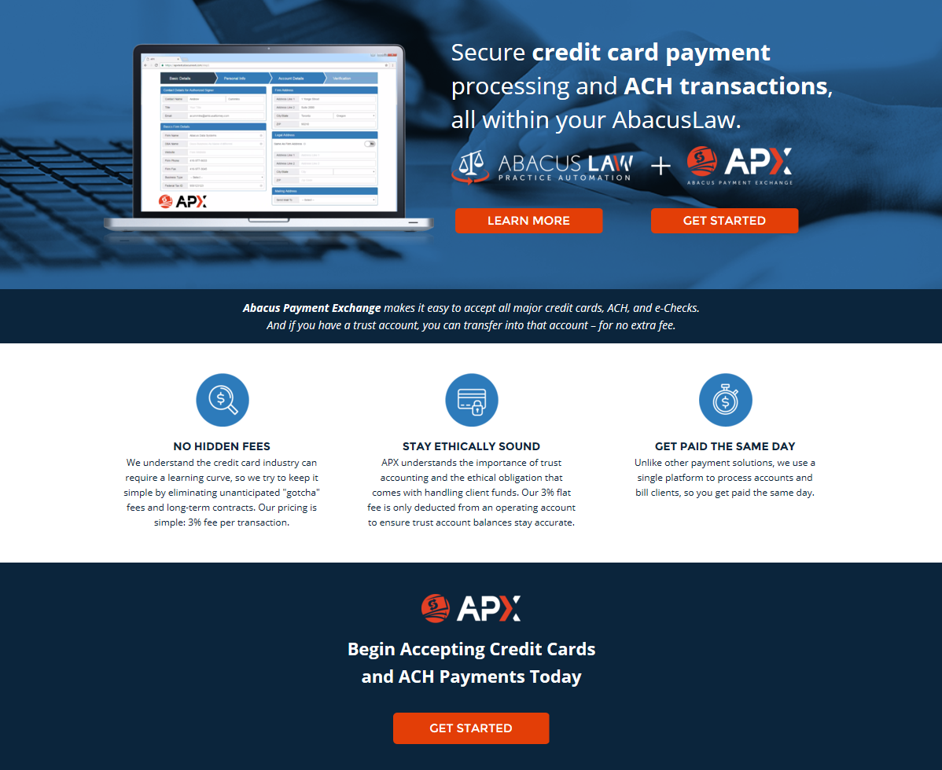 Last year, two leading case management platforms, AbacusLaw and Amicus Attorney, came together under one roof when Abacus Data Systems acquired Amicus from Gavel & Gown Software. Now, in the first joint project between the Abacus and Amicus development teams, Abacus is unveiling the Abacus Payment Exchange (APX), a payment processing service that integrates with AbacusLaw, Amicus Attorney, Amicus Online and Abacus Private Cloud and that offers users of those platforms several advantages over some other payment processing systems.
One notable advantage of APX is flat-rate pricing. In a post last October at Above the Law, I wrote about the sometimes murkiness of practice management pricing, and discussed credit card processing as an example. Several of the practice management systems that offer credit card processing do so through an integration with a third party processor, most typically LawPay. LawPay charges a monthly subscription fee of from $5 to $20, plus per-transaction fees of 20 cents in most cases, plus per-transaction processing fees of 1.95 to 3.5 percent, plus certain required credit card network fees.
By contrast, APX is charging a flat 3 percent of the value of credit-card transactions and no charge for e-check processing. There are no other monthly or transaction fees. The only other practice management platform that currently offers similar pricing is MyCase, which similarly offers its subscribers a flat 3 percent fee for credit card payments and no charge for e-check payments.
Another advantage APX offers is speed in getting paid. Whereas a typical turnaround time for a processor to settle a credit card payment is 24-48 hours, Abacus says that APX transactions will always be settled in less than 24 hours and in most cases the same business day.
Speed is also a feature of the onboarding process. During a demonstration of APX, Chris Cardinal, the executive vice president in charge of its development, told me that Amicus is committed to getting new APX users onboarded to the system within 24 hours.
The onboarding process for a payment system can never be fully automated, because a human is required to approve the account, but Amicus has sought to streamline the process as much as possible, using wizards that are built into the Abacus and Amicus platforms. One way the process is streamlined is that information about your firm that already exists within the platform is copied automatically into the application.
The application process takes only a few moments to complete. Within 24 hours, you receive a notice directly within the platform of your approval. That means that you can be set up to accept credit card payments within a day.
Abacus has developed APX in partnership with two payment processing companies, Vantage Payments, which handles the account verification and onboarding, and ProPay, which handles the payment processing.
Initially, payments will be entered through Abacus Accounting by selecting the invoice to pay and then selecting the credit card or e-check payment method. If the client's credit card information is not yet on file, a pop-up dialog will prompt you to enter that information. Once you submit the payment, the transaction is sent through APX to the merchant bank. Within seconds, a response tells you whether the transaction was successful.
Later this year, the system will enable direct client payments through a portal. Invoices will include a "Pay Now" button that will direct the client to the portal and enable the client to submit payment by credit card or e-check and receive an email receipt. A mobile version of entering payments will also be available later this year.
Once the payment through APX is posted, it flows back into your accounting system and is linked to the client's record. APX allows payments to be posted to either your trust or operating account, but the 3 percent fee will only be deducted from your operating account.
APX includes basic and detailed reporting and statement records of all credit card and e-check transactions. Reports describe fees and total values of transactions and can be sorted by date, card type and deposit account. Reports can be viewed through the applications or output as PDFs. (Although the reports can be viewed within the practice management application, they are actually being pulled from the separate APX system.)
Abacus is currently offering APX to selected customers in a beta version. It will be made generally available by March 30, with the integration with AbacusLaw launched by that date. Integrations with Amicus Attorney and Amicus Online will be ready by the end of June, and integration with Amicus Anywhere will also be ready around the end of June or soon thereafter.
Note that AbacusLaw already offers an integration with LawPay and that Amicus has an integration with Global Payments. Both of those options will remain available to customers.
For purposes of security and compliance with payment industry standards, APX is maintained as a separate service, hosted in Microsoft Azure. But the goal in developing APX, Cardinal told me, was to make it as complete and seamless as possible, so that Abacus and Amicus users do not even notice it is a separate service.
That is why Abacus decided to develop APX as its own payment processing service, Cardinal said, drawing an analogy to another type of service. "If you own both ends of the telephone service, it's easy to make the communications clear."