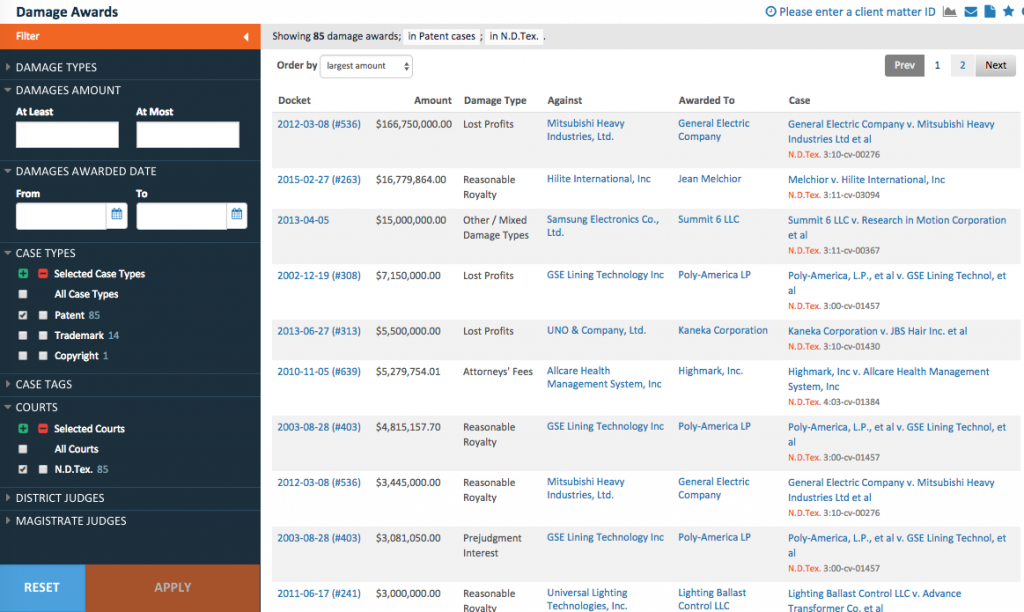 Lex Machina released new apps yesterday targeted to provide legal analytics around two key litigation topics, damages and parties. The new apps, Damages Explorer and Parties Comparator, are designed to make it easier for users to explore and analyze data around these two topics.
Over the last year, Lex Machina has rolled out a series of legal analytics apps designed to deliver answers for specific use cases. In September, I wrote about two of them, the Courts & Judges Comparator and the Law Firms Comparator. Others are Early Case Assessor, Motion Kickstarter and Patent Portfolio. Today's announcement adds two more apps to this series.
As Joerg Rathenberg, Lex Machina's vice president of marketing, told me earlier this week, the goal of these apps is to enable lawyers to have access to analytical insights even when they have very little familiarity with using the Lex Machina platform. The apps provide quick results from which a user can drill down into more granular analytics.
Damages Explorer
The Damages Explorer is unlike any of Lex Machina's other apps. It enables users to search, analyze and compare damage awards. It includes the capability to analyze damages awarded by a particular judge, in a certain court and of a certain type, such as attorneys' fees or infringement damages.
I was given a demonstration earlier this week, and the Damages Explorer struck me as more of a reporting tool than an analytics tool. It lets a lawyer look up damages by any of a range of parameters, from case type to court to judge and more, and then filter those results by even more granular factors. Want to see damages only in patent cases that have reached a claim construction hearing? You can do that.
Getting good data on damages has always been a challenge for lawyers, yet having that data can be extremely important in plotting litigation strategy and in settlement negotiations. This has the potential to be a powerful tool for lawyers.
Lex Machina says that attorneys can use the app to model different strategic approaches, using information that previously would have taken weeks to compile at an extremely high cost. Lex Machina says that it has the only complete record of damages awards in patent, copyright, trademark, securities and antitrust cases since 2009.
Parties Comparator
The Parties Comparator would be familiar to anyone who has used either the Courts & Judges Comparator or the Law Firms Comparator. It allows users to compare parties by different criteria, including litigation volume, performance and outcomes. For each party being compared, the application shows open and terminated cases, damages, remedies, findings won or lost, and case-timing milestones.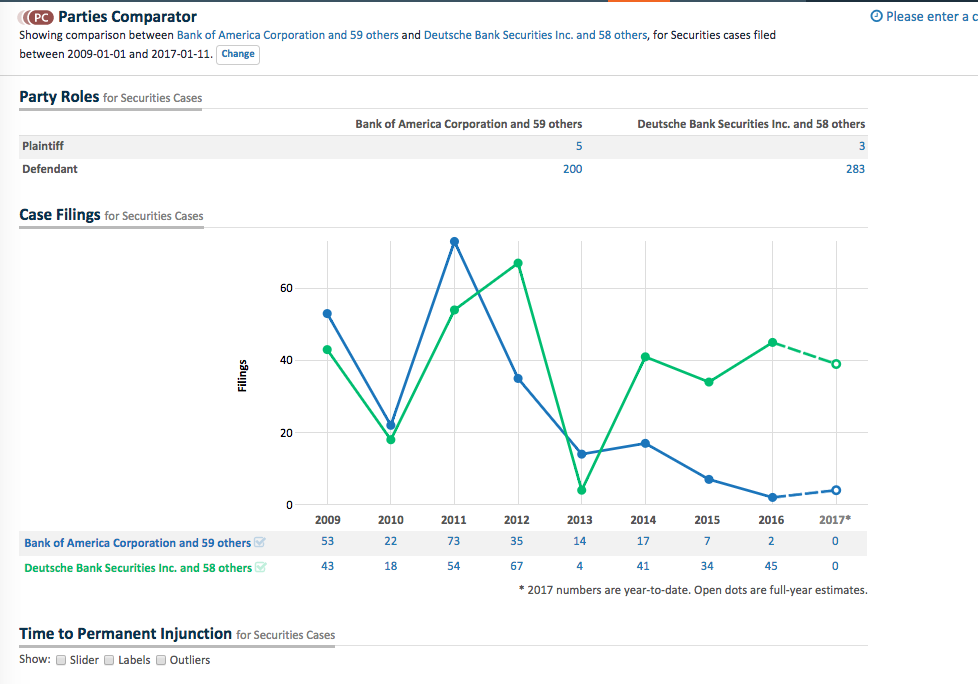 Lex Machina says this app is useful for law firms in business development, allowing them to understand a prospect's litigation profile and to evaluate the track record of the prospect's current firms. It is also useful for companies seeking to refine their peer benchmarking.
Keep in mind that Lex Machina's data currently covers just five practice areas: patent, trademark, copyright, antitrust and securities. However, it is working to add additional practice areas and it is likely that its coverage will expand significantly during 2017.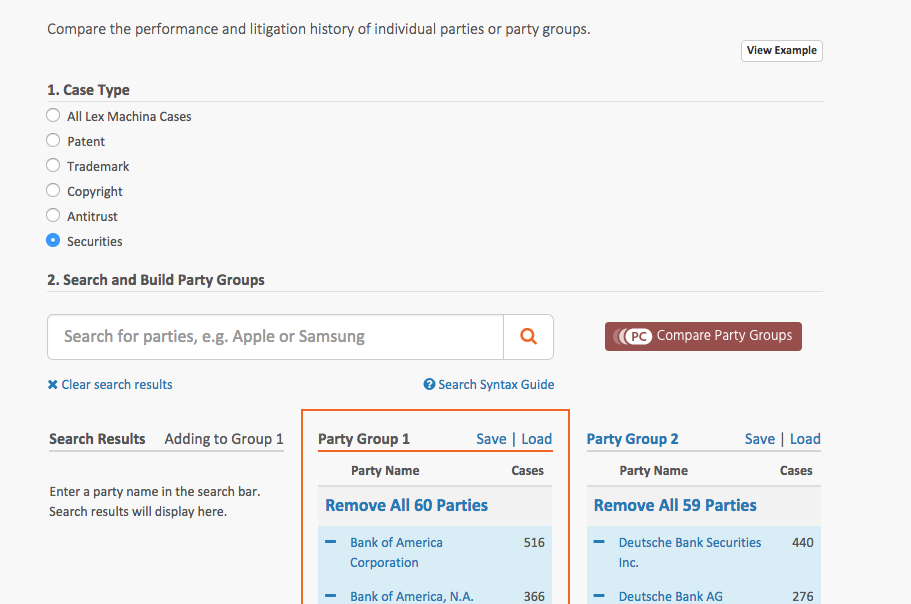 If you are attending Legalweek next week, you can see these apps demonstrated at Lex Machina's booth (booth #100). Lex Machina has also scheduled a webcast to demonstrate the apps for Thursday, Feb. 9, at 2 p.m. Eastern.