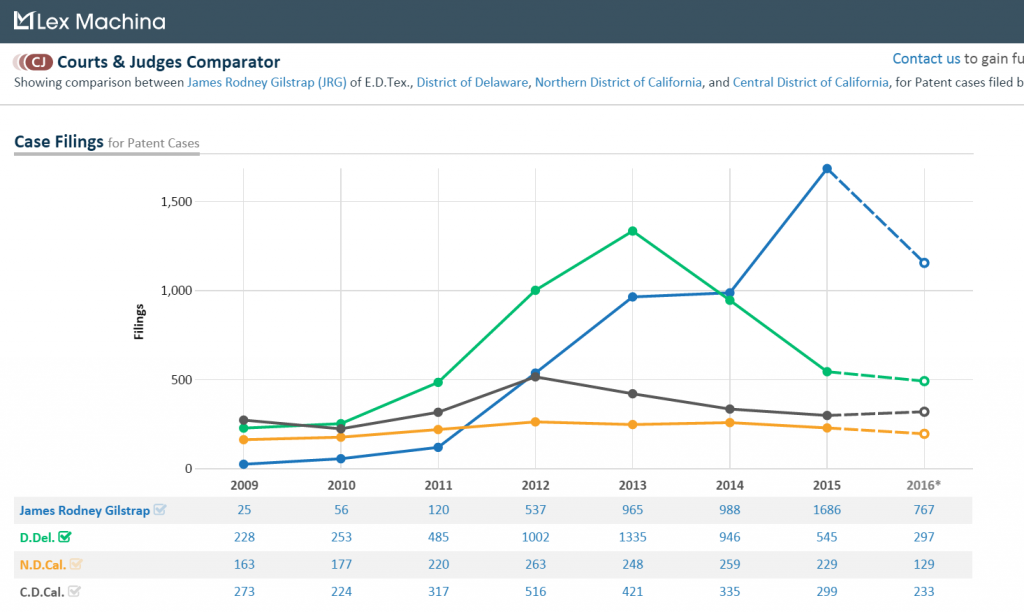 Lex Machina today unveiled two "comparator apps" designed to make it simpler to access specific types of analytics insights. One, the Courts & Judges Comparator, allows up to four federal judges and courts to be compared for caseloads, case timelines, and other analytics. The other, the Law Firms Comparator, allows the same sorts of comparisons for up to four law firms.
These join three other legal analytics apps that already exist within Lex Machina: Early Case Assessor, Motion Kickstarter and Patent Portfolio Evaluator.
"We've repeatedly been asked to create easy-button ways to access our analytics insights," Owen Byrd told me during a recent demonstration of the new apps. "These apps make it easier to find stuff."
The Courts & Judges Comparator will allow users to compare specific judges and specific district courts. This would be most useful to plaintiffs' attorneys who are evaluating where to file a case or to defense attorneys when seeking to transfer a case.
For example, a plaintiff preparing to file a patent case might want to compare the Eastern District of Texas, the District of Delaware, the Northern District of California, and the Central District of California. For each court, the app will display analytics comparing the numbers of open cases, terminated cases and case filings. It will show how long it takes in each court to get a permanent injunction, a summary judgment, a claim construction hearing, a dismissal or a trial. It will show information about case resolutions, damages, remedies and findings.
Based on the plaintiff's litigation goals, these comparative numbers would help inform a decision about where to file.
A similar analysis could be performed by a defendant looking to seek transfer of a case.
The Law Firms Comparator provides similar comparability analytics, but compares up to four law firms instead of courts or judges. This would be useful to a law firm preparing to pitch its services to a potential client or to a general counsel when considering outside firms to retain.
Byrd said more such apps are in development, including ones that will provide comparisons of parties and possibly individual lawyers.