Last week, I told you about the LegalBoard, a keyboard designed just for lawyers. It is the brainchild of Brian Potts, a partner at Perkins Coie in Madison, Wis.
On Friday, I received a review unit and over the weekend I had the chance to play around with this new keyboard. Here are more details. You may also want to see this video of unboxing and trying the LegalBoard.
As a keyboard, it is pretty nice. It is a full-sized, wired membrane keyboard with good feel in the keys and solid legs to prop it up. It feels like a sturdy unit that will stand up to regular use.
But of course, the raison d'etre for this keyboard is its legal-specific keys. Potts' design incorporates common lawyerly functions into the keyboard, using the F1 through F12 function keys and the number pad. The keyboard shifts from lawyer mode to standard mode, so the number pad and function keys can function normally whenever the user wants.
Before I got the actual keyboard, I was a bit unclear on exactly what those functions were. Now I can be specific.
The function keys – the F1 through F12 keys at the top of the keyboard – insert these common words and abbreviations: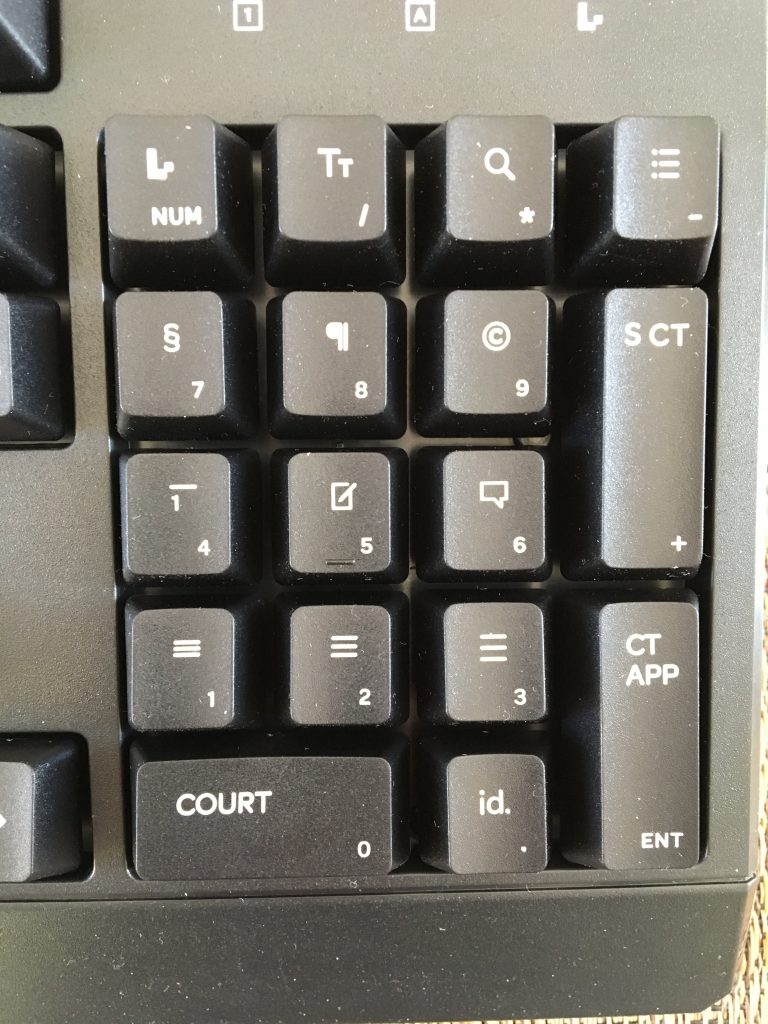 F1 = see.
F2 = e.g.
F3 = U.S.
F4 = F.3d.
F5 = F.2d.
F6 = F. Supp.
F7 = U.S.C.
F8 = C.F.R.
F9 = plaintiff.
F10 = defendant
F11 = appellant.
F12 = respondent.
Four of the number keys also insert words:
+ = supreme court.
ENT = court of appeals.
0 = court.
. = id.
If you press shift while pressing any of these word keys, the word is capitalized. So if I press F11, I get appellant, but if I press shift+F11, I get Appellant.
Three number keys insert symbols:
The remaining number keys perform functions: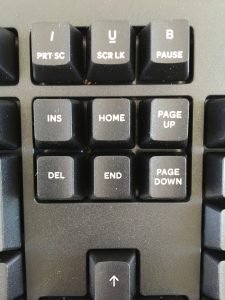 – = insert bullets.
/ = turn small caps on and off.
* = start or close the find window.
4 = add a footnote or return to the text from a footnote.
6 = add a comment or return to the text from a comment.
5 = turn Track Changes on and off.
1 = change line spacing to single.
2 = change line spacing to 1.5.
3 = change line spacing to double.
NUM = turn the keyboard's legal functions on and off.
Three additional keys situated between the alpha and numeric keys allow you to format text as italics, underlined or bold.
Many of the keyboard's functions also work in other Microsoft Office products, including Outlook and PowerPoint.
The keyboard is comfortable to use and I can see its appeal for anyone who regularly writes legal memoranda and briefs.
The LegalBoard costs $65. You can buy it at legalkeyboards.com.