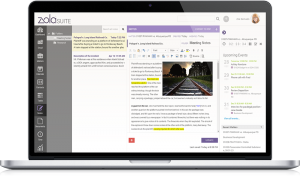 In the practice of law, time is money. Ask any lawyer what he or she looks for most in legal technology, and the answer will immediately be efficiency. Having everything you need in one place, without having to switch platforms, is not simply a convenience, it's a necessity.
That's why practice management tools were invented. The ability to multi-task and perform all your essential work functions on one platform is a life-saver for the busy lawyer. Unfortunately, though, not all practice management tools live up to the hype. Many cloud-based systems fall woefully short of providing the full functionality that you actually need to run your practice.
Enter Zola Suite. Created by lawyers specifically for lawyers, Zola Suite is an efficient practice management tool that seamlessly places all the functions crucial to running a law firm on a single integrated platform that everyone in your firm can access. Focused on uniformity, Zola Suite provides consistent functionality across all your daily tasks.
From email, to document management, to accounting, everything is in one place. Even better, Zola Suite's user interface is highly intuitive, resulting in a clean platform that is user-friendly even for the least tech-savvy lawyer in your office. With a single click of a plus sign, you can add new entries to any part of the system, whether it's creating a calendar entry, starting a new document, or adding a contact.
On your main dashboard, you will find everything you need to tackle your day, conveniently organized by matter number.
From the moment you open a new matter to the day you send your final invoice, Zola Suite is designed make your life easier.
Emailing and Task Management
We all know email is the crux of practicing law these days, and it's one of Zola Suite's strongest features. The platform allows you to link your current email address without clunky workarounds, gaining fully integrated functionality with the rest of your work files.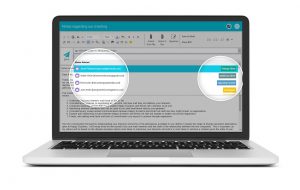 The beauty of Zola Suite is that everything operates by matter numbers. Even emails and contacts are assigned matter numbers, creating seamless integration of every item assigned to a particular case. When you're drafting an email, Zola Suite automatically identifies key contacts and possible attachments that are relevant only to that email's specific matter number.
There's no longer any excuse for emailing the wrong person or attaching a file from the wrong case. Gone are the days when you have to worry about accidentally emailing opposing counsel John Smith instead of your client Jim Smith – as long as you've updated your contacts, Zola Suite will suggest the right one for you, and you can add it with a simple click. The same goes for attachments. Only documents that have been assigned the same matter number as your email will be suggested as attachments, saving you from having to browse through numerous subfolders to find the right contract. With things as crucial as privilege on the line, any tool that helps eliminate email errors is a tool you need.
Another key feature of Zola Suite is the ability to assign tasks, both newly created, and from emails or calendar events. Surpassing the traditional Outlook invitation that gives only a yes or no reply option, tasks in Zola Suite are far more dynamic – you can assign specific deadlines, see the current status of tasks (including the convenient "Waiting on Someone Else"), monitor which tasks have been completed or are overdue, send reminders, and make tasks recurring.
Anyone who has juggled multiple tasks while supervising others will appreciate the benefits of a system that not only makes it easier to keep track of all the outstanding tasks on a case, but also enforces accountability by those to whom they've been assigned.
The task functionality goes hand in hand with your Zola Suite calendar, which is conveniently color-coded by type of task. It even has the option to mark calendar entries private, which is invaluable. No busy lawyer has time to cross-reference work and personal calendars when scheduling a conference call, and not everyone needs to know you have doctor's appointment on Wednesday.
Billing and Accounting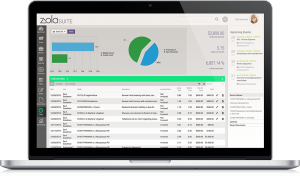 Let's face it – lawyers don't have a reputation for being accounting geniuses. Nonetheless, we all know that accounting is crucial to the success of any law practice. Thankfully, Zola Suite provides a full accounting system that's both easy to use and configured specifically for law firms. Mindful of regulations about things like escrow accounts and the comingling of funds, the platform allows you to manage multiple bank accounts and associate all ingoing and outgoing payments, expenses, and invoices with specific matter numbers. And because the accounting system is native to the application, you don't have to subscribe to a third party service or worry about your data syncing correctly with an outside system.
Zola Suite even makes billing painless. There is no shortage of ways to keep track of your time – nearly every screen gives you a timer, and you can have multiple timers running at once. You can even bill your time while drafting an email.
With built-in billing parameters that are customizable for each case, whether it's time-based, flat fee, contingency, or some other arrangement, your time can be converted into a polished invoice with one click. The system will also flag unbilled hours and unpaid invoices, ensuring that you're always collecting for the work you do. Zola Suite also integrates with LawPay, increasing your likelihood of getting paid.
On the Go
In today's digital world, work doesn't stop when you leave the office. Because clients can reach you anytime and anywhere, success requires full mobile functionality. With dedicated iOS and Android apps, Zola Suite allows you to access your entire platform no matter where you are. The incorporation of fingerprint recognition ensures that your sensitive information stays secure when you're on the go.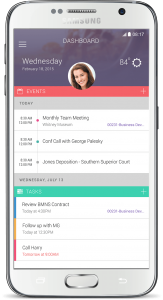 Zola Suite also takes networking to the next level. You never know when the next person you meet might become your next big client. The apps offer a really cool feature that allows you to scan business cards and save them as new contacts. You can even take a picture to add to the new entry. There's no longer any excuse for losing someone's information as you're hustling from meeting to meeting.
One-Stop Practice Management
In addition to its superior email, document management, and accounting functionality, Zola Suite offers a slew of other features that will increase the efficiency of your day-to-day practice.
Virtual Notepad – Zola Suite allows you to take notes right in the platform, eliminating the need to later waste time trying to transcribe your illegible handwriting. Complete with auto formatting, the ability to add images, and an export to PDF function, your notes will look professional. And because they're saved to a specific matter number, you can easily share them with anyone else on the team.
Document encryption – Zola Suite incorporates an encrypted client portal, allowing you to send and share documents that you know are secure.
Access Restrictions – User access can be restricted on a per-matter basis, allowing you to address conflicts concerns and easily create a virtual firewall when necessary. You can also restrict access to certain business functions, such as creating final invoices or monitoring firm finances.
Form Builder tool – Zola Suite will soon be launching a document automation tool. By allowing the ability to build pre-set fields and load them into frequently used document templates, this will slash the time needed to draft standard documents.
The reality of today's legal market is that a reliable and efficient cloud-based system is crucial to running any competitive legal practice. With affordable per-month rates, Zola Suite is a good option for firms keeping a close watch on expenses; and because there aren't service tiers, a one-year subscription gives you full access to every feature the platform offers.
It's time to make technology work for you. Designed around the way law firms function, Zola Suite may just be the busy lawyer's new best friend.
***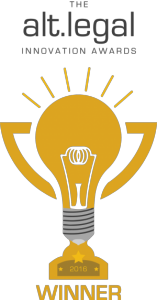 Zola Suite is the winner of the alt. legal Innovation Award  for Practice Management at this year's Above The Law Academy for Private Practice (APP).