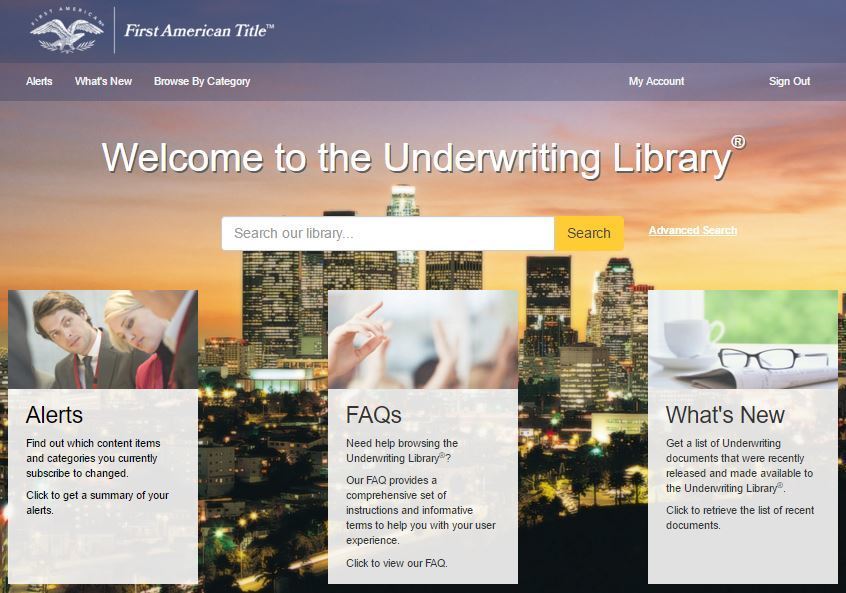 One of the little-known gems of web research for real estate lawyers is the Underwriting Library of First American Title. The site used to describe itself as "the largest compilation of title material available on this planet." I no longer see that description anywhere on the site, but I wouldn't be surprised if it were true.
Now, the site has been updated with new features, including enhanced search, bookmarking of favorites and alerts to stay informed of changes and updates.
The site is a comprehensive database of underwriting materials in five categories:
Forms. A collection of some 500 forms, including endorsements, guarantees, commitments, polices and more.
Rates., Rate manuals, rate charts and related documents for every state.
Reference materials. A collection of more than 80 reference documents, including First American's endorsement guide and various other generic and state-specific guides to mortgages, transfer taxes and other topics.
Standards and guidelines. Various general and state-specific standards and guidelines, including caveats, fraud alerts and more.
Unusual risks. Endorsements covering unusual risks including bankruptcy, mechanics' liens, waterways, Native American lands and more.
The database is universally searchable and search results can be filtered by state and by document type. Search results show when each document was last updated. You can bookmark any document to return to it later or subscribe to it to be alerted to changes and updates. You can also subscribe to an entire category of documents to be notified of changes and additions.
Users can also rate documents up to five stars, although I have not come across any documents so far that have been rated.
Documents are either in Word or PDF format and icons in the search results tell you which it is before you open it.
So what does it cost to access this library? Nothing. Not a penny. You do have to register and agree to the terms of service, but that is all that is required for access.
For a short video about the site's latest features, click here.