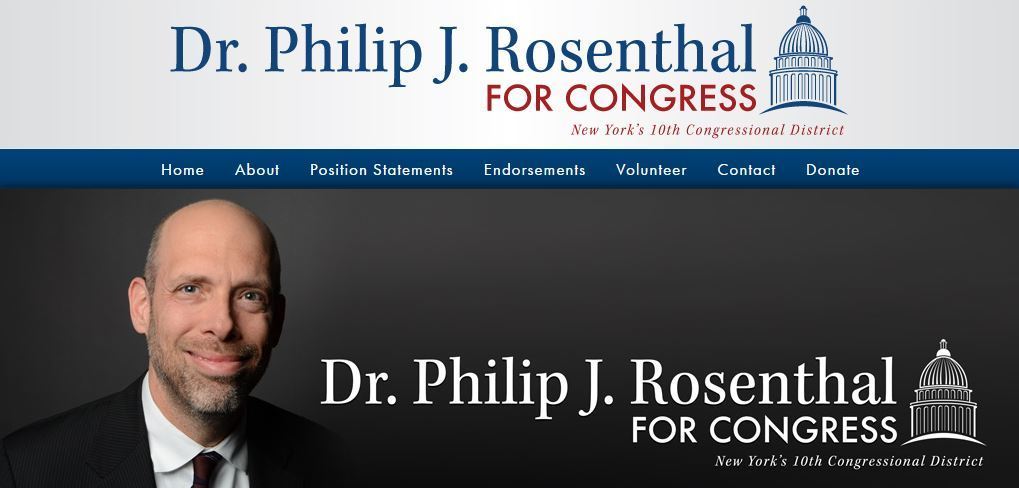 Speaking of Fastcase, one interesting bit of news about the company is that its cofounder, Phil Rosenthal, is running for Congress in New York's 10th Congressional District.
Rosenthal — a physicist, lawyer and entrepreneur — is running as a Republican against Democrat Jerrold Nadler, the incumbent who has held the office for 24 years.
The 10th district covers a diverse swath of New York City, including the west side of Manhattan from the Upper West Side down to Battery Park; the Manhattan neighborhoods of Chelsea, Hell's Kitchen and Greenwich Village; and parts of Brooklyn including Bay Ridge, Bensonhurst, Borough Park, and Kensington.
Rosenthal was spurred to run by Nadler's announcement last year that he would support the Iran nuclear deal.  "I was appalled our representative would do this against the will of his constituents, and to the grave detriment of our safety and national security," Rosenthal says on his campaign website. "Although I had never run for office, on that day I resolved there must be accountability and that after 24 years, we need a new voice in Congress."
Endorsed by the Brooklyn Conservative Party and the Manhattan Republican Party, Rosenthal describes himself as a "classical liberal." Among his positions, he is a strong advocate of Israel as "America's most reliable ally," a believer in the free market and a proponent of entitlement reform. He calls homelessness "a national disgrace" and believes it is critical to address the access-to-justice crisis.
I believe in the free market.  I believe in free speech.  I believe in freedom of religion.  I believe in personal responsibility and hard work.  I believe in equal opportunity, not equal results.  If you do too, you also may be a classical liberal and a conservative.  I believe in justice, and I am not a progressive liberal because it stands justice on its head.
So does it take a rocket scientist to run for Congress? Well, Rosenthal is one, literally. After graduating salutatorian from Bronx High School of Science, he attended Yale, where he majored in physics and graduated summa cum laude and phi beta kappa. He then went to Caltech, where he earned his doctorate in physics, researching string theory and cosmology and also working at the Jet Propulsion Laboratory, where he worked on the mission that eventually flew by Pluto.
From there, Rosenthal went to Harvard Law School, where he graduated magna cum laude, and then to the law firm of Covington & Burling in Washington, where he concentrated in patent, nuclear and telecommunications law. There, he and another associate, Ed Walters, got the idea of starting a lower-cost legal research service as an alternative to Westlaw and LexisNexis. In 1999, they cofounded Fastcase.
After living in Washington, where Fastcase is headquartered, for many years, Rosenthal moved back to New York a couple years ago. If the election turns out his way, he'll once again be spending plenty of time in Washington.