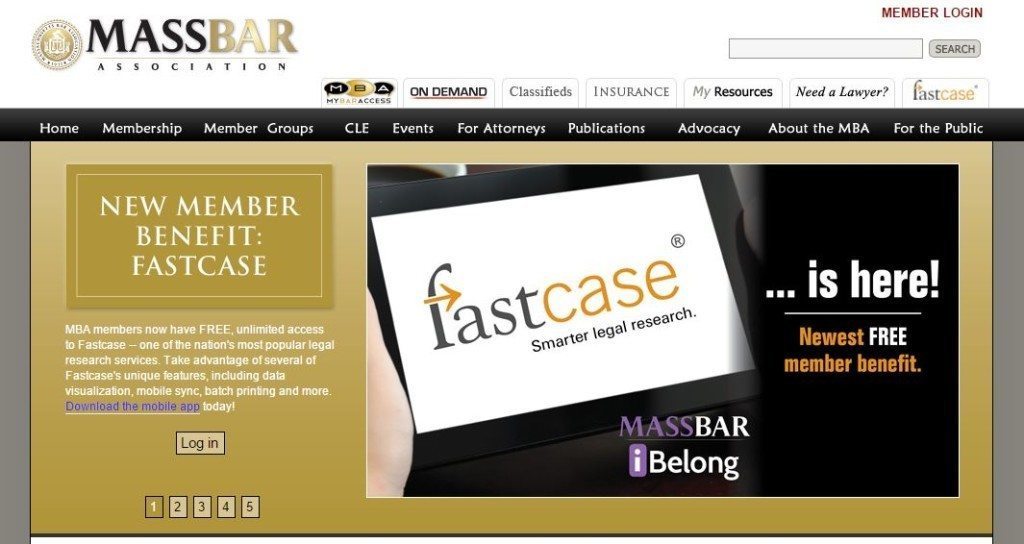 I've written any number of times here about the ongoing head-to-head competition between legal research services Casemaker and Fastcase to win the loyalty of America's lawyers — or, to be more precise, to win the loyalty of America's bar associations, since both services market themselves to state and local bars to be offered as a member benefit. This week the competition hit home for me, as my state bar, the Massachusetts Bar Association, formally made the switch from Casemaker to Fastcase.
Effective yesterday, the 12,000-member MBA is the 28th state bar to offer Fastcase to its members. As they did before with Casemaker, MBA members will now get unlimited access to Fastcase as a benefit of their membership, with no extra charge. According to Fastcase, more than 800,000 lawyers now subscribe to its service, many through state bars.
"One of the greatest benefits of belonging to the Massachusetts Bar Association is access to tools and services that strengthen an attorney's practice," said MBA Chief Legal Counsel and Chief Operating Officer Martin W. Healy. "We're pleased to enhance this benefit by providing MBA members free access to Fastcase — one of the largest online legal research libraries, and the top-rated app for attorneys."
[Disclaimer: I am president of the Massachusetts Bar Foundation, a separately incorporated charitable organization that is loosely affiliated and shares offices with the MBA.]
Interestingly, Fastcase was already available to Massachusetts lawyers through the Social Law Library, a quasi-public law library that provides research services to lawyers throughout Massachusetts who sign up as dues-paying members. In fact, the Social Law Library was the first entity in the country to offer Fastcase access, according to Robert J. Brink, its executive director. (I had a lengthy talk with Brink this morning and plan to write more here about the legal research services his libary offers.)
The MBA has set up a webpage for members with information on transitioning from Casemaker to Fastcase. It will also be offering training sessions in Boston on Dec. 15 (introduction course, followed by an advanced tips seminar) and in Springfield on Dec. 16 (introduction course, followed by an advanced tips seminar). Recordings of the sessions will also be made available through the website.