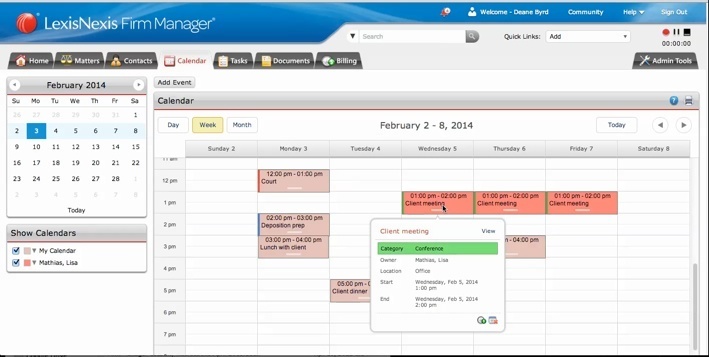 Lots of news over the past week, thanks to the confluence of three major conferences: ABA Techshow in Chicago, the ABA Solo, Small Firm and General Practice Division in Honolulu, and the Legal Marketing Association annual conference in San Diego. I've already reported on some of it, but here are some other announcements from the week:
LexisNexis Firm Manager integrates with Office 365. The practice management platform LexisNexis Firm Manager now allows synchronization between its calendars and calendars in Microsoft Outlook and Microsoft Office 365, it announced.  This helps ensure that important events are synchronized across devices, including computers, tablets, mobile phones and the law firm calendar within Firm Manager. If you use LawToolBox.com to automatically calculate court deadlines in Office 365, those dates will also now be reflected within Firm Manager.
This latest release of Firm Manager also adds a new billing dashboard that provides two snapshot views of accounts receivables. The billing dashboard gives attorneys an at-a-glance view of the financial health and status of client accounts.
NetDocuments launches apps marketplace. The document management platform NetDocuments has launched an apps marketplace where you find third-party software and plug-ins that integrate with NetDocuments. NetDocuments currently has more than 30 technology partners who have created dozens of applications and add-ons that integrate with NetDocuments. Examples include Forms Assistant from the PayneGroup, a document automation utility; compareDocs, a utility for comparing documents across document types; and pdfDocs, a PDF editing and creation tool.
Tikit releases new email marketing application. Tikit, the company I wrote about recently for its launch of a new version of Carpe Diem, has now released a new version 6 of its email marketing application Tikit eMarketing. The program is used by more than 150 law firms worldwide, the company says.
Among the features of the new version are a new responsive design that makes it easy to use on any platform, drag and drop functionality to simplify creation of emails, flexibity to send as many or as few emails as desired for better cost control, new design elements for better branding, enhanced analytics and reporting accessible through a central reporting dashboard, and social media integration with Google +, Facebook, LinkedIn and Twitter, including social media reporting and analytics.
Legal Workspace releases HIPAA-compliant edition. Legal Workspace is a company that provides secure, cloud-based work environments for law firms, hosting the firm's applications and files. This week it launched the Legal Workspace HIPAA Compliant Edition, designed to allow small and medium law firms to meet necessary HIPAA security regulations governing the safeguarding of protected health information. HIPAA compliance may be required for firms that represent clients in healthcare or health insurance as well as firms that handle insurance defense, personal injury and elder law.
HP announces HP Connected MX. HP has introduced a new system, HP Connected MX, that will help law firms manage their mobile information while ensuring that they keep the information secure and compliant with industry standards. The system allows enterprises and law firms to set up unified backup, synchronization and sharing capabilities, while also allowing them to manage the information through rules and policies. It provides information security and accessibility across any device, with support for Windows, Apple, Android, iOS and Web browsers. A product datasheet can be seen here.