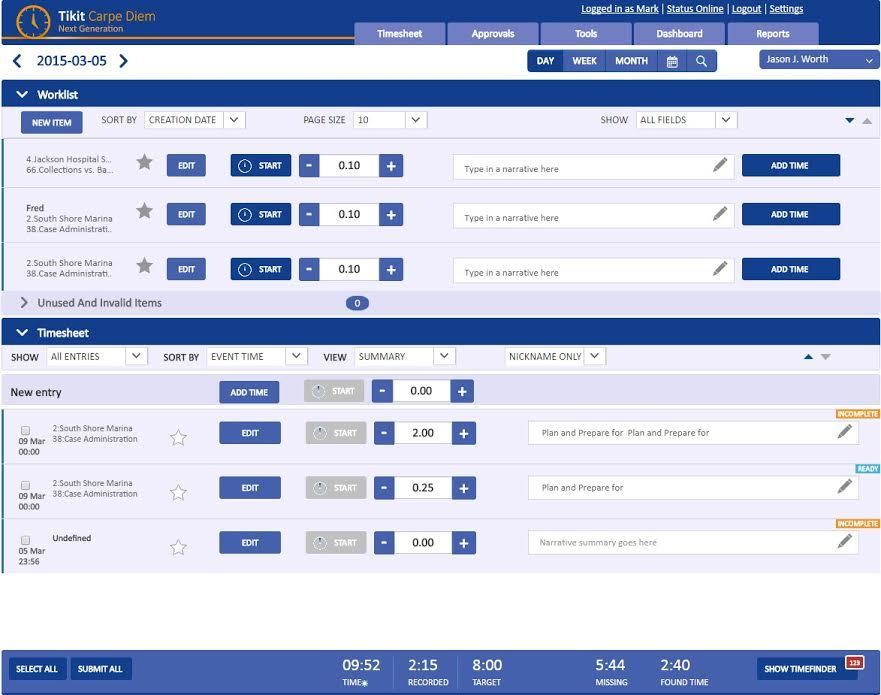 After I returned from LegalTech in February, I reported here that Tikit — which had just last October announced a major relaunch of the venerable timekeeping program Carpe Diem as Carpe Diem Classic — was about six weeks away from launching an all new version of its program, to be called Carpe Diem Next Generation.
Well, it came in ahead of schedule. Tikit launched Carpe Diem Next Generation today, describing it as a completely re-engineered, highly intuitive and functionally rich timekeeping product for busy legal professionals. NG, as I'll call it, is a single, fully integrated timekeeping program that uses responsive web design so that it works equally well on any device, whether a computer, a tablet or a mobile phone.
When I spoke to Tikit North America President Peter Zver at LegalTech, he told me that the forthcoming release would focus on usability. The goal, he said, was to design a product so intuitive that a lawyer can "just pick it up and use it." During a preview briefing and demonstration yesterday for several bloggers and journalists, Zver reiterated that theme, saying that he wanted to give lawyers a product that would make time work for them.
Timekeeping products have not substantially changed in 20 years, he said, even as the business of law, the practice of law, and technology have changed dramatically. Because of that, the company decided to completely rebuild the product from the ground up, investing $2 million in the development of NG.
"Development had been very reactive," Zver said during yesterday's briefing. "As things have changed over the last 20 years, we've been adapting. It's been a renovation process over the last few years. When you do a lot of renovation, you start thinking, 'Maybe it's time for a new house.' That's what we've done. We've taken a proactive approach instead of a reactive approach."
Consistency Across Devices
Also participating in yesterday's briefing was Mark Garnish, Tikit's development director, who said that the major goal for the product's design was to create exactly the same user experience across every device the user wants to use and to make that experience extremely intuitive.
As you can see from the screencap at the top of this post, NG uses both timesheets and what it calls a worklist. The worklist provides a quick way to add time. Say you have a two-hour case conference listed on your worklist. Just click the "Add Time" button next to the listing to create the time entry.
In another scenario, say a phone call comes in and you want to record it. You can simply start the timer without having to provide any information about the case or the client, then add the information in later. Or you could click "add time" and just use some shorthand — a first name or a short note — as a reminder and then fill the rest in later. Icons to the right tell you when a time entry is incomplete. Once everything is entered, the entry is tagged as ready.
Among other features:
All the time-entry fields use autofill. Start to type a client's name, for example, and autofill suggestions will appear.
If you record a time entry for something that will be a regular event, you can star it as a favorite. It will then appear automatically in your worklist so that you can add it easily each time it occurs.
You can switch devices at any time. That means you could start a time entry on your mobile phone then pick up your tablet and finish it.
NG's design is fully responsive. What is shown on the screen adapts to the size of the screen. The smaller the screen, the less information it asks for. Users can customize what is shown on the screen for each device they use. Full functionality remains available on any device.
NG allows you to both split and merge time entries. For example, say that while you are on a conference call, you also write some emails. You can split that single time entry into multiple entries for the different matters. In the same way, multiple time entries can be merged into a single record.
Help Finding Lost Time
NG helps lawyers find lost and unrecorded time in two different ways.
One is that it provides a month view that shows your time at a glance. For each day in the month, it shows you how much time you recorded and how much time is missing. That provides a visual cue to go back and look for lost billable time.
To help you do that looking, NG has a feature that can be turned on called Found Time. It will look at your electronic footprint and attempt to identify events that you have not recorded.
This feature uses something called Best Time to eliminate the "noise" from your electronic footprint. In other words, it doesn't pull up every website you visited or other minor tasks you performed. It looks for more major events that appear as if they should have been recorded.
Reporting Dashboards
NG includes dashboards that show key metrics about your billing. Every attorney within a firm can see his or her own dashboard and can also be selectively authorized to see the dashboards of others — such as those of other attorneys in a practice group, for example.
Dashboards show billable hours against targets as well as various other metrics. They show "velocity," both for how long it takes a lawyer to record time after doing the work and how long it takes for that work to be billed.
The dashboards are also responsive in their design, so that the view is modified to fit the device the attorney is using.
Price
NG will be offered free to all existing Carpe Diem customers. It is being released as part of customers' annual maintenance contract. Any existing client can upgrade.
At the same time, Tikit has no plans to end its former product and will continue to support it, Garnish said. A customer could even choose to run both Carpe Diem Classic and Carpe Diem Next Generation simultaneously, rolling out NG to those who want it and letting others continue to use the older product.
For new customers, the pricing varies by size of firm and other factors. Generally, the price is a one-time payment of $249 per timekeeper. There is also an annual maintenance fee that varies by size of firm.
Bottom Line
I've only seen NG demonstrated — I haven't directly used it. That said, I liked what I saw. Even in the year 2015, timekeeping still often seems tedious. Some programs require too much information at just the wrong time — when you're answering a phone call, for one — discouraging you from even making the time entry or causing you to put it off until later. And a time entry that you put off is too often one that you forget altogether.
From what I saw yesterday, it appears that NG significantly eases the pain of time entry. Just click a timer and start. Add a few details or don't. Start an entry on your mobile phone then finish it on your desktop. Add routine events with one click.
Zver said Tikit's goal was a product so intuitive that a lawyer can "just pick it up and use it." It appears that they succeeded.