Out this week is PDF Essentials for Lawyers, a new ebook by New Orleans attorney Ernie Svenson that is designed to serve as a simple guide to using PDF for lawyers and legal professionals. And if you are at all interested in this topic, now is the time to buy the book, because Ernie is selling it this week for just $4.97, half off the standard price of $9.97.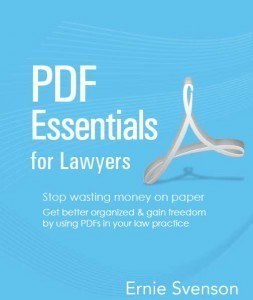 Ernie is well known among lawyers as Ernie the Attorney, one of the first-ever law bloggers, and as creator of PaperlessChase.com, where he helps lawyers learn how to go paperless.
The book focuses solely on the basics of using the free Adobe Reader software. It does not cover the full Acrobat program or PDF alternatives such as Nuance Power PDF Advanced. If you are already a power user of PDF software, this is probably not the book for you.
At the same time, the book is not just for newbies. Even lawyers who regularly use Adobe Reader are likely to learn new tricks.
The 70-page book contains 11 chapters that cover everything from downloading and installing Reader to creating digital stamps and digital signatures. Everything is explained through step-by-step instructions and illustrated with full-color screen captures.
In addition to these instructional chapters, the book comes with several "bonus" features:
Links to 12 short video tutorials in which Ernie demonstrates key Reader tricks and techniques.
Two single-page cheat sheets that you can print out and keep on your desk, one covering the most-common PDF operations and the other showing keyboard shortcuts for speeding tasks in Reader.
A crash course tutorial covering key PDF skills that can be completed in 10 minutes or less.
Knowing how to use PDF is an essential skill for any legal professional. PDF Essentials for Lawyers is a detailed yet easy-to-understand guide to viewing and working with PDFs using the free Adobe Reader software. Given that the cost of the book is roughly the price of a Venti Frappuccino, you need not think twice about whether to buy it.