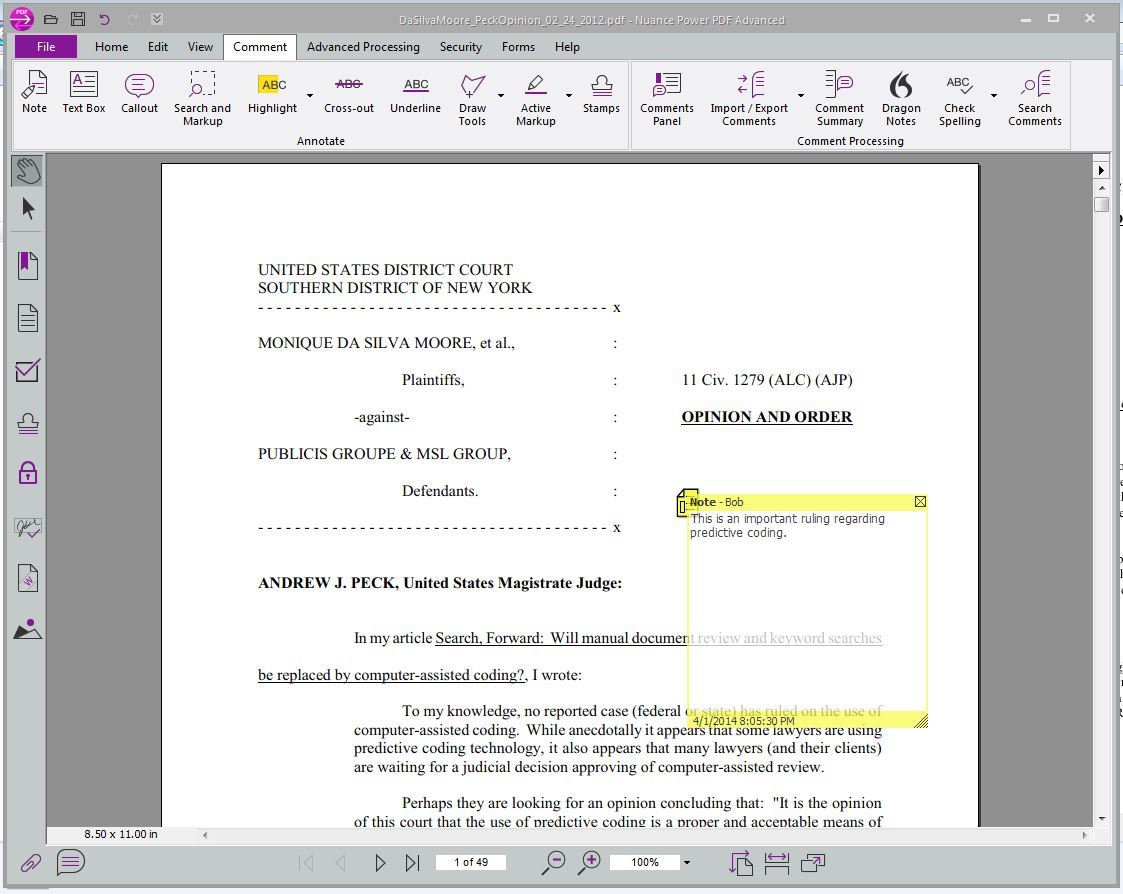 Professional-strength PDF software is a must-have for lawyers, and the gold standard for PDF software has always been Adobe Acrobat Pro. But at Acrobat Pro's current retail price of $449, many lawyers, especially in smaller firms, opt for more budget-friendly alternatives, such as CutePDF Professional, which I reviewed here several years ago.
Now there is another choice. Today, Nuance Communications — maker of the Dragon speech recognition software — is launching Nuance Power PDF Advanced, a full-featured professional PDF program, with all the features businesses — including lawyers — would expect in such a program. Notably, Nuance has set the price of Power PDF at $149.99 — a third the cost of Acrobat Pro — with volume discounts available.  (A 30-day free trial is available.)
Although Nuance also offers a version for individuals and home offices, Power PDF Standard, at $99.99, most lawyers would want Power PDF Advanced. It includes several features that are important in a law practice:
Redaction to black out sensitive information, including the ability to automatically search and redact.
Bates stamping and advanced header and footer functionality.
PDF/A and Section 508 compliance checking, including the ability to fix files that do not comply.
Secure delivery, encryption and digital rights management capabilities.
Integration with LexisNexis CaseMap.
Another feature of the advanced version is integration with file-sharing sites and document-management systems, enabling users to open files directly from and save them directly to these systems. A smaller law office could use this to integrate with Box, Dropbox, Evernote, Google Docs or Office 365. A larger firm could connect with an enterprise DMS such as Autonomy, Documentum, SharePoint and NetDocuments. (This integration must be selected during installation of the software. If you forget, re-run the installer and select "Install Cloud Connector.")
I have been testing a pre-release version of Power PDF Advanced for a little over a week. I'm sure there is a power PDF user out there who could find shortcomings in this over Acrobat, but I could not. I was able to do any of the tasks I would want with a PDF program.
Also, once I adjusted to the different user interface, I found it easier to perform many tasks using the Nuance software than with Acrobat. The software uses a Microsoft-office style ribbon interface which is easy to navigate. Items can easily be added or removed from the ribbon or rearranged.
Some of the other notable features of Power PDF Advanced include:
Integrated Dragon Notes speech recognition, enabling users to add notes to PDF files by dictating text. Nuance actually sends the speech off to its servers in the cloud to process; within seconds, it appears in the sticky note.
Integrated OCR using the same technology as Nuance's OmniPage.
Watched folder and batch sequence capabilities to automate common tasks and move files from one location to another. Using watched folders, you could simply drag a group of documents to a folder to automatically convert them to PDF. With a batch sequence, you can string together multiple commands to be performed as a single command on a group of documents, such as stamping and watermarking them.
Word-processor-like ability to edit PDF content, including graphics and charts.
Of course, it also includes the features you would expect to find in a professional PDF program:
One-click creation of PDF files from within Microsoft Word, Excel, PowerPoint and Outlook.
One-click creation of PDF files from within Internet Explorer (but not other browsers, where you would have to print to PDF).
Creation of PDF packages and portfolios.
Conversion of PDF files into Word, Excel, PowerPoint and WordPerfect (and to convert only a selected area of a page).
Conversion of image PDFs to searchable PDFs.
Drag-and-drop ability to add or remove pages from a PDF document, with automatic page renumbering.
Full commenting and annotations.
Support for network scanning.
Whereas Acrobat Pro is designed for use in graphics and printing, the Nuance product is not. It will not produce files in PDF/X, which is a graphics format for printing, or PDF/E, which is a format used in engineering. The product manager I spoke readily acknowledged this, saying that Nuance's focus was on developing a product for the business setting, where customers care more about document assembly and functionality.
If you have been holding out from buying Acrobat Pro because of the price, then check out Power PDF.