Across the United States, men, women and children — both U.S. citizens and foreign nationals — are subjected to forced labor, debt bondage, involuntary servitude and sex trafficking. "Make no mistake," Attorney General Eric Holder said last year, "human trafficking is not just a global problem. It is a national crisis."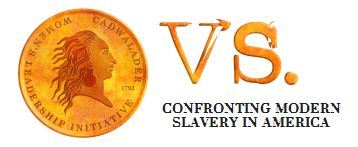 In response to this crisis, the law firm Cadwalader, Wickersham & Taft has launched VS. – Confronting Modern Slavery in America, a website devoted to combating human trafficking in the United States. The purpose of the site is to heighten public awareness of human trafficking in America and to provide a platform for anti-trafficking organizations and advocates, including lawyers, to collaborate and share resources.
The project was launched Jan. 25 as a pro bono project of the Cadwalader Women's Leadership Initiative. The project is chaired by partner Debra Brown Steinberg, a litigator who gained national recognition for her pro bono work on behalf of victims of the September 11th attacks and their families. (Steinberg discussed this work in a 2011 episode of our Lawyer2Lawyer podcast.) Explaining the site's purpose, Steinberg writes:
VS. is a virtual roundtable for frontline organizations and agencies engaged in preventing domestic human trafficking in all its invidious forms. It is a forum for protecting and healing its survivors. It is a collaboration for improving legislation and advancing a victim-centered approach to more effectively prosecute perpetrators. VS. is a place where the anti-trafficking community can connect, speak, educate, and advocate.
The VS. site features a collection of news stories, original articles, opinion pieces and original videos about domestic human trafficking. A separate library section contains published research, articles, studies and other source material on the subject. The library is fully searchable, but is also divided into audience sectors — business, educators, judiciary, law enforcement, lawyers, and the like — to make it easy for users to find content relevant to them.
The site also includes a resource guide that seeks to compile all available resources for advocates and victims. This, too, is organized by audience (with a section for lawyers and law school clinics) as well as by categories (such as child services, counseling, hotlines, shelter, legal services, and the like).