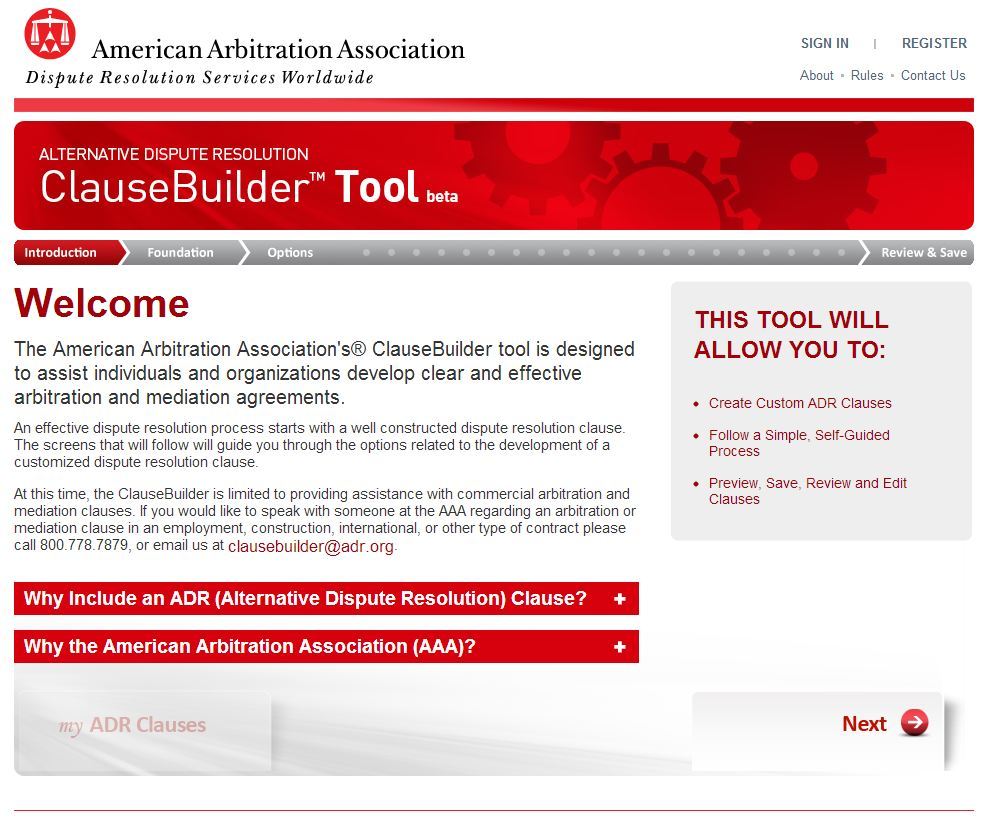 The American Arbitration Association has launched ClauseBuilder, a web-based tool designed to assist in drafting clear and effective arbitration and mediation agreements. The new tool provides parties with the AAA's standard arbitration agreement, in addition to an array of options parties may consider when drafting ADR clauses, including specifying the number of arbitrators; arbitrator qualifications; locale provisions; governing law; the duration of arbitration proceedings; and whether to use arbitration, mediation, or both.
As launched, ClauseBuilder can be used only to create commercial arbitration and mediation contracts. Future versions in development will address construction, international and employment contracts. ClauseBuilder can be used to create pre-dispute ADR clauses to be included in contracts as well as clauses for existing disputes that parties would like to submit to arbitration or mediation. In addition to creating ADR clauses, ClauseBuilder will allow users to preview, edit, and archive their ADR agreements.
ClauseBuilder is free to use. Once you indicate the type of clause you wish to create (e.g., commercial arbitration), it shows you the basic, standard language. From there, you can select from a number of options to modify the clause. How many arbitrators will a panel include? How will they be selected? What law will govern? To what extent will pre-hearing discovery be allowed? What remedies will be available to the arbitrators. Must arbitrators provide a reasoned opinion? For these and other options, you simply click radio buttons to designate your preferences.
When you are done, you are presented with the final language. You can copy and paste it, download it, print it or save it on the ClauseBuilder site.