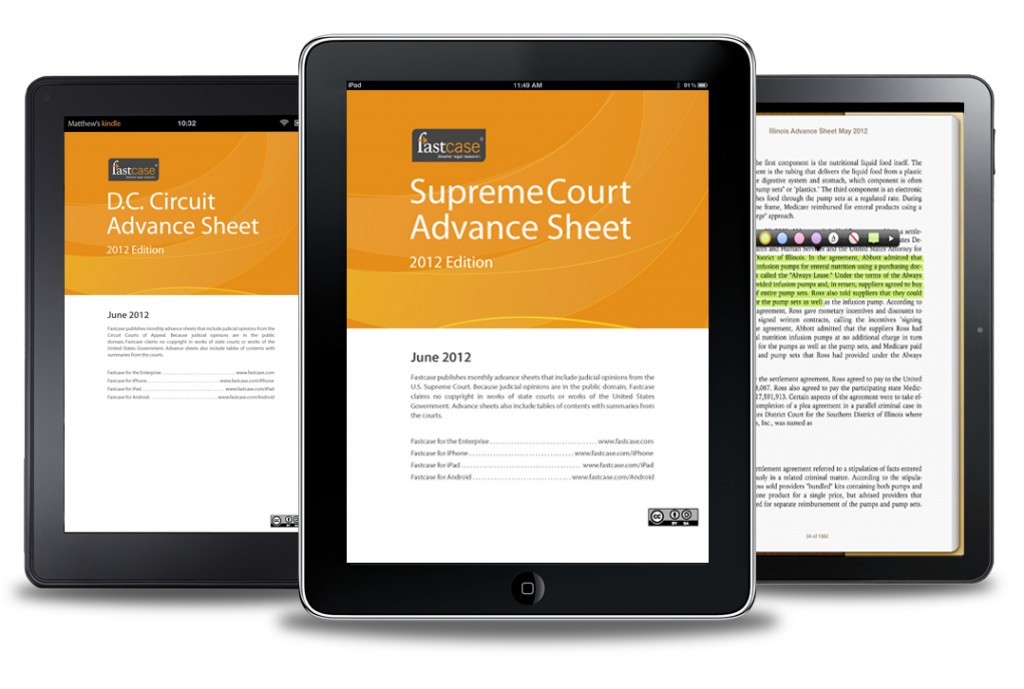 Ed Walters and Phil Rosenthal, the founders of Fastcase, seem to revel in disrupting long-held notions of how legal publishing is supposed to operate. For two guys who are in the business of selling legal research, they can't seem to find enough ways to give away access to core legal research materials.
That was the case in 2008, when Fastcase launched The Public Library of Law, described at the time as "the most comprehensive free resource for legal research online." That was the case in 2010, when Fastcase helped launch the RECOP project, a weekly release of all federal and state court opinions for use by anyone without restriction. That was the case starting in 2010 when Fastcase released its series of apps for free legal research from iPhones, iPads and Android devices.
Now comes the latest news from these renegades of legal publishing: free advance sheets in e-book format, covering every state and federal appeals court, including the Supreme Court. The books will be formally announced at some point today and you can find more information here: www.fastcase.com/ebooks. The books will also be available for free through iTunes, Amazon and Google Play.
Here's how Ed Walters described the advance sheets in an email yesterday:
Fastcase has replaced the heavy, voluminous, redundant caselaw reporter with modern eBooks that are slim, light, and beautiful. Fastcase's Advance Sheets are more comprehensive than traditional paper tomes, because they include all decided cases – even "unpublished" opinions that won't be printed in the books (but which are precedential in many courts, and often contain persuasive authority).

And because the Fastcase collection is in eBook format, it will work on most e-readers, including iPad, Kindle, Nook, and Android tablets. That also means that text can be highlighted, copied, shared, annotated, rotated, read on an airplane or train, or even on a beach. And instead of reading an entire paper advance sheet, Fastcase's eBooks can be searched for key terms, and they include introductory summaries highlighting the issues in each case.
Each e-book will cover one month's opinions for a specific state or court. They will cover all state appellate courts, the federal circuit courts and the Supreme Court.
Each issue will include both summaries and full text of opinions. Issues are searchable and can be highlighted, annotated and bookmarked.
I tried sample versions of U.S. Supreme Court and Illinois advance sheets. I tried them in various e-reader apps, including Kindle and iReader, on my laptop, an iPhone and an Android tablet. All worked as promised and were cleanly formatted.
Ed Walters said yesterday that these are the first of five e-book products that Fastcase will release this year. As for what's next, I guess we'll have to wait and see.