Back in January 2010, this blog had an exclusive first look as Fastcase was about to launch its app to let iPhone users research cases and statutes for free, directly on their devices. Later, Fastcase came out with a version for the iPad. The app proved popular and even won the American Association of Law Libraries award as 2010 New Product of the Year.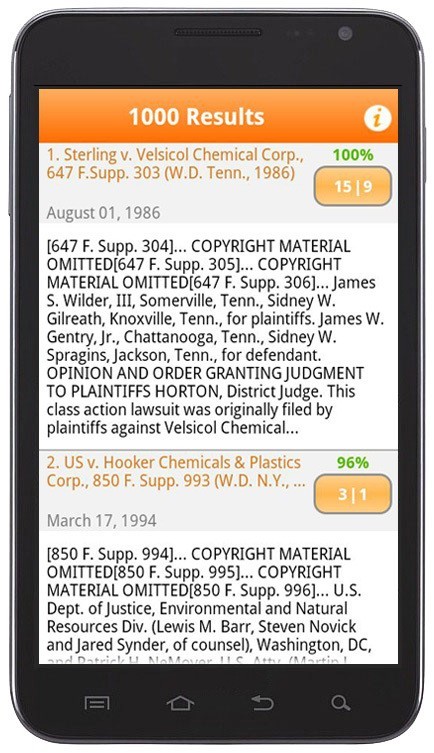 Meanwhile, Android users were left waiting in the wings, with no compatible version of the app available for their devices. Tomorrow that changes, as Fastcase will release an Android version of its legal research app. Like its iPhone counterpart, the Android version will be free to download and free to use.
When I say free, I mean free. No paid subscription of any kind is required to use this app. Registration is required, but there is no cost to register. Once you've installed the app and registered, you can research cases and statutes. Case law coverage spans all 50 states and the federal courts. Statutes for all 50 states are included, and can be searched or browsed.
I tested a pre-release version on an Android tablet. It has all the features of the iPhone version. Notably, you can search cases using both keyword and natural-language searches as well as by citation. You can define the jurisdictions and date ranges to search. Results can be sorted by relevance, decision date, name or by frequency of citation. Results include Fastcase's Authority Check feature, telling you how often each case has been cited. Citations within cases are hyperlinked.
If you are a full subscriber to Fastcase through a bar association member benefit, you can connect your mobile and desktop accounts and keep them synchronized through Fastcase's Mobile Sync feature. The feature synchronizes your favorites and usage history, and lets you save cases on your mobile device and then read and print them later on your desktop.
Settings within the app let you customize various elements, such as the font size at which documents are displayed and the way results or displayed. It also lets you set limits on storage within your mobile device, to conserve space.
Fastcase CEO Ed Walters says that this will be the first legal research app for the Android platform. Although there are mobile-optimized sites, there are no native apps for legal research on Android.
In my opinion, every attorney should have this app on his or her mobile device. You never know when you might need to check a case or find a statute. With this app, it is quick and easy to do legal research on the road. And at a cost of zero, you can't beat the price.